I have been pleasantly surprised by Aero Minerale's Hydrating Mineral Foundation, as I was expecting this spray product to be a tad gimmicky.
How wrong was I - this product provides lovely, sheer and buildable coverage that feels utterly weightless on skin.
It was created by celebrity makeup artist Yolanda Halston, and was the product of choice to create flawless vampire skin in the Twilight films.
The foundation range has just been released in Ireland, along with a mineral bronzer, a mineral shimmer and a primer.
I trialled the primer and the foundation in Bare, which was a touch too dark for my skin. Luckily for pale skintypes, there is one shade lighter, Ivory, which is sure to be perfect for pale Irish skintones.
Rather than spraying the primer directly onto my face (for fear of the product going all over my hair), I've been spraying it into the palm of my hand and smoothing over my skin. According to a few tutorials I've watched, you can also use this to prime lids and lips so it's a great all-round product that feels non-greasy on skin.
I follow up with foundation - shaking the bottle before using the same technique to apply the product to my skin. You can also use a foundation brush or sponge, but I find my fingers create a really natural looking finish.
The Aero Minerale doesn't leave a cakey, heavy finish like other mineral foundations can, instead my skin looks 'glowy' and perfected. The coverage is easily buildable with layers and doesn't weigh down my skin.
I'd love to get my hands on the mineral shimmery to highlight with ease! The Aero Minerale range will be available from all good pharmacies nationwide from the end of May, and is very competitively priced at €14.99 a bottle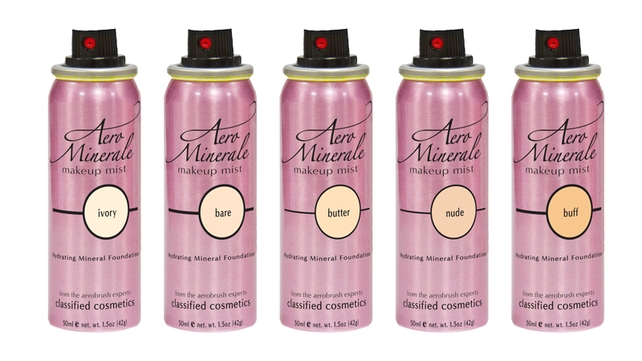 Sarah McIntyre