Caroline Carrick, International Manicurist of the Year, shares her tip on how to get those nails ready for the summer!
Nails are still big news this spring and summer and the hottest looks this year range from simplicity itself to bold and adventurous.
Nothing beats a great manicure - an elegant and simple manicure with well maintained, healthy cuticles and nails beds can form a great first impression of you as easily as ragged, torn cuticles and uncared for nails can create a bad one. As one of the most affordable treatments on the modern salon menu the humble manicure has remained a staple of the fashionista when funds have been tight during the recent years. It provides a quick and easy pick me up when you feel most in need of pampering.
You can maintain your nails easily at home by regular polishing with a smooth buffer such as Astonishing Nails Hi Shine buffer, to stimulate bloodflow to the nails bringing nourishment and regularly massaging in good cuticle oil. My favourites are the classic OPI Avoplex Oil and the beautiful Nfu.Oh Cuticle Oils that come in 12 delicious flavours and have real flowers suspended in the fabulous corset shaped bottles.
You can take your manicure to the next level by wearing the season's hottest looks on your nails.
Pale – pale and interesting is a key trend this season with hues ranging from mannequin nude nails, to milky opaque shades and light blush tones.
Texture – think rich and opulent when it comes to the texture of your nails. Cashmere, caviar, pearls, lace and feathers, all luxurious, decadent materials that add depth and mystery to your nails.
Pastels – Pastel candy colours that delight the senses are widely available with OPI & Dare to Wear among the many brands that have wonderful new collections that rival the sweetest of candy buffets.
Long Last Nail Art Designs – Long last manicures such as Perfect Match, Shellac and OPI Gel Colour are still huge news but your nail technician or manicurist can now offer you amazing designs, textures, effects and designs all done with the long last polish itself so that your little bit of fabulous lasts even longer. Make sure to ask about matte effect, rockstar nails, snakeskin effect, leopard print, marbling, carving and much, much more.
Enjoy your Summer ladies!
Caroline Carrick www.carolinesbeautyroom.com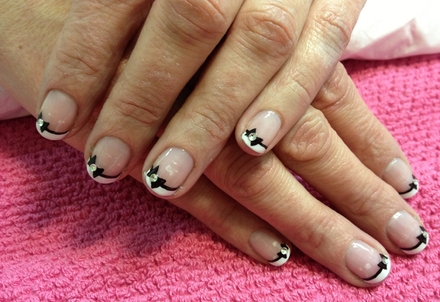 Bow-tie nail art
Two-tone pastel with glitter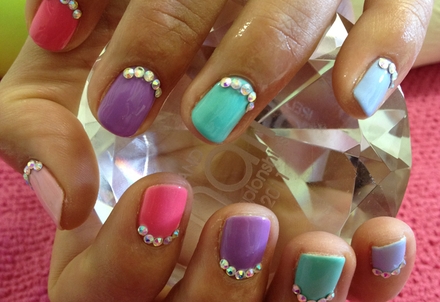 Pick 'n' mix shades with diamante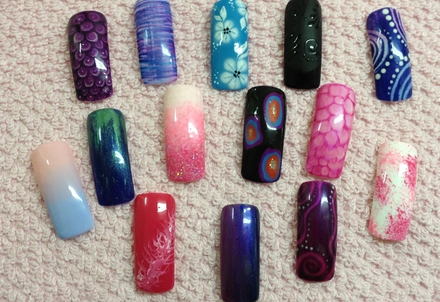 Nail art designs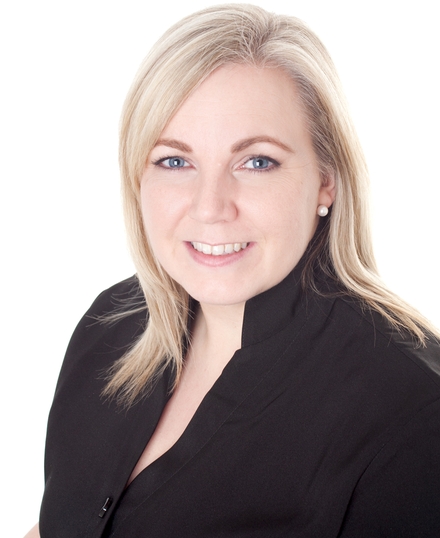 Caroline Carrick, International Manicurist of the Year,