Total Recall: Jessica Vs. Kate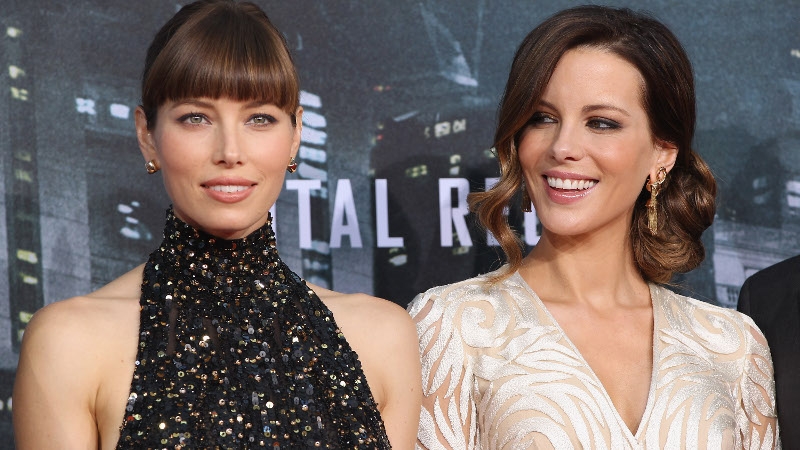 It's a glamorous A-list showdown. In one corner we have tall, leggy and muscular Jessica Biel from America. Arm candy of Justin Timberlake, 7th Heaven  tv starlet turned movie heavyweight and severe-fringed, she's come out fighting during this latest film's promotional tour.
In the opposite corner we have preened and polished, British beauty Kate Beckinsale. Beckinsale counts Victoria Beckham among her LA pals, has juggled glamour and action films simultaneously for years and is married to the film's director. She may have an upper hand, but let's see who won the style war.
Round 1: LA press photocall
39 year-old Beckinsale and 30 year-old Biel looked like the best of friends at the beginning of their promotional tour for their new action film. The story goes that Biel was entranced by Beckinsale's Dana Rebecca earrings.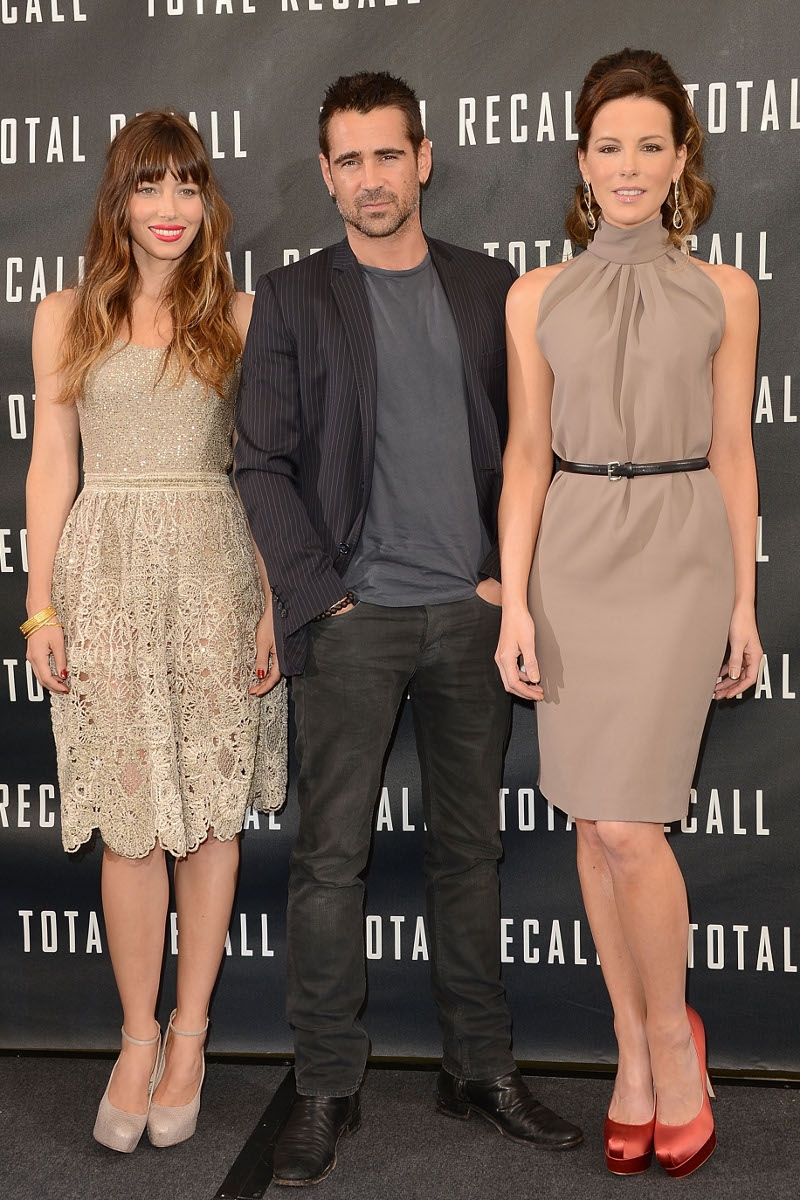 Both kept it cool and casual, in similar tones. Beckinsale wore a Dior brown halter dress with Brian Atwood pumps, while Biel kept her severe fringe, in loose waves, with a girly Oscar de la Renta sun dress.
Our verdict: Both kept it quite signature. Beckinsale likes everything quite proper and clean, whereas Biel makes it a little bit more floaty and girly. We give this one a tie. (Jessica 1: Kate 1)
Round 2: Hollywood premiere
Some would argue the biggest premiere, but there was sharp contrast between the two actresses. Biel arrived in a pastel pink Dior couture gown with statement jewellery. We love the fact Jessica is so proud of her arms and shoulders, as it's clear she works hard for that definition. The pearl and diamond jewellery helps to also soften that muscular frame, especially being paired with such a feminine colour. The best we've seen Biel look in quite a while!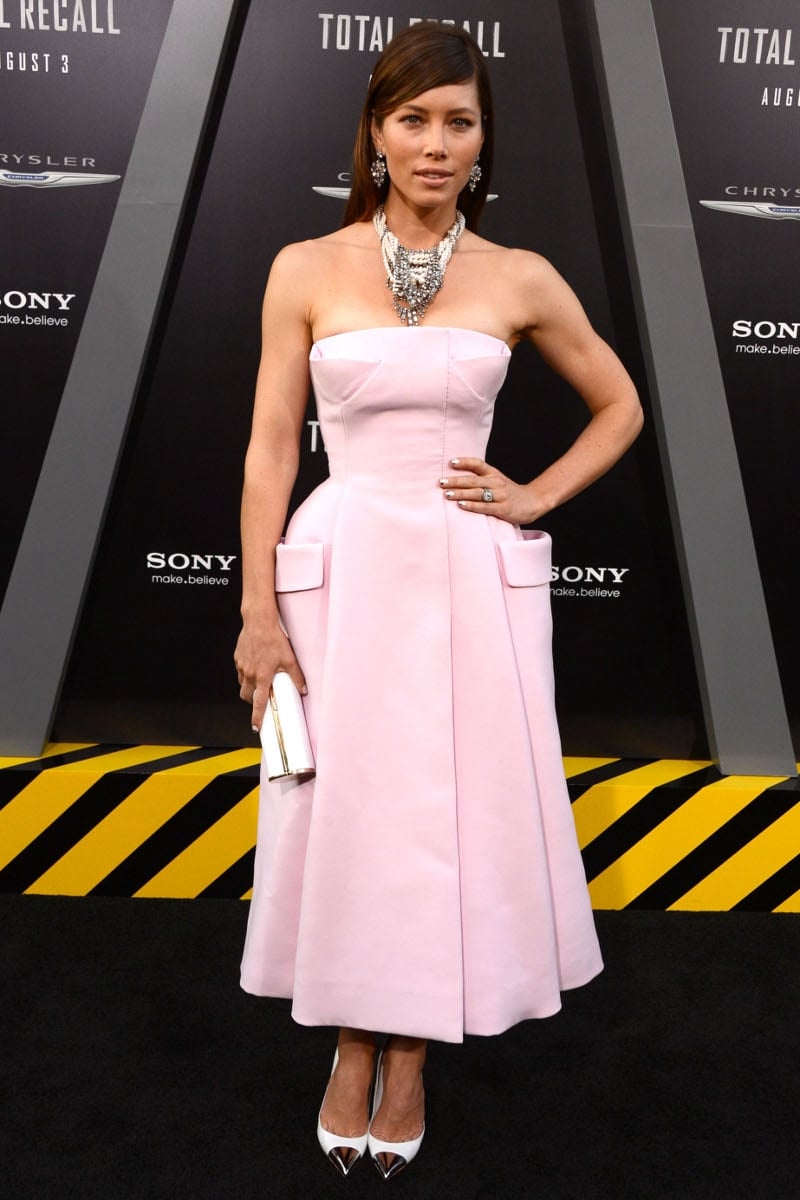 Beckinsale was a bit of a womp in Hollywood, which is her adopted home for the past ten years. The actress turned up in a reptile-print Armani Privé gown. The one-shoulder, asymmetrical gown with mermaid train is very signature of Beckinsale. She would have won this one if her make-up was a little more severe, a little more Underworld and then we would have applauded a risky move.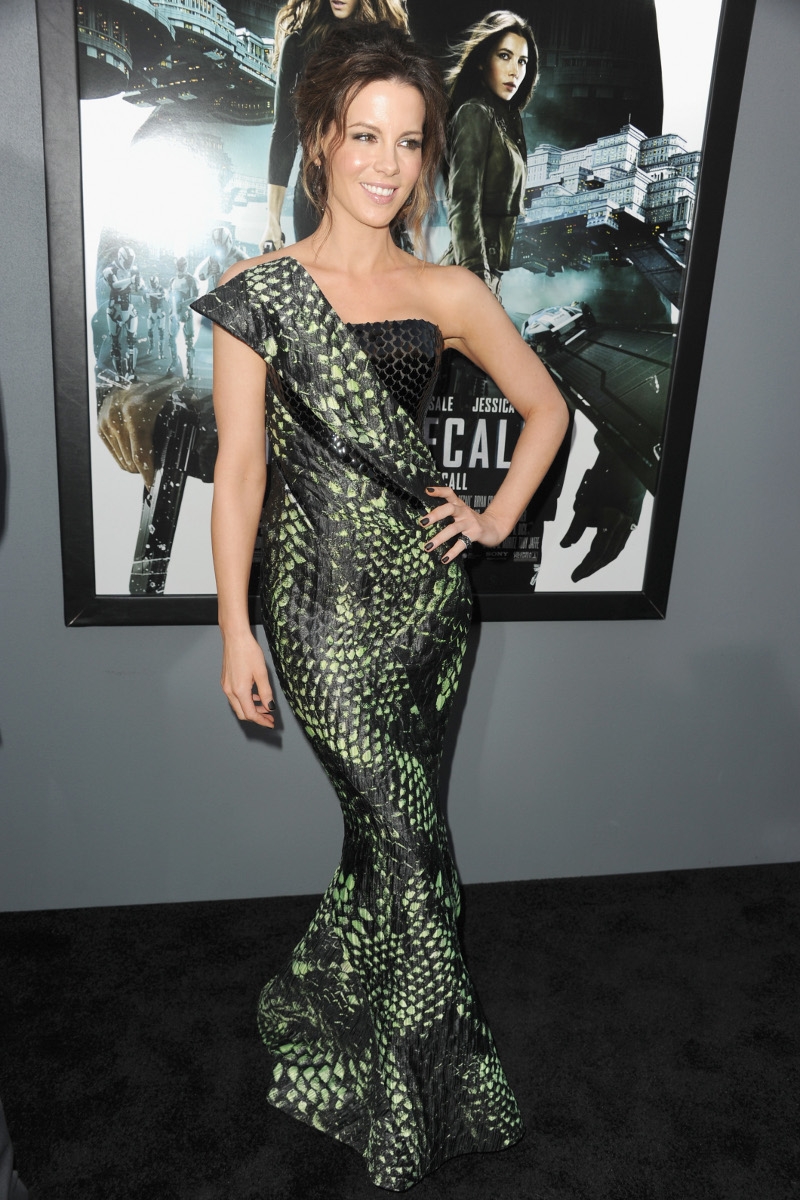 Our verdict: Jessica wins this one! (Jessica 2: Kate 1)
Round 3: New York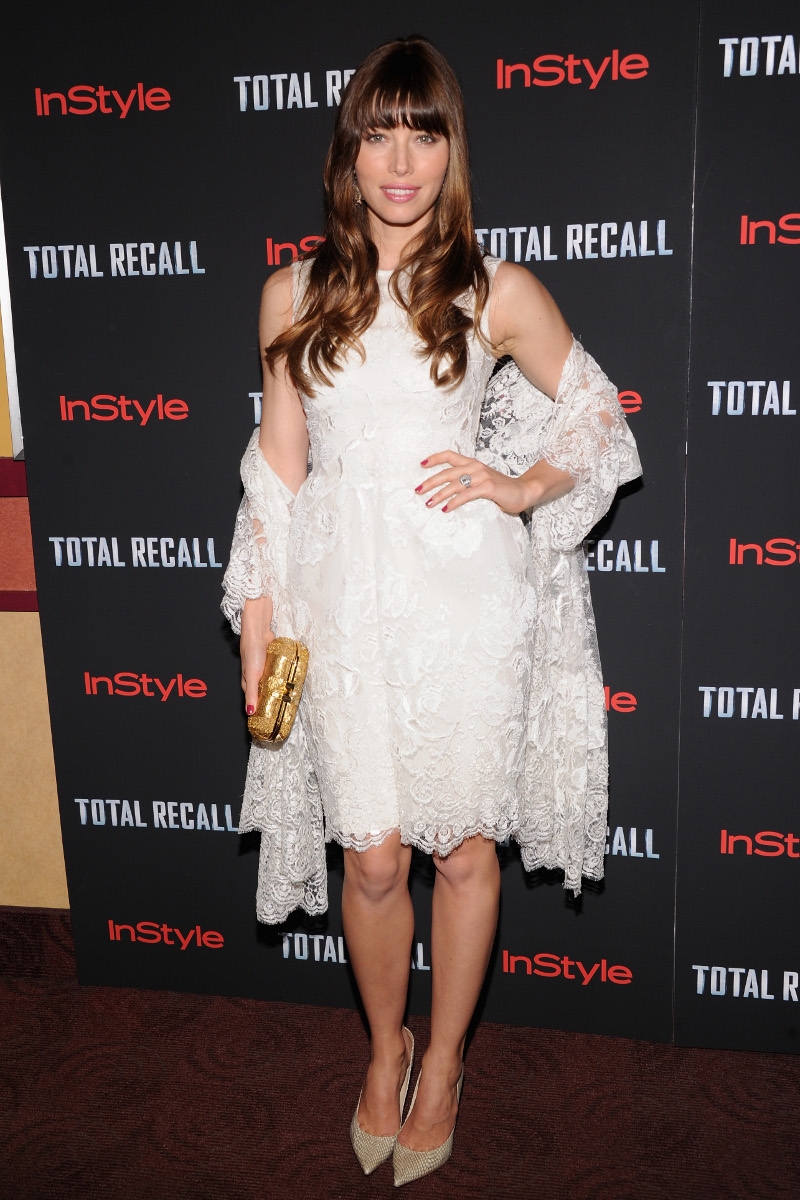 Just Jessica for this one! Though not really a fully-fledged premiére, it was more a screening. However kudos to Biel for making it out and looking absolutely breathtaking in Elie Saab. Again, she chose lace and simple, light colours to drape on her athletic frame.
Our (obvious) verdict: Team Biel (Jessica 3: Kate 1)
Round 4: Berlin photocall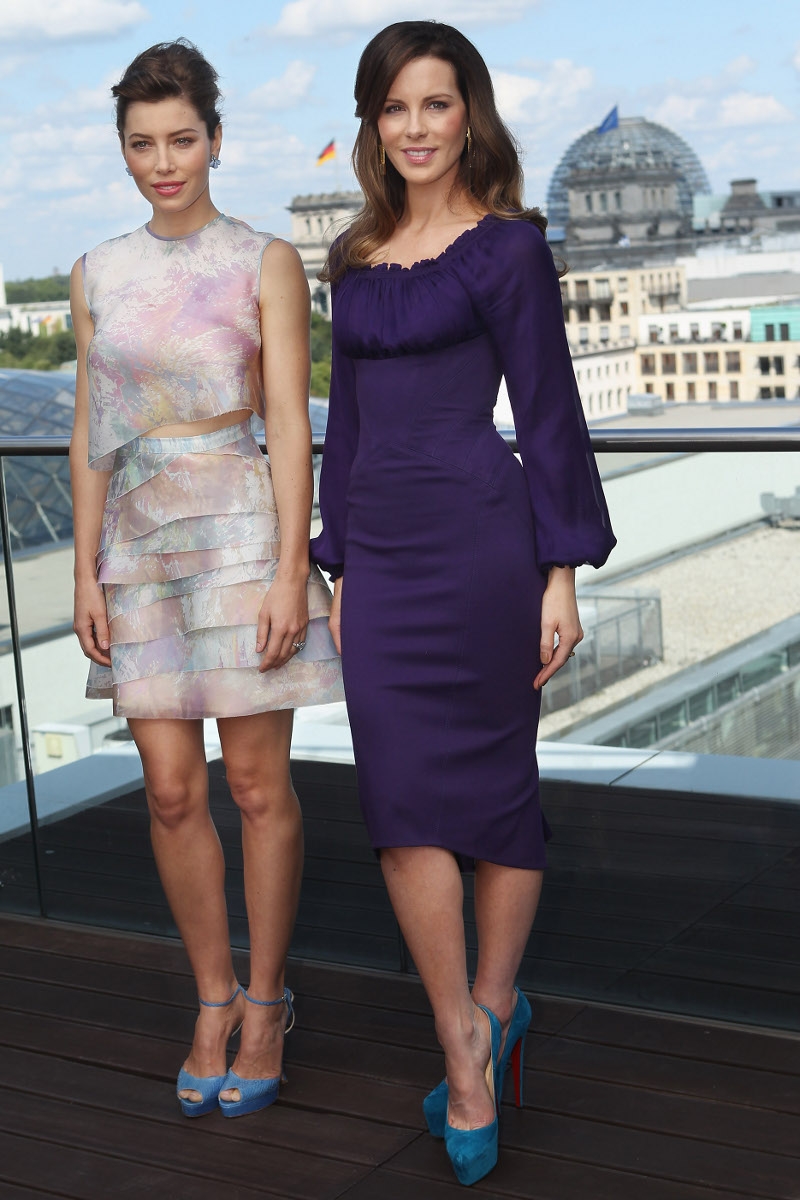 This one threw a spanner in the works! We didn't expect either of these looks, not to mention the fact they almost have the exact same heels on! Beckinsale looks very mumsy in this Zac Posen look and we think she looks best when her arms are out, why hide them? The hair is a little Sixties as well but we love her make-up, very soft and feminine as opposed to the smoky eye she generally rocks.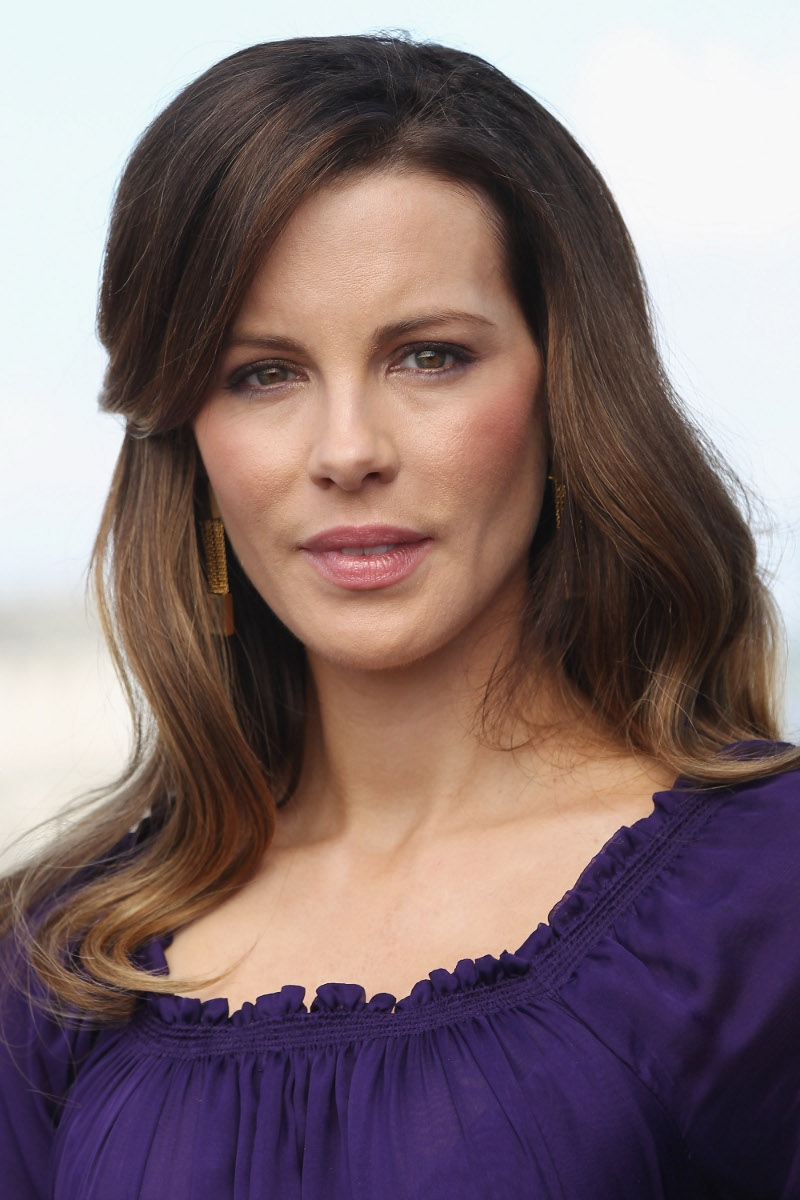 Jessica Biel wore a Christian Cota two-piece in tie-dye print. The strappy, chunky heels throw this look out of the boat, but she manages to keep it together. What we really love is that she slicked back that severe fringe and kept her face fresh and full of light. Also serving to know that she can definitely work a shorter crop (she has rarely ever chopped higher than a bob)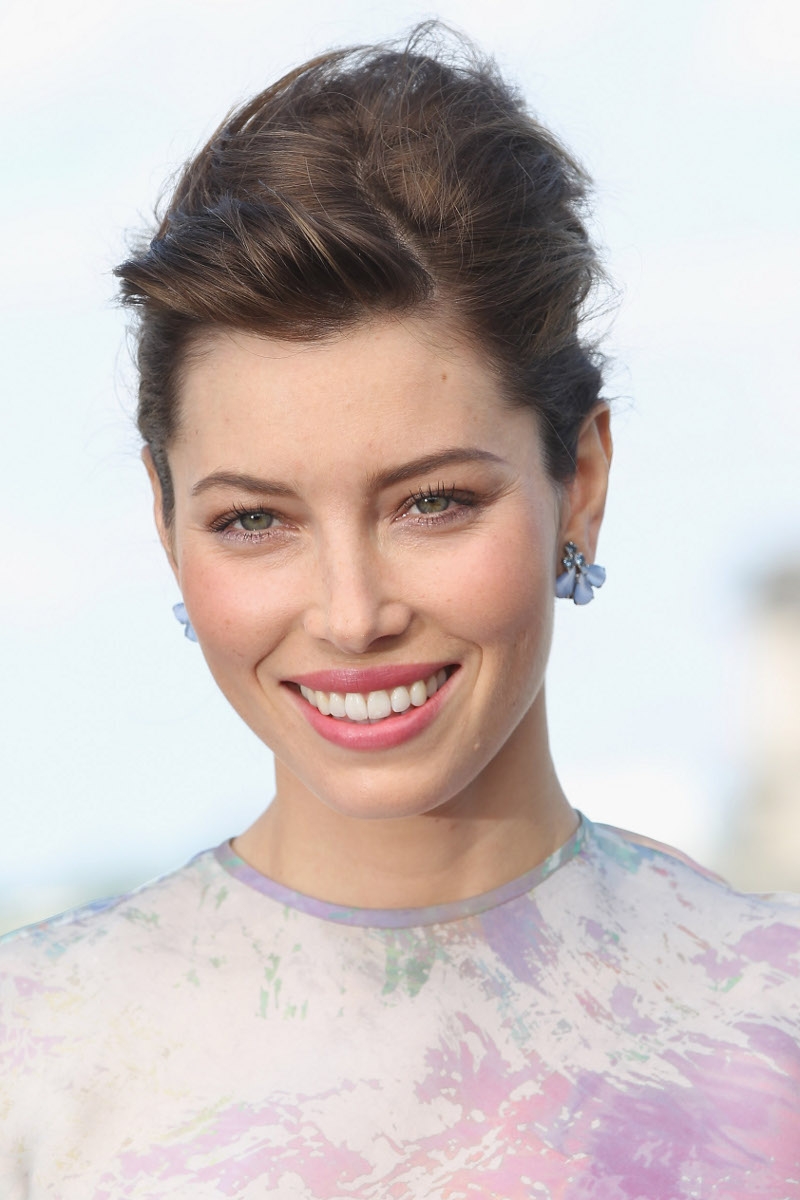 Our verdict: A close one as neither really impressed, but Jessica takes this again. (Jessica 4: Kate 1)
Round 5: Berlin premiére
The claws came out in Berlin! Kate Beckinsale had come fighting back! Beckinsale wowed in this Naeem Khan gown which was nude-toned with white laser-cut patterns. It's daring enough, though the sleeves are a slight bit jarring. It looks comfortable and wearable. We just wish she would have chosen the black and silver version that Khan sent down the runway, to tie in with her tough character on-screen.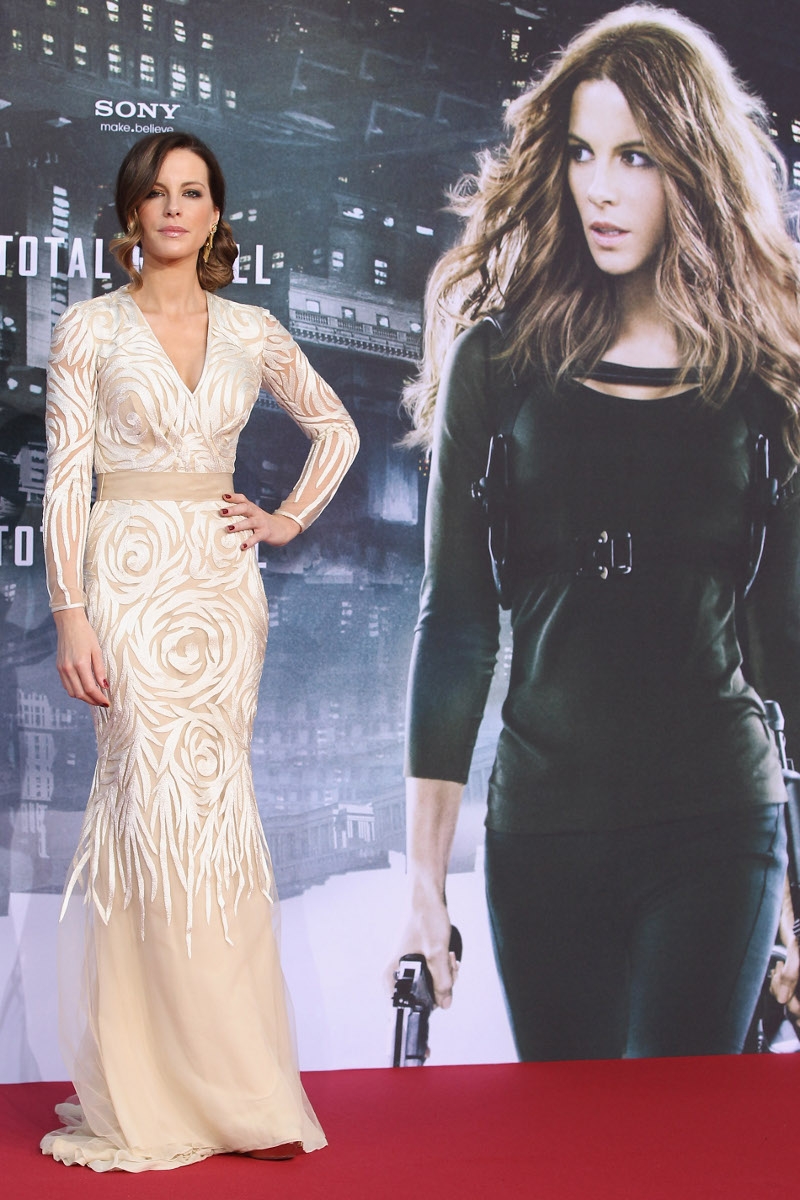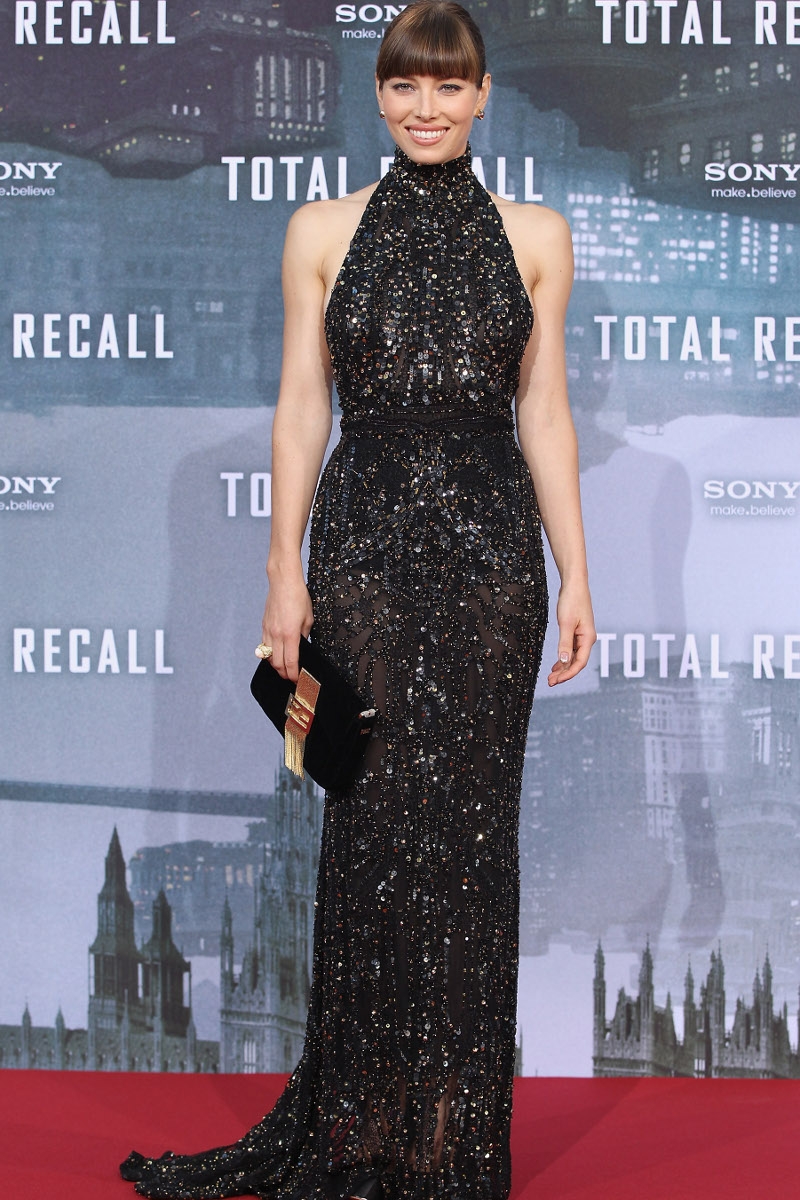 Biel was killing it again in this beaded, black, dangerous Elie Saab gown. The fringe was back and more harsh than ever, but something wasn't right. There was a slight peek-a-bo on the sides of the dress due to slight ill-fitting, which let down the whole look. Anyone else think Biel really needs short hair though? 
Our verdict: Kate bit back but only won by the skin of her teeth (Jessica 4: Kate 2)
Round 6: Dublin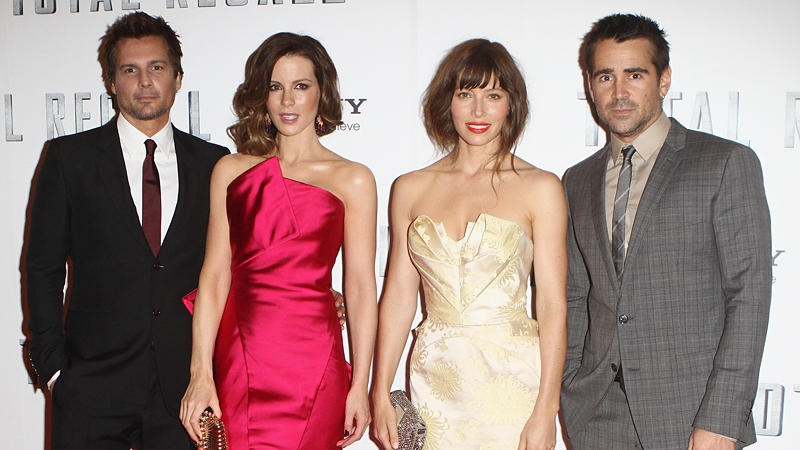 Dublin brought out the polar opposites in the ladies. Beckinsale went for statement colour and simple design in electric pink Donna Karan. A golden clutch and tousled faux-bob completed the pristine look. Biel's dress is much more desirable, with the intricate bustline detail, the soft, yellow-toned colour and the floral designs. Biel also chose a wacky faux-bob for the night but it looks more frizzy and unkempt than beautiful bedhead. Looking tired, we feel disheartened as her outfit is the better.
Our verdict: Beckinsale proved better, but only by default (Jessica 4: Kate 3)
Round 7: London
Kate wasn't going to win this, but she could at least get a tie and London brought out the grand finale for the pair.
Jessica looked drop dead amazing at the London premiére of the film. Mixing a little bit of androgyny, some feather, sheer lace and a pop of colour, this was absolutely on-point perfection. However, reports suggest today that Biel couldn't breathe in her Giambattista Valli couture dress and needed to change after the red carpet segment into a green, loose-fitting dress.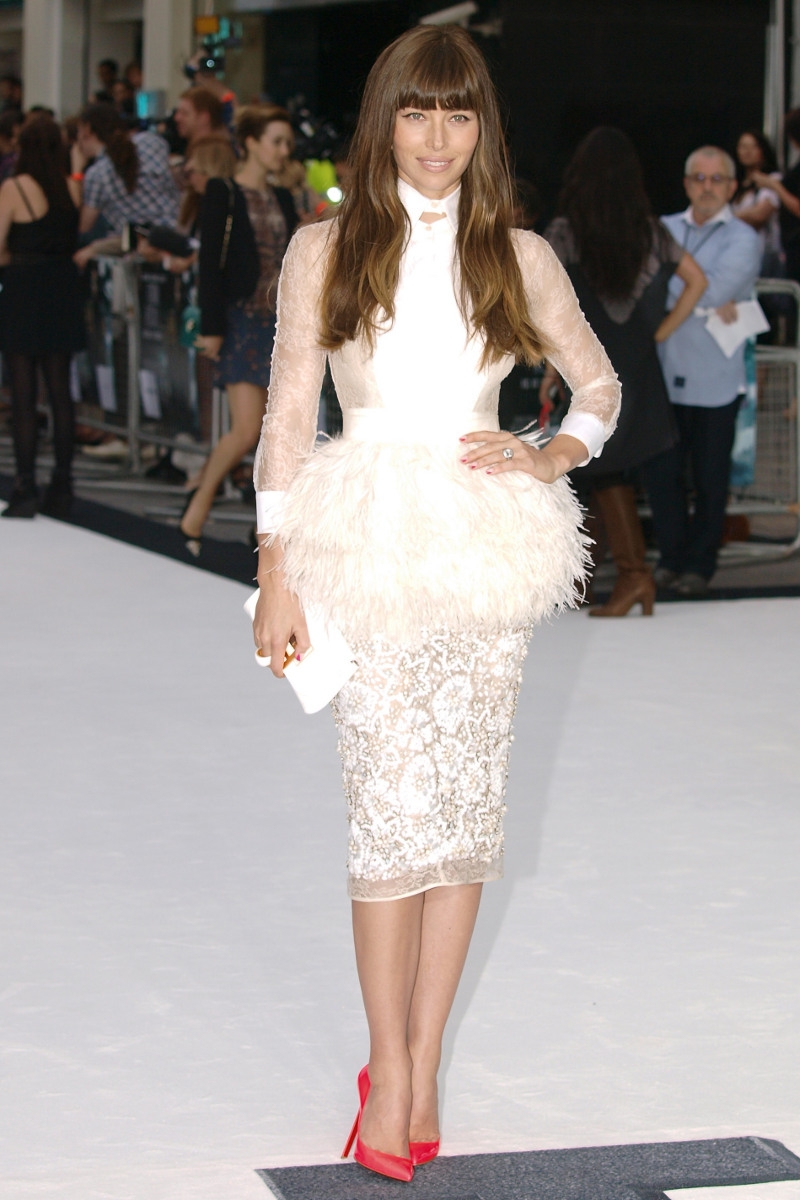 Kate saved the best for last! On home turf she wore New York designer Donna Karan. The all-black look mixed beading detail with strict tailoring and it fit Beckinsale like a glove. Her hair and make-up were natural, with slight drama for effect and we really loved the entire look together.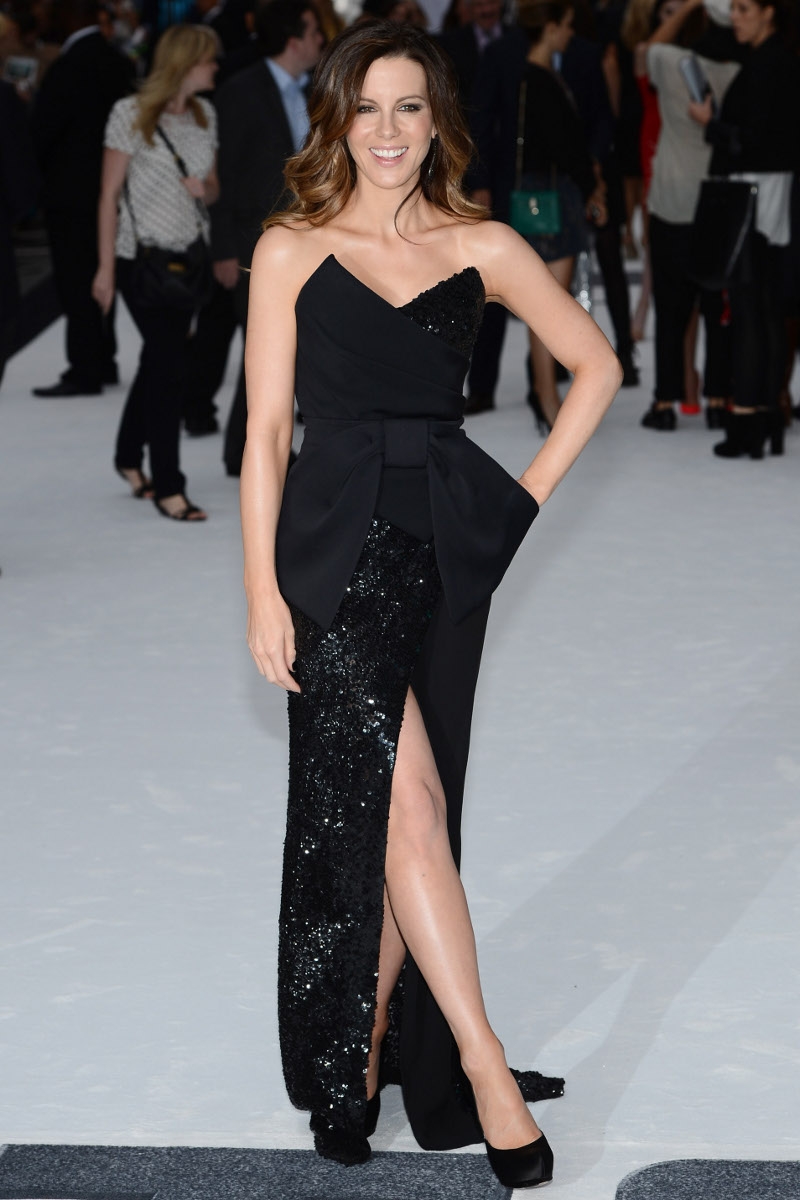 Our verdict: We love them both, but not together. If it were different nights, both would have won respectively. Another tie, making Biel the winner by a margin! (Jessica 5: Kate 4) What do you think? Let us know on Facebook or Twitter !
Total Recall opens in Irish cinemas on Wednesday, August 29th.