Arty Smarty is the innovative jewellery company run by Tasmanian born designer Angela Cuthill.
After graduating with a Bachelor of Arts majoring in Ceramics in Hobart, Angela left Australia on an art finding mission – moved to Ireland, loved it and stayed.
During a stint in Sydney, she completed a Masters of Arts Administration at UNSW's art school – which focused on design and ceramics - returned to Dublin and opened the doors of the Arty Smarty shop.
With a varied creative process, Angela designs and produces each item in a range of badges, earrings, fabric accessories, necklaces and pendants. Each object is individual, carefully crafted, unique and made entirely here in Ireland.
Georgina Heffernan caught up with the talented designer to discover a little more...
Georgina: Tell me a little bit about your background in jewellery design?
Angela: Apart from a love of all things jewellery and accessories, prior to launching my own range, my background was in ceramics. I did an undergraduate degree in Hobart (Tasmania) at the art school in ceramics and then went onto complete a Masters in Arts Administration in Sydney at their art school, COFA. I had a more varied degree there, but also focused on ceramics and design. To be honest I wasn't very interested in the research part of the degree, I really just wanted to get into the studio and make stuff.
What inspired your work?
Initially, I thought that I would focus on ceramics because of my training and really enjoyed working with Raku firing techniques. I even built my own kiln and was experimenting in my in-laws garden in Shannonbridge. Ceramics for jewellery pieces was something that I wanted to do but never committed to any particular style then, it was more about developing ideas. Even though there is no real evidence of these experiments in first collections, I think it was the starting point to think and represent nature in my work, its patterns and textures.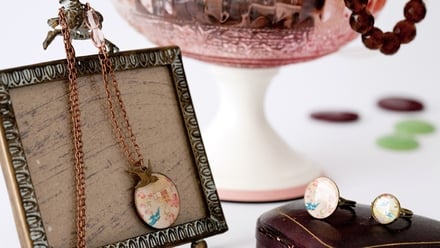 Tell me a little bit about your design process?
I try to draw in as much outside influence as possible when designing new collections, visual art, architecture, textiles, that kind of thing. I'd usually allow myself time to daydream a bit have a flick through some random reference books and take a look at the trends in fashion and design. I guess it's about reinterpreting all of the things that I've seen into something new and different, so after all that I'd start on a few loose idea sketches. I've always tried
to keep my drawing skills up since collage so this is really the very first visual stages of the design process for me. Sometimes I have a key material that I'd like to use somehow and I'd
base a few pieces around that as a starting point but it's usually starting with the visual ideas.
The design process is a pretty hard thing to pin down, but hopefully if you create the right environment, keep your eyes open everywhere, you'll get the inspiration to create new work. You have to be pretty disciplined at this stage otherwise you can find yourself going off on random tangents and drinking lots of coffee while you wander around the city doing 'research'.
What other jewellers do you admire?
I actually have a massive list of jewellery crushes, which are mostly Irish designer/makers but I also love the whimsy of UK jeweller Alex Monroe's pieces, which are so delicate and feminine.
Describe your own personal style.
I don't really think that I have a strong sense of personal style, I'm a bit fickle with clothing and easily influenced by new trends. Having said that, I do love a 50s style frock, new or old, and I bought a beautiful dress by Caroline Kilkenny for a wedding recently which reminded me of early some of the early Dior dresses. It has a massive poofy skirt and it's shocking pink, I really love it. I have a pair of cat eye Dior sunglasses, which are a bit
Jackie O era too, so maybe my style is stuck in the 50s.
Have you had to streamline your business as a result of the recession? How has it impacted you and your peers in the fashion industry?
My business really began in the recession so I don't have much experience about how things were before the economy changed. When I first set up the company I really did things on a shoe-string, I worked from home for a year and then moved into a basement studio (with no window or natural light!) and as things grew invested in a better studio space and better equipment. There is probably a lot to be said for growing organically and keeping things streamline all of the time, even in a good economic climate.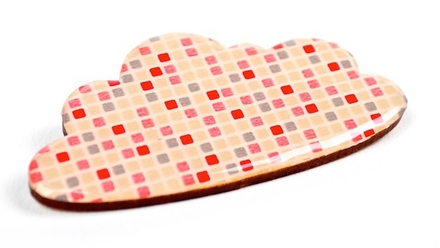 What do you enjoy most about your job?
To be honest there are not many things that I don't love about my job. I love visiting shops and studios here and overseas to see what other makes and designers are up to, plus being able to spend the day experimenting with designs and materials is pretty hard to beat. I guess there is loads of variety in having your own creative company and having lots of different things to do makes for an interesting day.
Would you ever like to collaborate with fashion designer on a range?
I'd love to team up with someone in a different discipline and I'd say it would make for some interesting and unexpected work. If I could make a list of fantasy collaborations with some fashion designers it would have to include Orla Keily, Electronic Sheep and Miu Miu.
What's the favourite piece you have ever designed?
Hmmm it's hard to have a favourite; it would be like choosing your favourite child! If I had to say one, it would be the Japanese washi patterned cloud range; they have worked really well and been really popular too, which is a double bonus. It's really all about designing and making pieces that people love to wear.
What's been the highlight of your career to date?
There has been a lot of hard work and late nights since beginning 4 years go so when I was first stocked in the V&A Museum in London I did have a moment where I thought I must be heading in the right direction.