Niamh O'Neill graduated from NCAD in 2008 with a first class honours degree in Fashion Design.
She worked in the design studios at Diane Von Furstenberg, John Galliano, Philip Treacy and Sharon Wauchob in New York, London and Paris, before coming home to Ireland to present her own label. Earlier this month, Niamh won 'Fashion Designer of the Year' at the Irish Fashion Innovation Awards. Georgina Heffernan caught up with the talented young designer to find out a little more.
Georgina Heffernan: Firstly, congratulations on winning the 'Fashion Designer of the Year 2013'. What did it feel like to win?
Niamh O'Neill: Thank you! It was a fantastic feeling to have won the award, especially in a category which was so full of talent. This was my second collection so I didn't have any expectations, but it's wonderful to get the affirmation that you are on the right track.
I know it's a difficult question to answer but why do you believe you won the award?
The feedback I received was that I presented a cohesive collection, which had a good flow throughout. The judges also thought that the biggest challenge is in designing innovative pieces within certain boundaries. I did have concerns that my designs might not be "out there" enough for a catwalk show, but I'm glad the shapes, detail and fabric translated well on the night.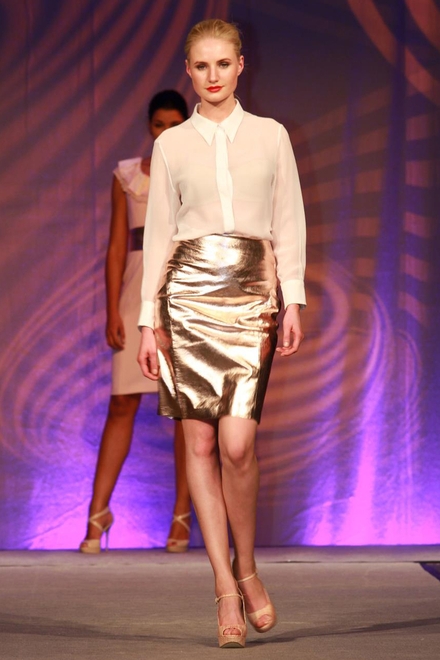 Tell us a little bit about your winning collection?
While my last collection was inspired by the androgynous style of actress Marlene Dietrich, I designed the winning summer collection inspired by the softer, more feminine side of the actress' style. The collection combines structured lines and shape with fine subtle detailing, in luxurious fabrics such as lightweight Italian wool crepe, metallic leather, lurex tweed and silks, all in blush pink tones.
Tell us a little bit about your design process. When you start working on your collection, what's your starting point? Do you start sketching ideas or do you work from trend reports and mood boards?
I always start with my inspiration and create a wall of images as my mood board. I usually begin the design process by draping and pinning various silhouettes onto the mannequin. I photograph these shapes and silhouettes and then I start sketching based on the photos. I work this way to ensure originality in my designs. I then add fine detailing, usually including a bow tie of some sort! Colour is the last element I decide on. I don't like colour to have a bearing on the shape and detail. In the end the colour almost chooses itself!
How did you first get started in fashion?
I was lucky in that I always knew I wanted to be a designer. I come from a family of six and am the only one working in design, so I am not quite sure where it came from. My mother did have a boutique before I was born, so as she puts it "I didn't pick it up off the ground"! After school I did a portfolio course and then completed my degree in NCAD. After three years of working in various companies, I decided to start my own company and here I am!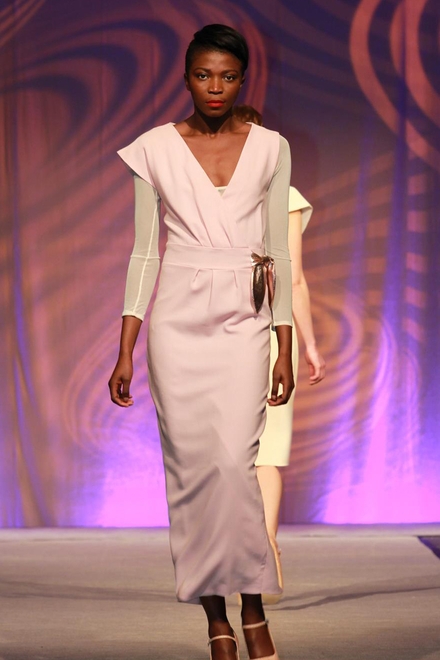 What fashion designers are inspiring you at the moment? And what looks are your favourite from the recent catwalk shows?
Viktor and Rolf have always been my favourite designers. Their early work was weird and wonderful. Over the last few years their work was so commercial, probably due to the pressure to make sales in a difficult economic time. Last season however, their show was fantastic! I think they have really found the balance between being their quirky selves and also having commercial appeal. Their oversized bows growing out of jackets and shirts were my favourite look of the season. I also loved the pared back collared looks from Valentino. It is interesting to watch what Raf Simons is doing at Dior and Heidi Slimane at Saint Laurent, giving the big fashion houses a shake up!
What's your personal style like?
My personal style is much like my design work, quite pared back with little details to add a twist. Generally I like to wear minimal dresses, usually in dark or muted tones and style them in my own way, by adding a Niamh O'Neill jacket or leather bow belt. I rarely wear jewellery but if I do, it is usually one statement piece. If there is a deadline coming up and I am racing around to get various jobs done, I wear jeans and pumps to make sure I can move around as quickly as possible!
As a young designer, just starting out, it must be difficult to get established. What obstacles and challenges have you had to overcome?
In a very competitive industry, it is important to develop your own stamp and carve out your own path. When I approached shops with my first collection, it was a very challenging and nerve wracking experience. I had to show my collection to the buyers in person and explain why they should buy from a designer they had never heard of! Thankfully a couple of boutiques supported me, which helped hugely when selling the next season.

As I was working alone, I had to run every aspect of the business. Not only was I the designer, I was also the secretary, pattern cutter, accountant, sales person... the list is endless! Eventually I found that I had to delegate and out-source some of the work load, to be able to progress as a designer.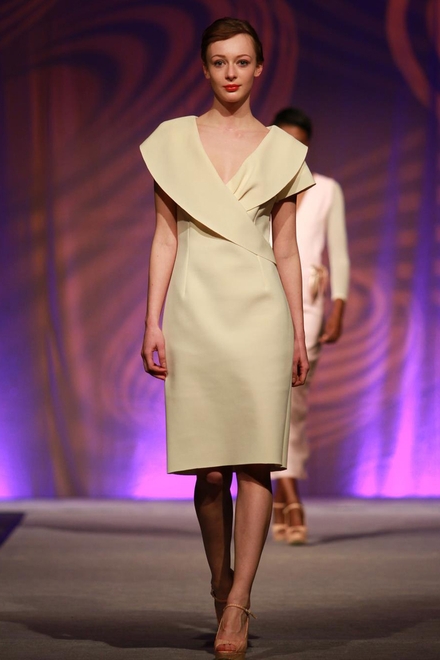 What are your design ambitions and where do you see the label going in the future?
As Niamh O'Neill moves forward, I hope to continue to develop the brand in many positive ways. My design ambitions are to create clothing which is unique in its aesthetic, makes the wearer feel fabulous and strikes the balance between creativity and wearability.
In 2014 I hope to begin exporting the collection so that my label will have a wider market in the future. My ambitions and goals are constantly changing with every achievement no matter how big or small. Thankfully there are many exciting opportunities in the pipe line.
All images (c) Darachphotography