Jewellery designer, Laragh Mc Monagle's, love of the sea has inspired a beautiful collection of necklaces, pendants and bracelets
The Dublin based designer creates unique pieces from stones, pearls, shells, fossils and rough gemstones – resulting in one-of-a-kind pieces that are like sculptural works of art. Georgina Heffernan caught up with the talented designer to find out a little more...
Georgina: Tell me a little bit about your background in jewellery design?
Laragh: I have always loved jewellery, both as ornamental self expression, and I recognise that often there is an attachment to a piece 'beyond just the pure aesthetics', as in it's a means of expression or may have sentimental value. I have very eclectic taste and would admire both ethnic and contemporary pieces.
I read about product silver clay and was intrigued, as a creative person by nature I needed to try it! I went to the UK for a workshop, and then travelled to Vermont to visit an amazing metal clay artist, Celie Fago; she taught me great skills, a true artist and a fabulous teacher.
That's a few years ago now, and I have worked away creating my own pieces since then. It's been an evolving process, discovering beautiful gem stones and pearls, ribbons and shells along the way, keeping them because they are amazing, and I will at some stage be inspired to use them.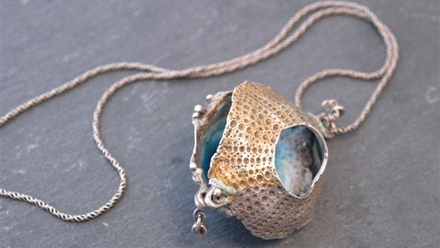 What inspired your work?
All pieces are designed by me and reflect the beauty I see in natural forms such as rough gemstones or eroded shells; I am very much inspired by the sea. I love natural gemstones because they are organic and unconventionally beautiful. I love to feel I might create something, a treasure that is beyond its intrinsic material value; the stones are stunning in their unpolished state.
Tell me a little bit about your design process?
I photograph, I draw and I collect 'treasure' like a magpie and I sit and play a lot with different ideas. This often involves dismantling and remaking till it feels just right. I love big and dramatic pieces, but I also adore texture and details, and often clusters of tiny tiny pearls or stands evolve and give movement and dimension to pieces as they develop. It's a lovely feeling when a piece comes together and feels right.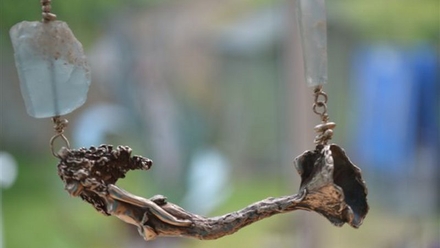 What other jewellers do you admire?
The list is long but in a nut shell I am intrigued with the idea of wearable art. I love visiting museums and seeing their collections. The gold ornaments we have in Dublin in the National Museum are simply breathtaking, and then the Victoria & Albert museum in London and the Louvre in Paris both have amazing collections.
The designer Mickael Kra combines the beauty of ethnic styles and techniques and makes stunning art jewellery which feature in the world of high fashion; it's so exciting to look at what he's done.
Karl Fritsch also fascinates me with his almost primitive pieces - naive designs showcasing beautiful raw crystals and rocks, plus amazing rings. At home I admire Moritz Schurman's work, and I was so thrilled when my husband gave me one of his rings for our tenth anniversary!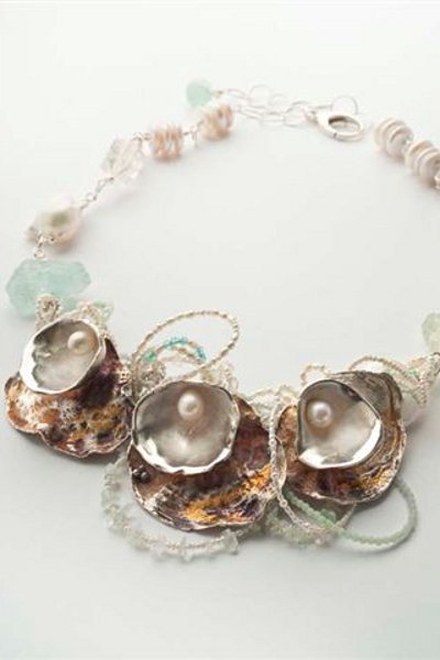 Would you ever like to collaborate with fashion designer on a range?
I like the idea of collaborating. It's quite exciting to work to a design concept or brief because it challenges the mind and pushes you away from the dreaded comfort zone. Most recently, I enjoyed participating in 'Adornment Project' and 'Wilderness', two photographic art exhibitions. They were a special collaboration to celebrate the artistic quality and craftsmanship of contemporary Irish jewellery and accessories designers.
The idea or adorning a person with wearable art is exciting, and working with fashion designers to bring a complete 'canvas' to fruition can only be a good thing. I always love to see the new collections by designers come round each season; Mary Grant and Lainey Keogh are two that spring to mind. Taste and style are so individual to women, but to me the fabrics, layers, the colours and the feminine nature of their pieces always have appeal.
What's the favorite piece you have ever designed?
I have always been a shell seeker and, as a kid, I collected tiny pink cowries', bright yellow periwinkles and the oyster shell with their mother of pearl. Today, they often inspire my work .The 'Rock-pool' pendant is one I love and wear, I have made a series of them all slightly different.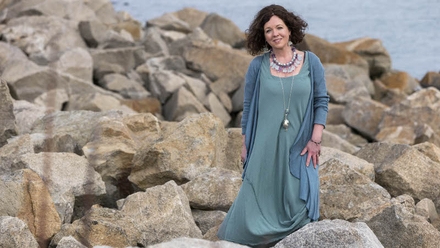 What's been the highlight of your career to date?
It's been a real evolving journey this. I started off with a culinary career which involved travelling to many places and then I trained as a Montessori teacher, and settled down with my own family. I feel so lucky to do what I love doing, and the feeling of being inspired to create something is such a buzz, and if someone then falls for it, well it's amazing!
Last week I was nominated, for the second year running, in the Golden Egg Fashion Innovation Awards. The awards are a great display of Irish talent across the board and I was thrilled to have been recognised among so many other talented designers!