Samantha Kennedy is an up and coming Irish Designer from Cork, who is always aiming to portray a fashion fairy tale with charming, edgy pieces that inspire whimsy and individuality in its wearer.
Georgina Heffernan caught up with her to find out a little more...
Did you always want to be a fashion designer?
Not always! I wanted to be a dancer when I left secondary school, I went onto to train as a dancer in college but after about 3 years of this I knew my heart wasn't fully into dance as a career. I went back to Art College and decided to concentrate on the design side. After doing fashion in college for a while, I knew it was what I wanted to do for the rest of my life and never thought about any other career since.
You have a fantastic selection of handbags and belts - what inspires each collection?
I am forever inspired by vintage style, films and fairy tales. I try to create a modern day princess with every collection I create.
I've noticed a lot of oversized bows in your designs, why did you choose that particular motif?
Yes! I am a Bow Addict! I admit it! The bow is a staple design feature throughout my work. I just love them! They are so feminine, romantic and I think they have a real vintage feel to them.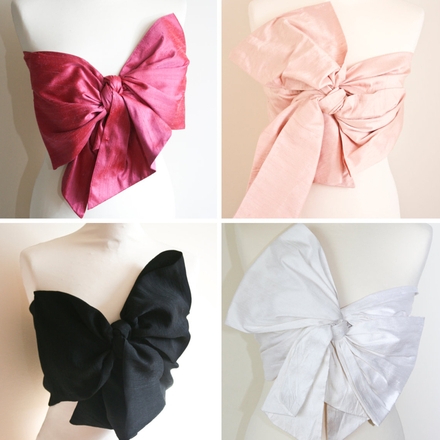 Was it tough getting started in business?
Yes! I'm still trying to start a business. It is constant hard work, continuously getting your products out there, trying to make a name for yourself and on very little money. However, if you are prepared to do it for the love of the craft, then it can be very rewarding and hopefully as a bonus, finically rewarding if you persevere.
Is the fashion world as competitive and catty as it's made out to be?
It can be, in some instances I have come across this, but in general people have been supportive and quiet positive about my work. I try to distance myself from that side of things and just get on with my own work. Life is just too short for me to be surrounding myself with that sort of negativity. It's only clothes at the end of the day, people need to relax and help each other out!
What has been your greatest achievement in your career to date?
Finding the courage to give up the day job and deciding to go full time with fashion design and opening a little studio in Cork City. It was a scary thought and it still is! But I'm very happy and excited about what the future has in store.
Describe your own personal style?
Day to day I'm quiet casual, a bit of edge with a feminine twist. When I have an event or a special night to go to then it's vintage style all the way!
What do you do when you are not designing? What's your favourite way of relaxing?
A bottle of beer in one hand, a great book in the other, an endless amount of chocolate in front of me and my boyfriend, Gary with his arm around me and I am one happy, relaxed lady!
Have you had to streamline your business as a result of the recession?
I have quite a small business, with just me in my studio doing all the work so I'm only responsible for myself but of course financially not every idea can be made and not every risk can be taken. It is important that I can edit down my ideas and I have to choose carefully what I produce.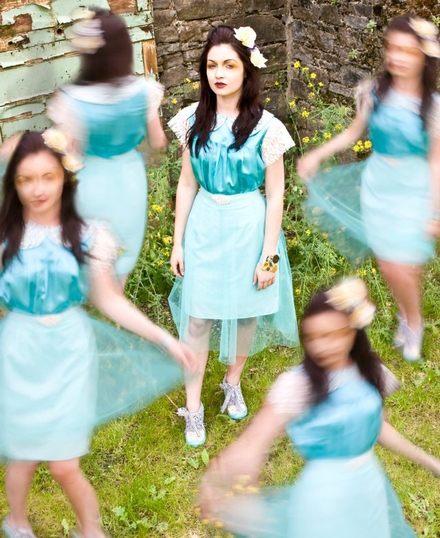 What do you enjoy the most about your job?
There are some days you might find me screaming at my sewing machine, stressing out because of a deadline or hating a dress I just made after days of work but seeing the results of my hard work on a model for a photo shoot or on a catwalk, or a customer's face when they try on their order for the first time is just so rewarding. It is so exciting to see the design you had in your head, go to paper and then onto a real person!
Where do you see the label going in the future?
I would really love to be able to stay in Ireland with my fashion label, develop a brand and own my own boutique in Cork City eventually.