Create a sparkling statement: Jewellery designer Deborah von Metzradt gives us an insight into her original design sense and how she ensures it is kept unique.
Georgina Heffernan: Did you always want to be a designer?
Deborah Von Metzradt: Yes always, ever since I could draw. I was always doing intricate designs with pattern and colour. Later I got a gift of a bead loom and ever since then I have worked with beads and fabric .
What's the inspiration behind your creations?
It's hard to pin down where my inspiration comes from - it's around me all the time, be it a bead or some lace. Sometimes the materials tell me what to do, other things influence me too: history, art, antiques, it all comes into play and of course nature is hugely important. I follow the trends too and then think of something that no one else is doing. Too many ideas all at once is the norm nowadays!
What's an average day for you?
My working day is always way too short. First I attend to emails, website, facebook pages and orders that are to be made, also I always have a new design on the go which needs to be moved on. At the moment it's my new range of wedding accessories 'Gypsy Rose' and there are always product photos that need to be taken as well. I try to get a brisk walk in around lunchtime and find some time to do some guitar practice before having a quick bite of lunch. The afternoon is down to my studio to my other project: my range of children's upcycled clothing and accessories: "Little Scrap". At 4.30 it's a cuppa with my parents then rush home to take my dog out. I carry on with some sewing in the evening until my eyes get too tired!
Was it tough getting started in business?
Yes it was very tough indeed because just at the time when things took off for me, my husband became ill and passed away, so with two small children and a business to run it wasn't a great time – I dived into it to keep busy.
What has been your greatest achievement in your career to date?
My greatest achievement came early on when in my early twenties I was "found" by Ib Jorgensen, Ireland's leading couturier at the time. He needed a beading person and promptly sent me to the London College of Fashion to learn Tambour beading. I was for more than 10 years beading his creations as well as other couturiers: Pat Crowley, Wolfangel, Sharon Hoey and others. It was fascinating to work with them, I learned so much and was privileged to be at Ib's press shows twice a year to see my beading in all it's glory.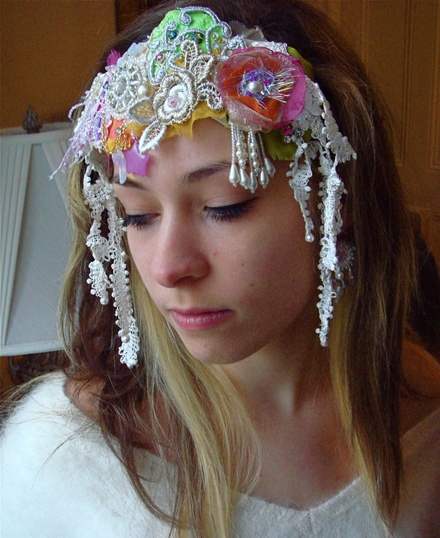 Describe your own personal style.
Basic from day to day but I do dress up for meetings and going out. I favour black a lot... who doesn't! So I will accessorize it with plenty of colour, mostly my own creations. Sometimes I can't make up my mind which to wear so I will go tribal and wear them all at once! Colour blocking is also a favourite look too and I will make myself a beady jacket to wear to a wedding or special occasion. I love classics but can turn hippy in the summer.
Have you had to streamline your business as a result of the recession? How has it impacted you and your peers in the fashion industry?
There's nothing like a recession to make you focus! Although things are tough now if you make sure you have what people are looking for you should be OK and come through. I can't speak for others in fashion but all we can do is keep going positively, being as versatile as we can be.
What do you enjoy most about your job?
I love, love, love designing, from the first glimmer of an idea to completing the first sample, but also the cream on the cake is the lovely feedback and joy that my customers give me when I've made something lovely for them-and then they come back for more! This is the best feeling.
Where do you see the brand going in the future?
All I want is more of the above! I need to spread the word more as I'm too busy tucked away with my beads. I'm working on a bigger online presence, after all there is a wide world out there waiting for me.
What is your motto.
Never give up and do what makes you happy!