French-born, Irish-bred Delphine Grandjouan of the House of Delphine, Kerry, is a designer with pure creativity at the heart of all of her creations.
Her wedding gowns are regularly featured in wedding and bridal magazines nationally and internationally. She has won the last two Bridal Designer of the Year awards from Irish Brides magazine and has been described as "a couturier with a bohemian heart."

Georgina Heffernan caught up with Delphine to find out a little more.
Where did you learn your craft?
I am self-taught apart from a one year course at Mallow College of design. But my mother and grandmothers were all adept at needle work and garment making. As Monsieur Dior said "all French women seem to have been born with a needle in their hand" and it was certainly true in my family, but in a very creative way. I really wanted to carry on the family tradition and just push it a little bit further with the encouragement of my mother, who still helps me a great deal.
Who is your favourite designer and why?
I have a few but Valentino, for me, was the last of the true couturiers, a renaissance man for whom living is an art and whose creations gave birth to a world of perfect poetic grace. I was in tears when I saw his retrospective exhibition in the Louvre in Paris a few years ago. Surrounded by such amazing delicacy, I really felt I could hear the music of the spheres and had been transported to heaven.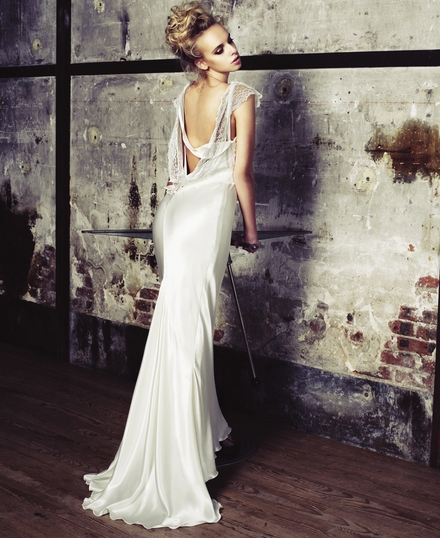 What's the inspiration behind your creations?
My inspiration is an aspiration, aspiring towards something nearly out of this world; dressing the soul is really what I want to do. My love for dance and cinema completely informs all that, along with the worship I have for all vintage fashions, art, furniture design and architecture - especially of the art nouveau/ art deco period.
Was it tough getting started in business?
Indeed, it took years for me to find the right niche, which would fit my creative abilities and enable me to give them life on a scale that was financially feasible. Not having gone to fashion college, I had to discover and improve my business skills all by myself and find my way in the dark so to speak! But thanks to the support of many friends and mentors both inside and outside the business I have had the luck to be able to find, in the last few years, a format that suits and delights me. I'm crossing my fingers it will last for a few more!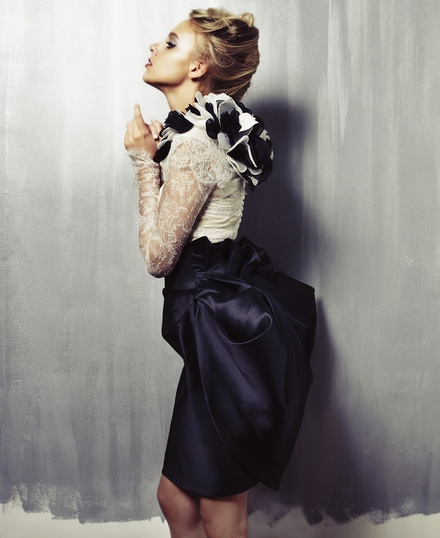 What has been your greatest achievement in your career to date?
I think my greatest achievement is to be here now and to keep going after all these years! To keep improving and personalizing my own style, always striving for a purer and clearer way to express it; this is what drives me forward. Of course, winning the Irish Brides Magazine best bridal designer title two years in a row was a great boost to my morale and confidence and really propelled me to a different level of recognition. I really never looked back from that point.
Have you had to streamline your business as a result of the recession? How has it impacted you and your peers in the fashion industry?
I have always kept the structure of my business very light. It makes things quite heavy on me physically as I have to wear all the different hats (business, creative, sales and manufacture as I produce the gowns in house). However, being first and foremost an artist and not a financier, I need to feel the freedom of being master of my own ship.

So in that sense, the recession has been hard - and there are some ventures I may have tried that I have put on the long finger – but I decided to concentrate on my core business by working hard at refining my image and targeting my message, in order to attract the customers who share my spirit.

I also made the very worthwhile decision to join the Council of Irish Fashion Designers, which has put me in touch with many creative Irish talents, all interested in facing the challenges of these difficult times without compromising on quality and creativity. This has made me more aware of the difficulties but also of the strength people in our industry have, to weather the challenging time; the creative spirit tends to endure.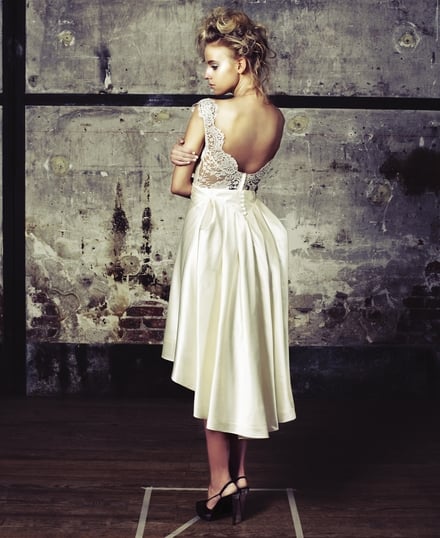 What do you enjoy the most about your job?
The creative side of things, making new designs, especially the work with lace and pasting on the mannequin, which is like sculpting the soul. At the other end, the sharing of the experience with my brides, when they feel transported to 7th heaven by their dress, is very rewarding. When the job is complete and the dress takes on a life of its own and is ready to be released in the world that also is a very beautiful moment.
Where do you see the brand going in the future?
I just want to refine my creations and my message to such an extent that the work becomes even better targeted, and that my efforts bear fruits, and there is no wasted energy. I want to be known for what I am, unique in my own way and work with kindred spirits in a true creative way. So no world domination or fame and riches dreams here. As I said before, I am more an artist than a business woman. To be recognised for the subtlety of what I do is really all I ask for, so I can keep on doing it.
What's your motto?
Keep going, no matter what. Never give up.