We catch up with jewellery designer and ceramicist Rebeka Khan.
From her home studio in the foothills of the Wicklow mountains, ceramicist Rebeka Kahn creates bewitching neckpieces, earrings and bracelets, each one incorporating uniquely sculpted ceramic and glass elements inspired by her surroundings and the clay itself.
With every ceramic element in every creation singularly hand-crafted, glazed and fired in Rebeka's home studio, it all conspires to make every piece an individual work of art - as unique and special as the person that ends up wearing it.
Georgina Heffernan: Tell us about your background in jewellery
Rebeka Khan: My background is really more in design and ceramics, which somehow seemed to morph its way into being what my jewellery collection is now. I studied ceramics in IADT but the jewellery side of it was very much self-taught. Like many others, I started making pieces for myself, friends and family and it then evolved organically from there!
The main focal points of my pieces are the ceramic & glass elements, which I have developed (and I think perfected!) through a lot of trial and error and learning from my mistakes but also learning and developing new effects, which are what I affectionately refer to as my 'happy accidents'.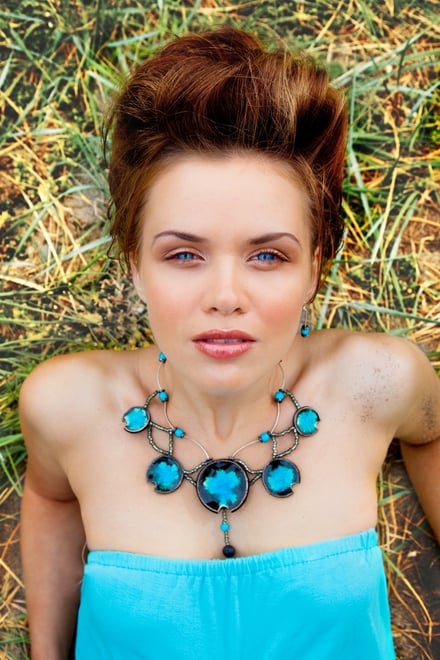 What is your design process?
I get an idea, sketch it out, go to work on a piece of clay but then it almost always goes off into a totally different direction once I start on it; sometimes I think my hands have a mind completely of their own!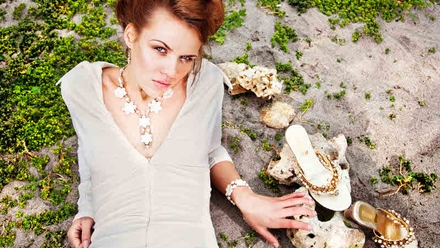 What have been some of your favourite jewellery pieces you've created and why?
My Celtic Goddess turquoise piece, which I originally designed for Rosanna Davison, is one of my favourites and always captures a lot of attention at any show and, of course, for anyone who wears it. It is very much a statement piece with a wow factor which can be worn with so many outfits. A simple black dress and the Celtic Goddess piece and you're complete and definitely going to get noticed!
I have many favourite pieces, I suppose I secretly fall a little bit in love with all of my pieces because they are all individual and one offs in their own right. Every piece seems to have its own story. I get very attached to them all! I actually get somewhat emotional seeing them again. Each one carries its own little bit of nostalgia for me.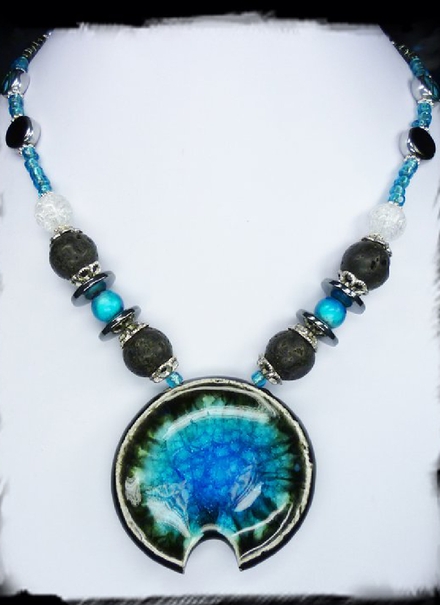 Would you ever consider collaborating with a fashion designer?
Yes, absolutely! I have in the past and loved it! The amazing Irish fashion designer Mary Grant gave me her fabric swatches before launching one of her season's collections and I designed a range of neckpieces to coordinate with them. A lot of the customers who wore her collections also had a number of my pieces on their dresser already. They worked so well with her stunning clothes and featured in the photos in her brochure.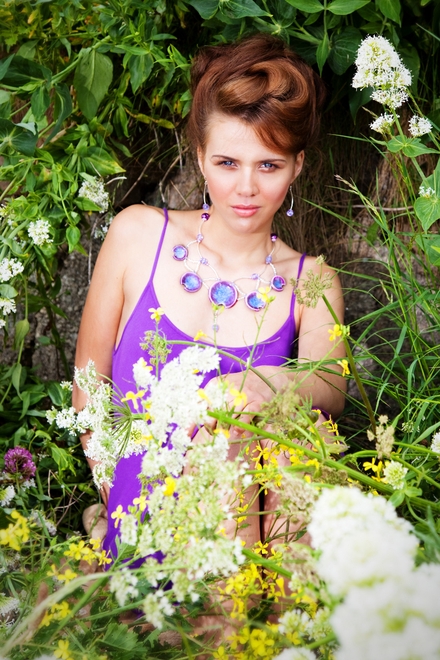 What's been the highlight of your career to-date?
Being commissioned to design and make a piece for President Mary McAleese was a highlight and then meeting her in person was also a huge honour. Seeing Lorraine Keane wearing my neckpieces on two different occasions on Xposé was very exciting and she wore them so well!
Another highlight was my very first year to exhibit at Showcase in the RDS, which was incredibly nerve wracking for me! I was shortlisted for 'The Best New Product Award' and again the following year, they were very much 'butterflies in the tummy' moments too and totally unexpected!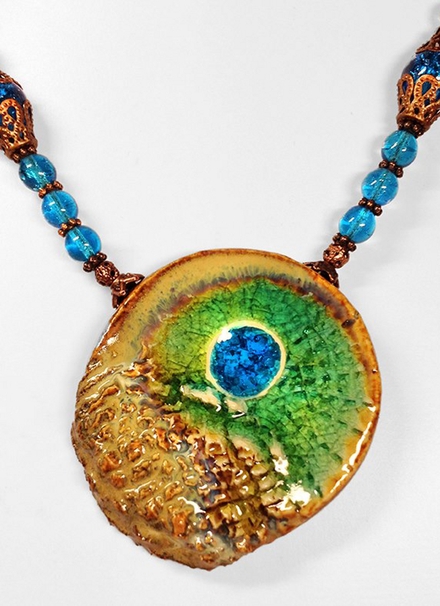 What trends are set to be big in jewellery design this autumn/winter?
I tend not to follow trends so much. All of my pieces are timeless, in colours which never date or go 'out of fashion'; they would be almost 'classic' rather than complying with trends. All of my pieces work for both spring/summer and autumn/winter, it all depends what you wear with them. Because of the reflective element in the glass they reflect the colour of what you are wearing and even your own colouring, skin tone etc. They change tone/colour almost, depending on what they are put next to, making them even more versatile than you would initially expect!
Which jewellery designers do you admire?
I really admire any jeweler who genuinely designs and makes their own work and produces beautiful pieces. Those who actually hand carve their own designs and produce beautiful work from that, as opposed to those who get pieces mass produced in some far off country, put their name on it and call it their own.
I adore Irish jewellery designer Elena Brennan's really intricate silver pieces. I have a stunning gossamer ring of hers which is from a collection of here's that also has the most amazing neckpiece; it looks like something that should feature in The Lord of The Rings movie!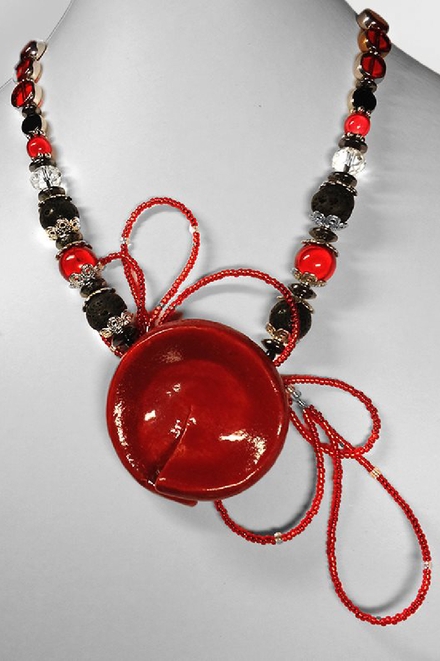 What is your ultimate ambition?
To always be happy and always have time to be creative - which I call 'my therapy'.
Where do you see yourself in the future?
In my dreams, on a white sandy beach in the Maldives, creating beautiful ceramic pieces outside in the sun and scuba diving to 30 metres every day!
In reality…I would love to see my work evolving even more and I am currently dipping my toe into the American market but, otherwise, who knows? Maybe there is a market for my work in the Maldives?
www.rebekakahnartwear.com
www.facebook.com/rebekakahnartwear