Jewellery Designer with the hands-on approach; Muireann Walshe tells us about the inspiration behind her stylish, fun designs.
Georgina Heffernan: Please tell us about your background in jewellery.
Muireann Walshe: At 18 I did an internship in London with an established jewellery company this sparked my initial passion for the trade. After this I worked in Town Jewellers in my hometown of Navan, where I furthered my knowledge of working with jewellery and diamonds. In 2008 I started my Degree in Craft Design at the National College of Art and Design. This gave me a totally different outlook on the design of jewellery. On completing my Degree in 2011, I set up my studio in The Irish Design Shop in Dublin, where I work full time on designing and making.
What is your design process?
Going to the museums in Dublin is something that I love to do. This manifests its way into my work from obvious pieces such as my take on the Tara Brooch to less obvious shapes that I adapt into my designs, like the primitive use of the zig zag shape. I tend to combine aesthetics that I admire also, such as bold disordered patterns, similar to that of Memphis Design. This all translates well when it is drawn onto paper, but anything could happen from once I start making, mistakes can sometimes work in my favour resulting in quirky outcomes that I then adapt into my pieces, I think that my 'scribble rings' may have begun this way.
What have been some of your favourite jewellery pieces you've created and why?
My Tara Brooch collection. It was an ambitious task to take on, as I was absolutely vandalising a national icon. My goal however, was to show Irish craft in the 21st Century, whilst paying homage to our country's rich culture and heritage in craft, and the reaction to them has been fantastic. I used anodized aluminium to achieve bright contrasting colours and bold patterns, which gave my pieces an almost 80's fashion aesthetic, but I also drew inspiration from Japanese Harajuku girls, I love how they express themselves through their cloths, they look like cartoons, it's great!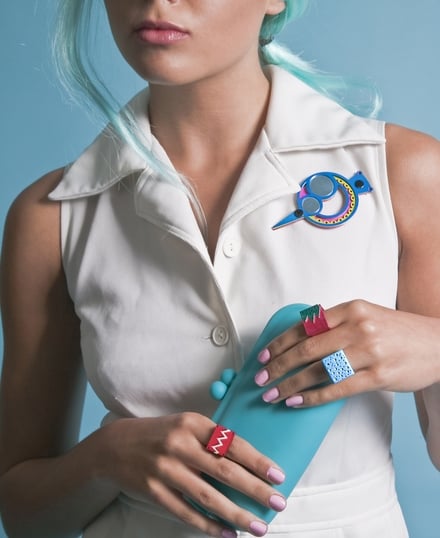 Would you ever consider collaborating with a fashion designer?
Working alongside other designers is fascinating and I'm always open to different creative inputs. Fashion and jewellery go hand in hand so I think that collaboration with a fashion designer could produce fantastic design results, I always feel like jewellery is the completing component to an outfit. To see my designs embellishing garments by designers like Jeremy Scott, and J W Anderson would give my jewellery a whole new perspective. I would love to work with a designer of their calibre.
What has been the highlight of your career to date?
There have been a few! Since my final year of college in 2011 I've had an overwhelming response to my work. In April of that year I received the Future Makers Overall Student Award, by The Crafts Council of Ireland, as well as a Materials Grant for my Tara Brooch Collection. I then went on to have a sell-out Degree Show in NCAD including a purchase from the National Museum of Ireland. At New Designers London, in June of this year I was awarded the 'One Year On' Award, which was presented to me by one of my jewellery idols Theo Fennell.
What trends are set to be big in jewellery design this Autumn/Winter?
Jewellery has an amazing timelessness and adaptability from season to season. Judging by the New Designers showcase in London this year, jewellery designers tend to be using a lot of alternative materials, myself included, producing aesthetics that are unusual from traditional jewellery. A lot of colour, and unusual subject matter.
What is your ultimate ambition? Where do you see yourself in the future?
To be able to design and create my own work for the rest of my career would be fantastic. It's very difficult starting out to imagine what I will be doing in the future. Right now I am just concentrating on putting in the hours to back up my ambitions!
http://www.muireannjewellery.com/