Fashion doesn't have to take a holiday just because you have to bundle up.
Q. Now that the temperatures have plummeted this January, I'm struggling with my wardrobe. Is it ever possible to look stylish and stay warm?
A. Chances are that, as you read this, the weather is absolutely tragic. If it is not actually raining drops the size of marbles, then it is freezing, dark and depressing. This is the reality of the Irish winter.
But it's relatively simple to look stylish during the winter months, once you stock up on a few basics. The January sales are the perfect time to stock up on winter warmers. The good news is these accessories aren't trend-led so they'll keep for the next cold snap too. Wearing cold-weather gear can seem uncool, but hats, scarves, mittens and gloves are staples in the wardrobes of many stylish people - and there's a fantastic choice on the high-street with colourful knits and luxurious faux fur taking centre stage.
An essential of every winter wardrobe, of course, coats are the item of choice to help protect you from the atrocious weather and keep you warm. But if you think that a simple plain black coat will do the job, it's time to update your way of thinking. This season sees a variety of coats, from parka to puffa, printed and plaid, which will keep you comfortable and cosy as well as making a style statement.
Here's one of our favourite looks by online store Wandering Minds.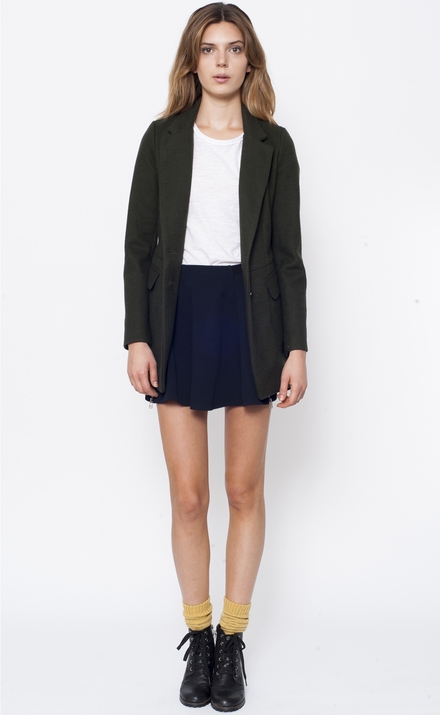 Pair an androgynous wool coat (£87 here) with a mini-skirt, simple white tee, leather lace up boots and a pair of scrunched down socks for instant cool. Throw on a pair of fleecy tights for extra warmth, Penneys do a great pair for under a fiver, and you're guaranteed to embrace the cold weather in style!