The global musical phenomenon Wicked is coming to Dublin next week. Sinéad Brennan caught up with Elphaba star Nikki Davis-Jones ahead of their arrival.
Wicked has been casting its spell over audiences for a decade and it will make its Irish premier at Dublin's Bord Gáis Energy Theatre from November 27, 2013 and will run for eight and a half weeks with over 135,000 people due to see the production.
The show will be the biggest the theatre has ever seen and shows in Manchester have been receiving rave reviews.
Nikki Davis-Jones plays Elphaba, also known as The Wicked Witch of the West, a role she once understudied for in London's West End. Knowing the role inside out is a must, but it has to be different this time around knowing that the role was hers to play every night of the tour?
"It's different for me this time around, I kind of found new things and was able to put my stamp on it a bit more, it's really nice actually to take it on full time and do it 8 shows a week, while I still can."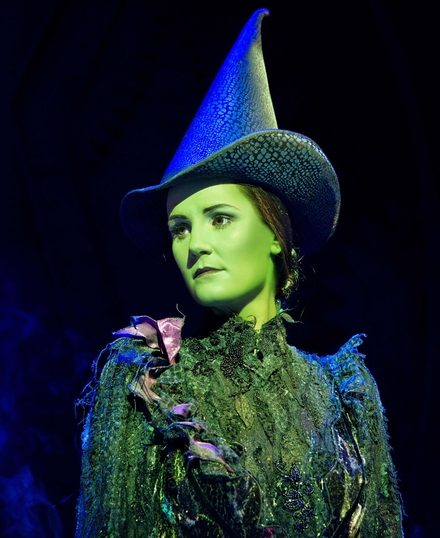 Nikki Davis-Jones as Elphaba. Photo: Matt Crockett.
To play such an iconic role comes with its pressures, especially with the die-hard fans Wicked has all around the world, "They've seen every Elphaba and they know the ins and outs and have seen it so many times so there is a pressure there, but when you get their seal of approval it's nice, you hope for that."
To become such a worldwide success, the characters, the songs and the story must be something special, " I think because it's The Wizard of Oz, we were all brought up on it and we all watch it on Christmas Eve so I think because we know those characters so well, and how Wicked it written, and the music that comes with Wicked and the lovely love story between two friends. I think everyone can relate to it somehow, somewhere in there, so I think that why it's such a success and why people come back again and again.
"We've got such an amazing fan base, some people come a few times a week, I don't know how they afford it, you see them come to the stage door and stuff and they must absolutely love it. It really is nearly like a cult following- if you can say that? There is something special to it and that makes people come back."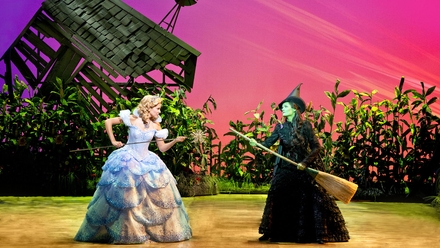 Emily Tierney and Nikki Davis-Jones. Photo: Matt Crockett.
As I speak to Nikki she's still in Manchester, the first stop on their UK and Ireland tour, and it feels like a home away from home for her already, " The good thing is, because we're not doing weekly or two weekly venue stops, we do get to settle and where we live here in Manchester, it feels quite homely now, you don't live in a suitcase like you would if it was just for a week, we unpack and I bring stuff, homely things, to make it homely, so it's kind of nice that you get to settle and you care a bit more where you're staying, which is good for me, usually I just book some little old ladies spare room or something but that would drive me mad for this amount of time so it's good."
Despite feeling at home in Manchester, she is excited to move on to Dublin, especially after visiting a couple of weeks ago and performing on The Late Late Show, "It was so good. I just loved how lovely everyone was, literally from the minute we stepped off the plane and got in a taxi, the taxi man didn't stop talking the whole way and he was hilarious, I loved it and that continued, everyone was so welcoming and so excited and there seems to be a big buzz about Wicked coming."
She added, "I'm really looking forward to settling here and exploring and going out of Dublin and seeing the countryside on Sundays and stuff, maybe hire a car and go into the countryside and see things."
Because she'll be working pretty much constantly during her stay [apart from a short trip to her home in Liverpool for Christmas], Nikki won't be able to go too wild as she has to look after her voice, but she is looking forward to spending some quality time with the rest of the cast and crew, having movie nights and finding some good DVD box sets to watch. "It's a whole lifestyle thing really, I can't drink, I can't stay up late, I can't eat certain things, I've to stay fit, and it's a muscle I guess."
"Because I can't really go out at night and socialise, because it's such a hard thing, I can't really go out drinking and stuff at the week, so it'll be nice that there'll be other people around and we can get the DVD box sets going and nights in with films and stuff so it'll be good."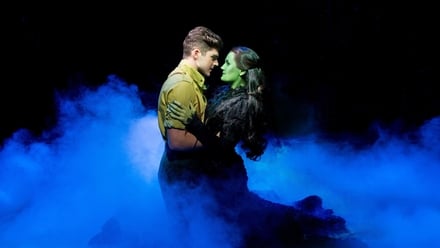 Liam Doyle and Nikki Davis-Jones. Photo: Matt Crockett.
You often hear of performers having rituals before they go on stage but Nikki is keen to avoid getting too compulsive, "I tried to knock them on the head because I thought, 'I can't do this for the whole year!' I used to sing the first song at least once and go through a few lines and stuff but I'm sort of trying to not do that now, you can get into habits and be like 'The show is going to go bad if I don't do it' so I'm trying to knock them on the head. I always do a few little yoga sun salutations literally behind the set, I always do them but that's more for my body to stretch it and stuff and to breath."
And the nerves, do they ever go away? "It goes through phases actually, some weeks I'll have a full week of 'I'm not so nervous' and some week's we might have somebody in or I dunno, it's like different times of the month and stuff I guess, you do have some days where you're like a normal person and you'd feel a bit 'Oh I'm not really that chatty today'. Those days are the days I get a bit more nervy but once you get out there and the audience are loving it you relax but I do feel it every day somewhere."
Wicked is the only thing on Nikki's brain at the moment and because the tour is really only kicking off now, and lasts until at least May 2015, she hasn't thought much about what she will do when it's all over, "I don't really know yet, I guess I'll think about that closer to the time. I'd quite like to do more just straight acting though, because this is such a big thing, it'll be nice to rest the voice and not wake up every morning and check that I can sing."
You can see Nikki in Wicked in the Bord Gáis Energy Theatre, Dublin from November 17, 2013 until January 18, 2014.
Watch Nikki perform Defying Gravity on The Late Late Show:
Sinéad Brennan