Love lies bleeding and broken at Chris Martin's hush puppies on Coldplay's understated sixth album. He has "consciously uncoupled" from macrobiotic superwoman Gwyneth Paltrow and the scars run deep in the grooves of the pained and plaintive 42 minutes of Ghost Stories.
Of course, there are those who might say Coldplay consciously uncoupled from making decent music soon after their last good album, 2002's A Rush of Blood to The Head, but happily, sadness has made Martin reconnect with at least some of the fallen choir boy grace of Coldplay's earlier, better work.
He sounds less like an over eager altar boy at an interminable folk mass and more like a man recovering from real trauma. Martin does honest simplicity very well and while it may be hard to muster sympathy for the death of a marriage between a Hollywood A-lister and the Tony Blair of stadium rock, you'd have to be a Kasabian fan not to be moved by at least some of the songs here.
Musically, Coldplay are on a break-up diet of spectral synth builds, controlled bursts of guitar, and atmospheric modulations that climb into a stratospheric ascent – there's a wish to rise above it all, emotionally and temporally. Martin humbly appeals for reassurance as love evaporates. "Tell me you love me if you don't, then lie to me." he croons on True Love.
Sappy or sensitive? Your call. But even the hardest of hearts will crack just a bit by the way Another's Arms stops abruptly with the line, "late night watching TV wish you were here beside me". Elsewhere, Oceans ends with the sound of distant wedding bells. It is one of the many sad and simple moments that makes Ghost Stories their best album since A Rush of Blood to The Head.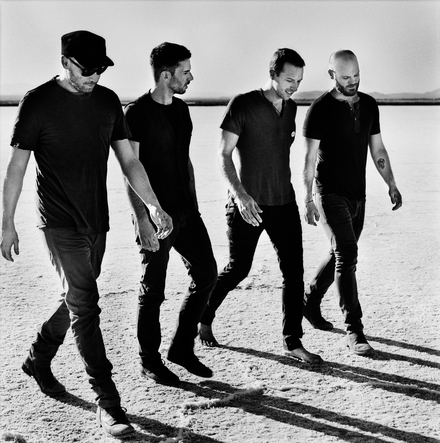 You'd have to be a Kasabian fan not to be moved by some of the songs on Ghost Stories
Radiohead for slow learners, or, in Alan McGee's immortal words, "bed wetters", Coldplay never had it easy from the snob rock elite but if anything, the band who launched the new age of beige have at least tried to roll with the merciless punches and let their music evolve as they have grown.
Most of these new songs are sunk in a digital bubble bath and they can either come up sounding like electro wallpaper or, on the likes of Midnight, impressive forays into nocturnal ambience. Martin even goes all Kanye on us and does the vocoder thing over chilly piano notes and krautrock repetition.
The ebbs and flows of minimalist electronica and the soothing synth patterns will be too tasteful for your average Shrillex fan but concessions are made to future tours of the world's stadia on Sky Full of Stars, featuring guest producer Avicii, which reverts to the bland rush of dance rock.
And then there is that heart-stopping moment 00:36 into the opening track, Always in My Head, where just for a few crucial, terrifying seconds Coldplay sound like Enya meets Anuna before lapsing into a more earthbound Cocteau Twins.
Chilling for all the wrong reasons. The best song by far is Magic. It is also Coldplay's best song in many years. It's a deceptively simple thing wherein Martin sounds poised and hopeful over a wonderfully economical bass line, crisp rim shots, and a short blaze of guitar.
It is certainly not in your face, which is preferable to the amorphous, metaphorical flag waving of Coldplay's last few albums. Those catch-all appeals for love, peace and understanding had a certain vagueness that too often equalled blandness.
On Ghost Stories they've mostly made the most intimate murmurs of a broken heart sound universal without recourse to bombast or weepy over-emoting. This is the aftershock following the full-on nuclear assault of Mylo Xyloto. Martin is still haunted by lost love but he's going through the healing process and Coldplay sound all the better for it.
Alan Corr