15-year-old Irish actress Lauryn Canny talks working with Juliette Binoche and her future acting plans ahead of the release of her latest film A Thousand Times Good Night, set to hit Irish cinemas on May 16.
This film tells the emotional story of Rebecca (Binoche), one of the world's top war photographers and her struggle to make the choice between her dangerous career and her family in Ireland. Lauryn Canny plays Rebecca's daughter and is very impressive in her portrayal of a young girl feeling abandoned by her own mother.
On getting into acting
I've always dipped in and out of musical theatre - I like dancing and singing but I never really focused on drama and acting. It just happened. I was walking down the road one day, a woman approached me and asked me if I wanted to audition for a movie. After that, my mam Googled movie auditions and found auditions for Amber. The day after I went for the audition, I found out I got it and within a week I was on set filming.
On filming with Oscar winner Juliette Binoche in A Thousand Times Good Night
She's such a big star and I didn't really get it until after filming. I didn't realise how big she was at the time - thank god, I think I would have been so intimidated. I didn't Google her and I hadn't watched many of her films so I wasn't that aware as to how amazing she was. She taught me so much about acting, she changed the way I thought I was going to do that film and completely changed my performance. She told me to be patient with school and keep auditioning around the world.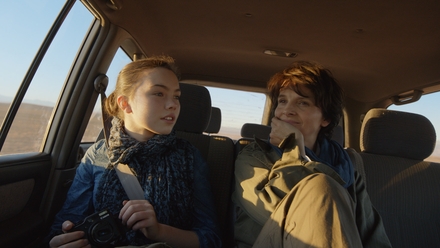 On getting into character for the film
We had a really long auditioning process. We had an hour long audition, where by the end of it, it was just me and the director Erik Poppe talking about the character Steph. We tried to get into her head and connect parts of my life with parts of hers. I met Erik's daughter, who my character was based on and got to know her. I did a good bit of research to find out who she was and learn about her whole background. I had to go into my own space every few hours to try and understand her emotions and thoughts.
On filming in Morrocco
It was great. I got a week off of school in December to be in the sun! It was completely different to anything I've ever done. When we were filming the refugee camp scenes, it was really realistic as a lot of the extras who were playing refugees were actually refugees. It was surreal and opened my eyes a lot more.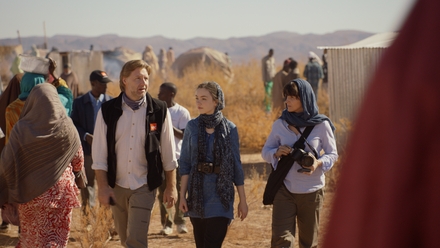 On the popularity of RTÉ crime drama series Amber
I filmed that two and a half years ago and you never think about what's going to happen after it comes out. It was so long since I filmed it, that I had forgotten about it. I've gotten tweets from people around the world and it's amazing. The night that it came out, it was just crazy. I was really surprised by the amount of attention it got, even though I was happy and proud. With the ending being so frustrating for the viewers it opened a really big discussion about it. I've even gotten tweets from people around the world and it's amazing.
On juggling school work and an acting career
I've got great teachers and a great family that can just help me out. With Amber, I didn't miss out on much school because most of it was filmed during the summer but with A Thousand Times Good Night, I had to get a tutor to come out to my house on days after filming or on the weekends. So it was a lot - I didn't really have a life outside of filming and school work. It was so much fun though and I loved every minute of it. I have my Junior Cert in a few weeks so that will be more studying for me.
On her future acting plans
I'm auditioning all the time. I have another movie coming out in the next year and I have two more projects that should be coming up. I'm going to keep going with it as much as I can. It's what I really want to do forever.
Niamh Doherty