The former star of The IT Crowd talks to Alan Corr about his new film, The Double, why he'll always be fascinated by the so-crap-it's-good aesthetic, and how Chris O'Dowd is dealing with stardom.
Dressed in a check shirt and skinny tie, corduroys and sensible shoes, and with his trademark spruce of black hair, you could say Richard Ayoade is the very double of Moss, the techie savant he played in sitcom The IT Crowd.
His co-star on that show, Chris O'Dowd, may have gone on to something approaching global ubiquity (or at least a workaholic fervour) with appearances on Broadway and a Cumberbatch-bothering amount of movies, but the quiet and watchful Ayoade was always one of life's observers.
In person, the 36-year-old Londoner is almost painfully polite, the very definition of the diffident English gentleman. In fact, if Richard Ayoade was any more polite and any more diffident he would offer to interview himself so he could save me having to do it. Which would be just the kind of trick that would chime nicely with his second film, The Double.
It's an adaptation of Fyodor Dostoevsky's novella of the same name and it presents the deliciously cruel and comedic tale of Simon James, a (yes) painfully diffident and polite young man who finds himself being supplanted by his more successful and cool doppelganger. Both parts are brilliantly played by Jesse Eisenberg, the go to actor for gawky outsider roles.
Simon never gets the girl so he can't lose her in the first place, he is overlooked by his superiors in his crushingly Kafkaesque workplace, and he can only look on with mounting and entirely worthless rage as his exact double thrives both romantically and professionally.
The Double is set in the kind of hierarchical office environment that echoes Ayoade's IT Crowd beginnings. Following his directorial debut with 2010's wonderful Submarine,a tale of teenage love and imminent genius in Wales, The Double is somewhat of a return to the soulless corporate world.
"In the novel it deals with that more," Ayoade says. "There is a petty bourgeois idea of advancement but that satirical side to it wasn't important to me in the film. What was important is the fact that this character doesn't resist it or fight it - he's just subsumed by it. Each situation provided an opportunity to show how passive he is."
Eisenberg is superb as both Simon James, the loser who is even defeated by inanimate objects, and James Simon, the assertive but entirely vacuous go getter who taunts and bullies his pliable double. Unsurprisingly, it was Eisenberg's name which kept coming up when Ayoade was thinking of who could play the dual lead roles.
Sad sack Simon is certainly comparable to Jonathan Pryce in the early parts of Terry Gilliam's Brazil, a movie which The Double is being compared to. Ever polite, Ayoade smiles and says: "I think it's actually more similar to Submarine and Rushmore. I can understand the comparisons with Brazil and you will get people saying so what's The Double roughly like? And it is not waaay off Brazil but I think Gilliam has a Felliniesque, absurd, grotesque world that he is a brilliant ringmaster of. The Double is more about loneliness."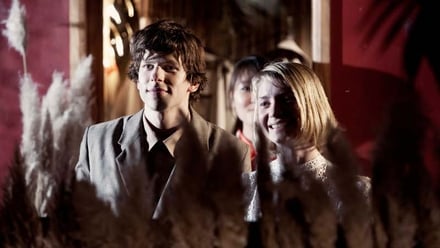 Jesse Eisenberg and Mia in a scene from The Double
The son of a Norwegian mother and Nigerian father, Ayoade grew up in Suffolk in England. He studied law at Cambridge University where he became the president of the Cambridge Footlights club. His earliest ventures into that special brand of "so bad it's good" comedy was directing, co-writing and starring in Garth Marenghi's Darkplace in 2004.
He made cameos in The Mighty Boosh before joining The IT Crowd and stealing the whole show as neurotic savant Moss. The creation of Father Ted co-writer Graham Linehan, it ran for five years and changed Ayoade's life.
"I was and am a big fan of Graham and he said he had me in mind for the part in The IT Crowd but it was nothing I ever expected would happen," Ayoade says. "All the other stuff I'd been in, I'd written or it had been friends' stuff in a very out-of-Edinburgh-Festival kind of way.
"I'd never had an actor agent or I've never tried to be an actor. The last time I was in anything was two years ago so it's not like I've actively persued anything. I don't think acting is my area of aptitude and I think I have more aptitude in writing and directing but I'm pleased and grateful that I have acted and I've been around really good actors."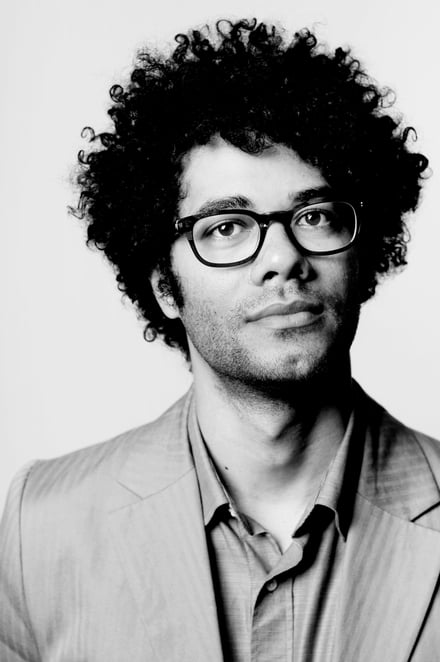 "I'd never had an actor agent or I've never tried to be an actor."
So how is Chris O'Dowd dealing with superstardom? "He is being an absolute cock about it," jokes Ayoade. "He kind of was a star anyway. I saw him in Vera Drake and I said to Graham, you should look at Chris. In Vera Drake he just completely stands out. He is only in one scene and he is amazing.
"I initially read the scripts for The IT Crowd around at Graham's house and I knew I was in it and that's when I met Chris. He is sort of amazing so it is no surprise to me whatsoever that he has gone on do bigger things."
Read RTÉ Ten's review of The Double.
As has Ayoade and for a second feature, The Double is very ambitous indeed. It's set in a kind of parallel universe where technology hasn't advanced beyond Soviet era clunkiness, everything looks like the inside of a teapot, clothes are wrinkled and unkempt and life is one long and grim trudge. As Ayoade says "it's meant to look like hell".
He really is a master of the "so crap, it's good" comedy ethos and he's got a well observed theory behind it all. "I think that comically, the eighties was the last time anyone had any confidence that things were getting better and I was even really conscious during that time so it's funny to look at people who don't think life is a disaster," he says. "It really is amazing that there was a time when people didn't think that way and they thought things were getting better.
"With that there was the space race, the economic boom . . . if felt like fashion was getting bigger and bigger and it felt like there was a swagger. The nineties, other than the hilarious blip that was Britpop, just didn't have that. My first musical thing will always be Nirvana and they were not going 'hey it's all great!' All that and the movie Mannequin..."
The Double is out now