John Byrne talks to Dexter Fletcher, the director of the unlikely hit musical Sunshine on Leith, which features the music of Scottish folk duo, The Proclaimers.
Dexter Fletcher. The name may not be that familiar, but the face should ring bells. Starting off as a child actor, he played the part of Baby Face in Alan Parker's 1976 movie Bugsy Malone. Roles in The Long Good Friday and The Elephant Man, as well as TV work followed and more recently he appeared in WWII drama Band of Brothers and TV series Hotel Babylon.
But Fletcher is probably best known for playing Soap in Guy Ritchie's Lock, Stock and Two Smoking Barrels. Yeah. That fella.
Fletcher turned his hand to directing with last year's Wild Bill, a highly-acclaimed, gritty comedy-drama set in the mean streets of south-east London. He's now followed that with quite a brave and bold career move with a musical, directing the screen version of the stage hit Sunshine on Leith, featuring songs written by Scottish folkies The Proclaimers.
"I was approached by the producers," he recalls, when asked how it all came about. "They saw my first film, Wild Bill and talked about songs, and I had a few ideas and they seemed to believe that I knew what I was doing and took a bit of a risk with me. I have a couple of Proclaimers' tracks on an iPod, but it was still fairly interesting to rediscover all that music and see how those tunes and lyrics were used for telling a story."
The plot's a straightforward tale about squaddie pals Davy (George MacKay) and Ally (Kevin Guthrie), back from Afghanistan to rebuild their lives in Edinburgh. One is returning to his girl (Freya Mavor), while the other finds the girl of his dreams (Antonia Thomas) a little later. Jane Horrocks and Peter Mullan feature as Davy's parents, and they'd be the most familiar members of the cast.
"Well, they're fantastically accomplished actors, aren't they?" says Fletcher. "And that's the beauty of getting those people; you get an opportunity to work with some really talented people, and give them something no one's seen them do before. I mean, no one's heard Peter sing a song before, and he does a brilliant job. Whereas with Jane, we all know she can sing, so she gets a chance to play a really strong dramatic role, which she's not given enough opportunities to do, to my mind."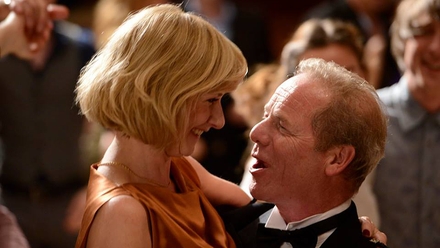 Jane Horrocks and Peter Mullan
Despite spending his working life on the other side of the camera, directing was something he gravitated towards rather than it being part of some Grand Plan.
"My great friend Jason Flemyng (who also starred in Lock, Stock . . . and features in Sunshine on Leith), he and I talked about maybe doing something together – he would produce and I would direct – and that unfortunately never came to fruition," he explains. "But then I got offered to direct Wild Bill and I grabbed at it.
"Over the last five or six years I realised that, I've been an actor for the best part of 40 years, so if the opportunity came up to direct, I should go for it - because I might know more than I suspect, more than I think. It was only after doing a couple of films that were really bad, did I think, 'Oh my God. I could do better than that,' and then decided to act upon that notion rather than just sit around and moan."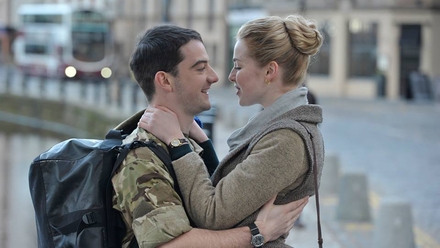 George MacKay and Freya Mavor
Wild Bill was very well received, but Sunshine on Leith is a major step up as it's a much more mainstream movie. This is not lost on Fletcher. While acknowledging that Wild Bill "worked out very well for me" he adds: "The real test is my second film, which is this one, and I was thrown a bit more in the deep end and I was given a bit more responsibility, more money, a bigger staff – and it's a musical."
But, like previous unlikely British hits such as Brassed Off and Slumdog Millionaire, Sunshine on Leith has great mass-market potential. "The great thing about musicals is that they cross all age barriers," says Fletcher. "And because they make people feel good – and that's something people are looking for a bit in this present climate. Something to put a smile on your face is a bit rarer to find and maybe that'll work in its favour.
"With my first film I tried to have a positive ending," adds the 47-year-old. "And I think this film does it even more. It makes no bones about being as feel-good as it can possibly be."
Sunshine on Leith is currently screening nationwide