After working with U2 and Beyonce and being the man who helped guide Fr Ted to sitcom immortality, you'd think Declan Lowney would be rather pleased with his work record.
Directing the Eurovision Song Contest for RTÉ at the age of 28 is pretty impressive too, as is making the first series of Moone Boy and building up a reputation as a go-to TV director in the UK with shows like the BAFTA-winning Cold Feet but Lowney has always wanted to make movies.
He did make one feature called Wild About Harry over a decade ago but Lowney's keen eye was always on cinema and right now he's enjoying his biggest-success yet with Alpha Papa, the big-screen debut of small screen cult-turned-institution Alan Partridge.
In converse, jeans and a perma-smile under his nest of hair, the boyish 53-year-old is rightly pleased with how the whole thing has turned out, especially considering how much was at stake (namely the reaction of fans who love Alan Partridge with a slightly obsessive creepiness worthy of well, Alan Partridge) and how difficult it was to get the much-loved character on to the big screen in the first place.
With a team of writers like Peter Baynham, Steve Coogan himself, Neil and Rob Gibbons and Armando Iannucci on board, this must have been quite a script to direct . . .
"They had written 150 pages, that's a long movie script. That's two and a half hours. After about a week, Steve was just very worried that he wasn't hitting the comedy as much as could be hit so he started re-writing with Rob and Neil. Usually they were two days ahead but as the weeks went on, they were one day ahead and they were coming in in the morning and the pages weren't there so it did get very frustrating but he was doing it that way for all the right reasons."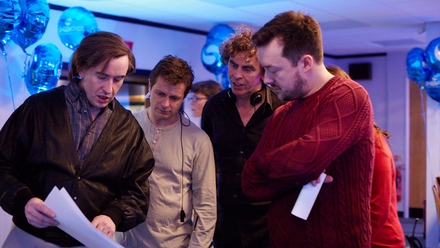 Were you used to that kind of chaos after working on Fr Ted?
"Ted was less chaotic than that. I think TV comedy is chaotic by its nature and I think what's happening now is that the power is going to the writers which is a really good thing so they're now the producers as well and sometimes the directors and performers and their only interest is getting laughs so they don't hand over the script to someone - they nurture it through the whole process and if they think of a better line than the one they've written, they can change it. In drama you don't do that because it's written in stone."
You've said that Steve on the set of Alpha Papa was a perfectionist. Is he a very serious operator too?
"Yeah. It is a serious business. We'd shot a scene and have a laugh but if he wasn't happy with it, he'd grab Rob and Neil for a minute and have a bit of a huddle and ask why isn't it working and he'd say, sorry I'm not shooting this until I'm totally happy. Nobody's going to go to the cinema and say wow! That's fantastic – they finished the movie on schedule. This is about making people laugh and I learned so much from watching that unravel itself. The movie was almost three hours long when we assembled all we did and it's not as funny. They threw away an awful lot of really good material but they were absolutely right but the gag rate is one laugh after another. Like you say, there are times you miss the next one because you're still laughing at the previous one."
So how much is Steve Alan and Alan Steve?
"It's his character, it's his creation and it's twenty years . . . they have to overlap and there are huge parts of Steve that are very like Alan. Steve is a much more sensitive person than Alan, a much smarter person than Alan and he does think before he speaks whereas Alan speaks before he thinks. Alan knows that dead air is the worst thing on radio so he just talks. Steve works awfully hard. When everybody else was going home at 8 o'clock at night he was still in a room with the two boys and then he'd be in early for make-up and Alan's hair takes a long time. He works awfully hard at this. It's hard work to be around but the results are fantastic and that's all they're interested in. There is no ego or vanity."
People have invested a lot of love into Partridge over the years and he is an eminently-quotable cultural touchstone. How worried were you, Steve, Armando and the Gibbons might get it wrong with the movie?
"I don't think I was quite aware of just how ingrained Alan is in the UK and how dearly they hold him because he is an idiot and people love an idiot. It does bond people who like it because a lot of people don't like it, don't get it. I's smart, it's really bright comedy. they're really layered gags."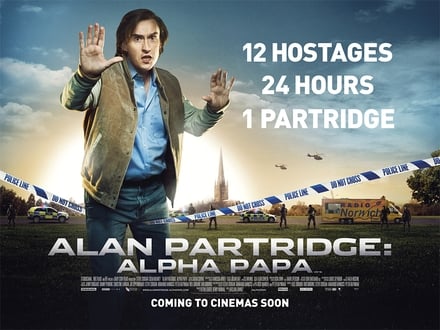 Steve summed the movie up nicely when he said it was Dog Day Afternoon meets Network. There are some poignant scenes in which Alan and Pat (Colm Meaney) talk about music playlists. How much was Steve having a go at the increasing vacuity of the media in Alpha Papa?
"In Alpha Papa there's a reluctance to let the conglomerates take over and the state of the homogenised radio in the UK, UK radio is so ****ing bad now. Over here in Ireland there are a few individual voices but in the UK it is all homogenised – they all join up for the news and they all play the same playlist. Having said that, Alan has no real love for music."
As someone who've worked on Fr Ted, series one of Moone Boy and with also developed shows with The Rubberbandits, Mrs Brown's Boys – Discuss?
"I'm staggered at the success to be honest. I don't quite get it but I do like the way he's taken the format and ****ed with it. The way he talks to camera and walks off. I think to do that on a 9 o'clock BBC One show is a huge leap and for an Irish bloke dressed as a woman to do that and they love it, they absolutely ****ing love him over here so fair play to him."
So what's next for you?
"I've nothing on. I've loved making this film and I've always wanted to make movies and I want to stick with this and hold out for the next project that I want to do. I've made one film before, 12 years ago, and it was a nice film but it wasn't a terribly good film and I've learnt an awful lot making Alpha Papa so I want a go again. What seems to be clicking, and it's taken me a long time to find it, is that I work well with comedy performers who really have a vision of what they're doing. They're really directing as well but they need someone to give them some help with it and give them some objectivity about it but Steve is a very good self-judger, Chris O'Dowd is a very good self-judger, Graham Linehan and Arthur Matthews when we did Ted, and the reason they asked me to do it was because they knew I'd work with them, knew exactly what they wanted. That's why Ted worked. I think that's where I work well and I think that's worth exploring more."
Alpha Papa is out now
Alan Corr