Dublin Zoo has celebrated the arrival of a new Asian elephant. The as-yet unnamed calf was both to mother Yasmin at 7.22am on Thursday, July 17.
The healthy bull is an estimated 1.2 metres tall and weighs approximately 80kg, equivalent to the weight of an adult human.
The new arrival, born after a 22-month gestation period, joins the rest of the herd - Bernhardine, Anak, Asha, mum Yasmin and dad Upali - in the Kaziranga Forest Trail at Dublin Zoo.
Paul O'Donoghue, assistant director at Dublin Zoo said, "We are absolutely thrilled with the new arrival. The calf was born within three minutes and after eight minutes he was up and taking his first steps, watched closely by his mum Yasmin and the rest of the females in the herd.
"Yasmin is an experienced mother and is bonding well with the calf, which is very strong and suckling well. He has been given a warm welcome by the rest of the herd who are being very protective.
"This male is a significant birth because he will play an important role in the conservation of Asian elephants."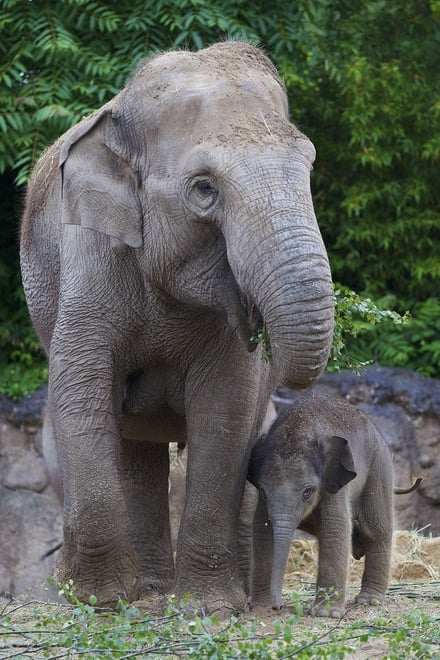 The newborn is Yasmin's third calf and is a success for Dublin Zoo as part of the international breeding programme established to assist the survival of the Asian elephant.
Dublin Zoo and The Natural Confectionary Company, new sponsors of the Asian elephant habitat, are running a competition to name the new arrival.
Entries should be inspired by the elephant's Indian origins and will be accepted through the company's Facebook page.