Keane and Viera - Best of Enemies looks at the war of attrition between the two former football captains; the 90-minute drama, The Great Train Robbery: A Robber's Tale recalls the daring heist of 1963; and 1916 Seachtar Dearmadta recalls Commandant Ned Daly who was executed following The Rising.
Keane and Viera - Best of Enemies, 9.55pm RTÉ Two
Once upon a time, Manchester United and Arsenal went to war, led by their respective captains, Roy Keane and Patrick Vieira.This captivating slice of TV about the epoch set a little ripple of comment around our radio sets last Wednesday morning, after its first airing on ITV4. In the film, Roy Keane and Patrick Vieira explain why they hated each other, what they really thought of Sir Alex Ferguson and Arsene Wenger. Their infamous tunnel bust-up in February 2005 is recalled - on the pitch they fought, and off the pitch they tried to fight. Roy tells us what he wishes he had said to Mick McCarthy in Saipan. But a quote on anything from Keane goes viral and you may already know that - and he has probably said something equally noteworthy since.
The Great Train Robbery: A Robber's Tale, 8.00pm BBC One
Britain wakes up to news of the biggest robbery in the country's history. A train has been hijacked and robbed, 35 miles from its arrival in central London. This is the true story of the key protagonists, led by Bruce Reynolds, and their role in the crime of the century. Starting from November 1962 and going through to the night of August 8, 1963 and its immediate aftermath, A Robber's Tale tells the story of how the robbery was inspired, planned, rehearsed and executed. Reynolds is played by Hobbit star Luke Evans, Buster Edwards by Neil Maskell, Roy James by Martin Compston, Gordon Goody by Paul Anderson and Charlie Wilson by Jack Roth.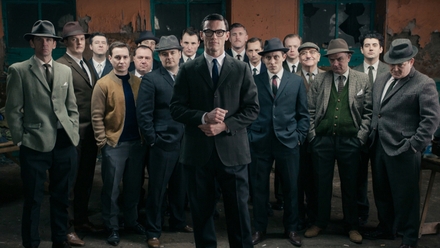 1916 Seachtar Dearmadta, 9.30pm TG4
Edward 'Ned' Daly was the Commandant of Dublin's 1st Battalion during the 1916 Easter Rising and at age 25, was the youngest man to hold such a high rank. He was also the youngest to be executed on May 4, 1916. A great singer, Ned seemed to have a natural aptitude for military matters from the moment he joined the Irish Volunteers in 1913. Promoted to commandant, his battalion was stationed at the Four Courts during the Rising and saw the fiercest fighting of the week. He surrendered on April 29 and was executed in the Stonebreakers Yard in Kilmainham on May 4.