A new RTÉ Radio 1 Doc on One documentary, The Boys in the Band, reveals a fascinating, true and tragic story.
The Artane Boys Band are a household name having played to Irish presidents, English Queens, and at numerous special events across the country. They've even appeared on the cover of an INXS album and, of course, they can count U2's Larry Mullen Jr as a former member.
However, few know the secret of three of the band's boys.
In July 1952, in the tenements of Dublin's inner city, a young woman gave birth to twin boys. However, as her husband had been working in America for over a year, this was not a celebration.
Her existing three children and her new babies, three boys and two girls in total, were taken away from her and she also lost her husband and her home.
For years the brothers ended up playing music shoulder to shoulder in the Artane Boys Band, unaware of their kinship.
The children have since grown up, moved on and learned to cope with their past and will share it with listeners tomorrow on RTÉ Radio 1, Saturday October 19 at 2pm.
The elder son, Danny Ellis, is a successful singer songwriter based in the US, his sisters live in the US and one of the twin boys lives in the UK.
The other, Matthew, lives in Cork, now in his 60s he is still searching for answers to the details of what happened to his family and why.
Speaking to RTÉ TEN, documentary maker Joe Kearney said: "The Danny Ellis story is very well known. I came upon the story through RTÉ Radio, it was featured on Liveline, on The Pat Kenny Show at the time and on Mooney.
"He has written a best-selling book, he has performed in the National Concert Hall where he has a musical journey through his life. He has literally been performing his life story through music and narrative.
"It's an absolutely fabulous story that has two elements that hold it together. One of those elements is being abandoned by his mother when he was eight years of age in Artane Industrial School with the promise she'd be back to collect him for Christmas. However she never came to pick him up and he left eventually the industrial school at 16.
"On the day he was leaving the school he accidentally, through some form of serendipity, came in contact with his twin brothers whom he hadn't seen since they were infants.

"There were 800 students in the school but there was only 80 band members so he was in that top 10 per cent, so to speak, in that group...On the day he was leaving he discovered that two of those band members were his twin brothers."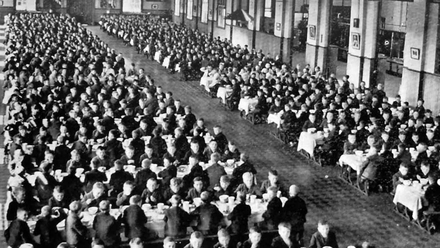 He added: "I love story and the thing that seemed to be missing from this story was that we had it from Danny Ellis' perspective only. As a storyteller [Kearney has a phd in Creative Writing from UCD] I loved the notion of what happened next, particularly in that schoolyard [where he was reunited with his twin brothers] because at that moment the trail goes cold.

"I interviewed Danny in America, knew he was launching a new CD and I eventually, with his help, tracked one of his twin brothers, Matthew. When I met him, by then in his 60s, it coincided with a time in his life when he wanted to find out more about his family, before it's too late."

Listen to the documentary now on the RTÉ Radio 1, Doc on One page here