Monaghan meet Tyrone and Dublin face Cork in the Football Championship quarter-final double bill on RTÉ Two, while Westlife's final concert at Croke Park gets a showing on RTÉ One and Top of The Lake continues on BBC Two.
The Saturday Game Live, 4.40pm RTÉ Two
Michael Lyster is joined by Colm O'Rourke, Joe Brolly and Pat Spillane for an All-Ireland Senior Football Championship quarter-final double bill live from Croke Park. First up is Monaghan v Tyrone with commentary from Ger Canning and Martin Carney (throw-in 5.00pm), followed by Dublin v Cork with commentary from Darragh Maloney and Kevin McStay (throw-in 7.00pm). Make a note for tomorrow night, when The Sunday Game (9.30pm on RTÉ Two) is hosted by Des Cahill. He is joined by Ciarán Whelan, Kevin McStay and Dessie Dolan for a look back at the weekend's All-Ireland Senior Football Championship quarter-finals.
Westlife: The Farewell Tour Live at Croke Park
10.55pm RTÉ One
One of the most successful groups of all time, like it or not, Westlife had 14 number one singles, more than 20 top 10 hits and sold 45 million albums during their 14-year career. In 2012 Westlife embarked on their final tour together. Over a three-month period, The Farewell Tour travelled to more than 100 venues worldwide, culminating in a gig for 85,000 fans at Croke Park. True devotees have already soaked in every glittering frame of the DVD, but here is a chance for Nick fans (Drake or Cave, or any other Nick) to spread their wings and indulge a little in some musical curiosity. No, you sure now?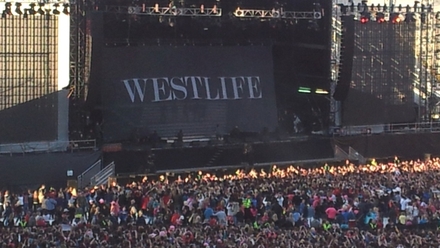 Top of the Lake
9.30pm BBC Two
A violent indiscretion sees Robin thrown off the case. The police quietly close the case on the missing girl; there have been no leads and she is presumed dead. But Robin won't let go. Even as she tries to process the pain of her own past, she carries on working unofficially on the case. Dangerously taking matters into her own hands, she unearths a small glimmer of hope: footage found on a mobile phone suggests Tui might still be alive.