The Meaning of Life: Bono, 9.35pm RTÉ One
Two days before his 53rd birthday, Bono Vox - a man never short of a word or ten - met up with Gay Byrne to discuss life, love, what's ahead of us all and the whole damn thing. O, alright then - we hope Gay manages to squeeze in his last question: has he still not found what he is looking for? The programme will teem with Bono-style sound-bites and cute, self-deprecating euphemisms and paradigms, which if all put together end-to-end might very well read like a Bob Dylan song. Bono is pictured below with wife Ali Hewson.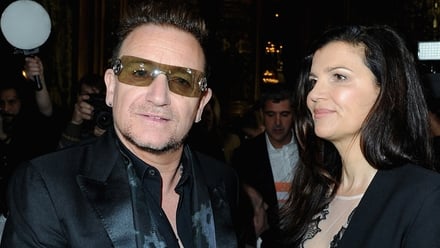 Kitchen Hero: Home Cooked, 8.30pm RTÉ One
Donal travels to Limerick for the annual Riverfest Festival, where he cooks Griddled Beef and Mint Salad with Toasted Rice and Peanuts, and also Butterflied Rosemary Chicken with Romesco Sauce. In the studio, he prepares a Thai Noodle salad and peanut butter sandwich cookies. In the course of this series in general, watch him rustle up Chilli and Lemongrass Chicken, Howth Seafood Chowder, Blue Cheese Beef Sliders, Butterflied BBQ Yoghurt and Mint Lamb and Jerk Chicken with Mango Salsa. Perhaps you will feel like a Jerk at the end of the series because you never quite got around to doing them yourself.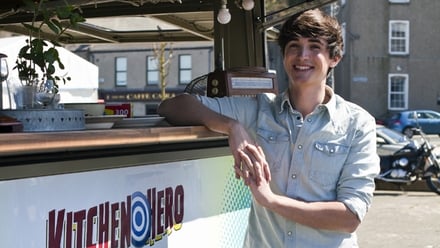 Seoda: President Kennedy In Ireland, 7.30pm TG4
President Kennedy in Ireland is the Columban Fathers' record of the 1963, visit, with footage from Dublin, Wexford, Cork, Galway and Limerick, with excerpts from his speeches and appearances by prominent political figures of the day. The film is the only professional record of the visit which is in colour (see still below).
Aside from the Columban Fathers' recordings, Telefís Éireann, as RTÉ television was then called, was only on air 18 months. The new station had to provide live broadcasts from a variety of locations and with multiple cameras. The president was to travel from venue to venue by helicopter meaning broadcast facilities would have to be in place at each location. Additional mobile units were borrowed from other companies including the BBC who also provided advice on the live outside broadcast of major events.
See the special JFK archive site www.rte.ie/archives