Brad Pitt has said despite the fact that he has very few friends, that he and his family "haven't known life to be any happier."
In an interview with Esquire, he said: "I have very few friends. I have a handful of close friends and I have my family and I haven't known life to be any happier.

"I'm making things. I just haven't known life to be any happier."
He added: "I always thought that if I wanted to do a family, I wanted to do it big. I wanted there to be chaos in the house...there's constant chatter in our house, whether it's giggling or screaming or crying or banging. I love it. I love it. I love it.
"I hate it when they're gone. I hate it. Maybe it's nice to be in a hotel room for a day - 'Oh, nice, I can finally read a paper'. But then, by the next day, I miss that cacophony, all that life."
He also spoke about his drug taking: "For a long time I thought I did too much damage - drug damage. I was a bit of a drifter."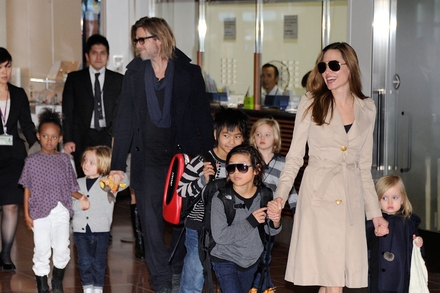 Brad Pitt, Angelina Jolie with their six children, Maddox, Pax, Zahara, Shiloh, Knox and Vivienne
"A guy who felt he grew up in something of a vacuum and wanted to see things, wanted to be inspired. I followed that other thing...But then I got burnt out and felt that I was wasting my opportunity.
"It was a conscious change. This was about a decade ago. It was an epiphany - a decision not to squander my opportunities. It was a feeling of get up. Because otherwise, what's the point?"

Pitt also spoke about a condition which means that he has trouble placing and remembering faces.

He explained: "So many people hate me because they think I'm disrespecting them.

"So I swear to God, I took one year where I just said, This year, I'm just going to cop to it and say to people, 'Okay, where did we meet?' But it just got worse. People were more offended. Every now and then, someone will give me context, and I'll say, 'Thank you for helping me.' But I p**s more people off.

"You get this thing, like, 'You're being egotistical. You're being conceited.' But it's a mystery to me, man. I can't grasp a face and yet I come from such a design/aesthetic point of view. I am going to get it tested."

He is convinced he has a condition called prosopagnosia and "that's why I stay at home" because as a public persona "you meet so many damned people. And then you meet 'em again."
Last week the World War Z actor praised his "heroic" fiancée, Angelina Jolie following her public announcement in the New York Times that she had undergone a double mastectomy to decrease her risk of cancer.
Jolie's mother Marcheline Bertrand passed away from cancer aged 56 in 2007.