To celebrate 30 years of Dublin Pride Festival 2013, RTÉ 2fm have become the official media partner of the festival.
Throughout the June event, 2fm will broadcast live from the heart of the celebrations in Dublin's Merrion Square and yesterday a number of 2fm presenters launched the partnership in a colourful photo shoot.
Ryan Tubridy is a big supporter of the event: "I think it's a great association, I think as you can see today, this sort of association adds a bit of splash of colour to an otherwise grey world so today the colour is orange!"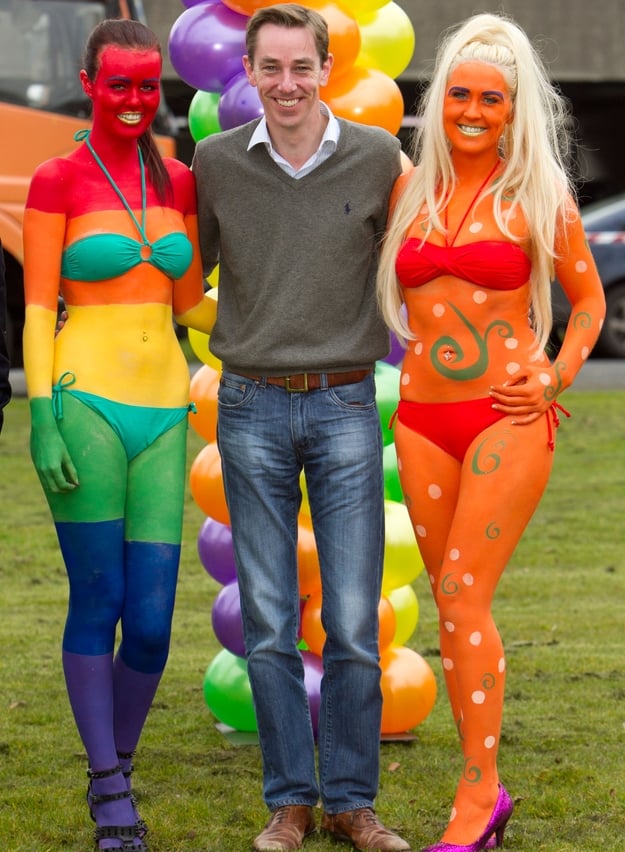 Ryan Tubridy: "The association adds a bit of splash of colour to an otherwise grey world."
Rick O'Shea, who was also present for the photo call, added: "I'll be honest with you - this is the second strangest photo shoot we have ever done; we did the one at Christmas, which involved Santa Claus, a live reindeer and small children.
"This one involves multi-coloured girls in bikinis and it involves performers and a gentleman who is entirely naked apart from a small set of pants and the 2fm logo, painted on his chest!"
Weekenders' co-presenter Paddy McKenna added: "Rick has just spent the last five minutes complaining that he can't feel his feet.
"I'm like 'Rick, you're wearing your thermal long johns and they're there in their bikinis!'
"It's an incredibly interesting shoot. Dublin Pride is in June, we're looking forward to it on 2fm, it'll be a lot warmer! It's a unique Mardi gras celebration with the emphasis on inclusiveness.
"I've seen it over the last couple of years so I guess 2fm will have a larger role and we might have more pictures like this morning.
"Maybe me and Rick will strip down to our bikinis, maybe that's the next thing!"
O'Shea was quick to add: "Don't go making promises that I'm unwilling to keep, in the cold!"
Speaking about the partnership Chris Proctor, Dublin Pride Chairperson said: "Dublin Pride are excited to have such a wonderful media partner as RTÉ 2fm for this the 30th anniversary of the Dublin Pride Festival.
"2fm's support will allow us to reach out to the community on a wider scale than ever before. The Dublin Pride festival is a celebration of respect, love and unity in diversity found within modern Ireland. Everyone should be free to 'Live, Love and be Proud' and we are delighted to have 2fm helping us to spread that message."
Dublin Pride Parade co-presenter, David D-Pole told RTÉ TEN: "RTÉ [2fm] can get the Dublin Pride name out there to more people.
"They're fun and energetic, it's a nice fit, it's a natural fit, even today you can see how much fun everyone's having, even though they just met each other."
D-Pole's co-presenter, Roxy, added: "I personally love 2fm, I listen to it all the time so to have 2fm on board 30 years of Pride, I think it's a really good thing.
"Ryan Tubridy is always a bit of a laugh, so to have him on board is definitely a good thing."

Head of RTÉ 2fm, John McMahon, said: "2fm is delighted to team up with Dublin Pride this year to celebrate thirty years of the festival. We at 2fm share the festival's ideology of 'Live, Love, Be Proud' and look forward to joining in the colour, fun and music that will fill the streets of Dublin this June.
"The festival, the country and 2fm have come a long way over the past 30 years and we look forward to celebrating the diverse impact on the social, cultural and artistic life of our capital made by the Dublin Pride Festival and its supporters."
Proctor also told RTÉ TEN that this year's Dublin Pride is supporting The Gathering: "This year we're bringing our brothers and sisters back from overseas, from Australia, New Zealand, America, Europe, they're all coming over and we're working closely with the DCC [Dublin City Council] to facilitate this as well."
Dublin Pride Festival will take place from Friday 21 to Sunday 30 June and Dublin Pride Parade, will be held on Saturday June 29.