Episode Guide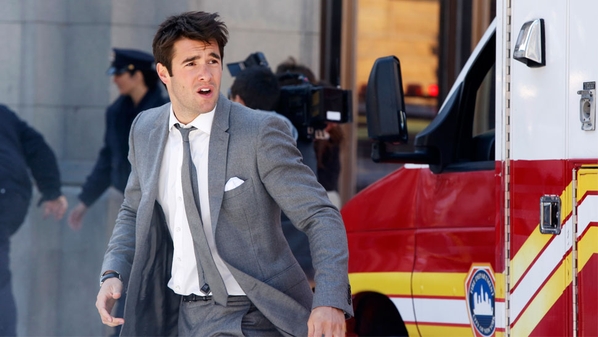 Episode 22 - Truth (Part 2 of 2)

In the emotional second part of the Revenge finale, the devastation leads to a heartbreaking death that will send shockwaves down the shoreline and force Emily to take a hard look at the truth and the path of revenge she has embarked on.
Episode 21 - Truth (Part 1 of 2)

The second season culminates with two episodes filled with high octane and life changing moments. In the first part, a series of dangerous events has been set in motion and it all comes to a head in one catastrophic moment that will change everyone's lives forever.
Episode 20 - Engagement

Emily plots her next move in her new role as Daniel's fiance, while Aiden struggles with the re-engagement. Meanwhile, Jack learns more than he bargained for, and desperate times call for desperate measures as Conrad's gubernatorial numbers slip after Victoria's big reveal.
Episode 19 - Identity

Playing with the Graysons is definitely playing with fire, and Amanda learns that the hard way. Meanwhile Emily and Aiden each get blindsided, and the wheels start turning as Daniel begins to take matters into his own hands.
Episode 18 - Masquerade

Hamptonites celebrate Halloween with a glamorous masquerade ball hosted by the Graysons, which is a perfect setting for Emily to drag out Victoria's skeletons. Jack steps up his revenge plan and finds an unexpected ally, and Aiden makes a bold move with a gruesome conclusion.

Episode 17 - Victory

As Victoria asks Amanda's foster brother for help with her charitable foundation, Emily seizes an opportunity to settle a score with someone from her past.
Episode 16 - Illumination

The queen and king of smoke and mirrors, Victoria and Conrad, make a calculated move, starting a charitable foundation in the late Amanda Clarke's name. But little do they know that Jack is not buying it and has a plan of his own.
Episode 15 - Retribution

Still reeling from the devastation on The Amanda, Emily's commitment to justice and revenge is stronger than ever, while the Hamptons mourn the loss of one of their own.
Episode 14 - Sacrifice

Even with threats on their family closing in, the Graysons are in rare form as they put on a bold showing at their annual Labor Day bash. Jack and Amanda sail off on their honeymoon but the seas prove to be deadly, and this time Emily can't control the outcome.
Episode 13 - Union

Emotions run deep when Jack and Amanda's wedding reminds Emily of what could have been. Meanwhile, things for Daniel get complicated at Grayson Global, and Conrad begins a new chapter.
Episode 12 - Collusion

With Emily by his side, Daniel goes toe to toe with his fiercest business rival, Jason Prosser, to land an important deal that Victoria is determined to block. Aiden takes a very dark turn, and Jack and Amanda's future lands in the unlikely hands of Conrad Grayson.
Episode 11 - Sabotage

A fundraiser and wine auction provide the perfect backdrop for Emily and Aiden's next plan of attack, while Victoria strategically plots her next move. Meanwhile, Jack, Declan and Amanda struggle with what lies ahead.
Episode 10 - Power

Victoria begins plotting a scheme which, surprisingly, involves Emily, while Emily locks in on her next target, and Declan discovers something that may threaten the future of the Stowaway.
Episode 9 - Revelations

Nolan is confronted with a skeleton from his past, and Daniel's leading role is challenged as Emily and Aiden weave their way through Grayson Global. Meanwhile, the christening of baby Carl brings new concerns to light for Jack and Declan.
Episode 8 - Lineage

Hindsight's 20/20 when a flashback to 2006 has Victoria getting a surprise visit from her estranged mother, triggering memories of her tumultuous upbringing. Emily embarks on her first mission under Takeda's training, where she meets Aiden and learns of his revenge path. 2006 is also the year Nolcorp goes public, and Carl Porter gets into hot water when he crosses the wrong people on the docks.
Episode 7 - Penance

Things get complicated as Mason Treadwell delves further into Emily's past while Kara begins to unravel, putting the Graysons in her crosshairs.
Episode 6 - Illusion

The ties that bind Victoria and Conrad are tested as they reaffirm their loyalties and commitment to each other. Meanwhile the all-too-knowing Mason Treadwell digs deeper as Emily and Amanda struggle to keep their pasts a secret.
Episode 5 - Forgiveness

Faces from the past are re-emerging all around the Hamptons, and for Victoria and Emily it brings on different kinds of trouble and significance. Meanwhile Jack's sense of duty grows exponentially, and Padma makes a move that could have major ramifications for Nolcorp.
Episode 4 - Intuition

Playing with the Graysons is definitely playing with fire, and Amanda learns that the hard way. Meanwhile Emily and Aiden each get blindsided, and the wheels start turning as Daniel begins to take matters into his own hands.

Episode 3 - Confidence

The Graysons are back in the spotlight and at the centre of a media storm once again, while Emily's past continues to haunt her.

Episode 2 - Resurrection

Things get complicated as Emily continues to delicately weave her way back into the Graysons' lives while remaining tied to Amanda and her unborn child.
Episode 1 - Destiny

In the wake of last summer's events in the Hamptons and with the ante even higher, what will Emily's next move be? Will she be able to manage her heart and keep her emotions from getting in the way of her resolve to avenge her father?