Episode Guide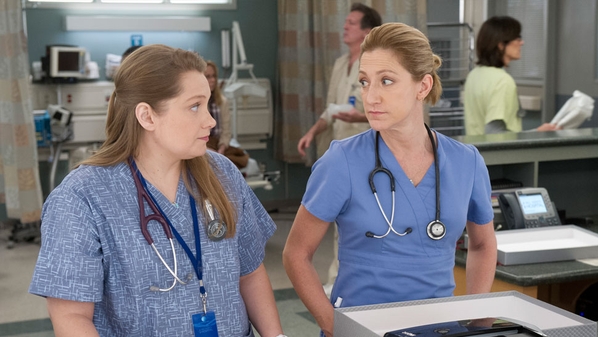 Episode 10 - "Soul"
It's Jackie's one year anniversary of sobriety and she and Frank fight about their relationship. Zoey acts very professional and rigid around Prentiss after their intimate evening. Carrie's peer review does not go well. Grace has a breakdown about Jackie. Jackie takes something she shouldn't have.

Episode 9 - "Heart"
Jackie and Frank have sex for the first time and he tells her he loves her. Akalitus has an extra spring in her step. Coop wants to take his mentoring of Carrie to the next level. Kevin and Grace show up at the hospital after Kevin finds a bag of pills in Grace's bag.
Episode 8 - "Forget It"
Kevin interrupts Jackie and Frank's night. Akalitus' blood results are in and her memory loss is a result of a medication she's been taking. Zoey helps Prentiss organize his disaster of an office. Meanwhile, Jackie is convinced that Grace is sneaking behind her back to see Danny, but Grace assures her they broke up. Frank urges Jackie to work on her issues - so she attends an AA meeting.
Episode 7 - "Teachable Moments"
Akalitus forgets to hire an escort for a psych patient who ends up laying waste to the pharmacy. Frank cancels his lunch date with Jackie because he picked up an extra shift. Zoey hears Coop and Carrie having sex. Jackie worries about Frank when news that a cop has been shot reaches the hospital.
Episode 6 - "Walk of Shame"
Jackie and Grace both have to recover from their nights of indiscretion. Carrie uses flashcards to strengthen her skills but then cons Coop into doing more of her work anyway. Cruz arrives for his exit interview, putting everyone on edge. Jackie tries to tell Cruz what they did was a mistake, but he won't hear any of it.
Episode 5 - "Good Thing"
Jackie is nervous about her date with Frank, so Zoey and Thor help her get ready and Eddie offers some friendly pointers. Prentiss misdiagnoses an injured dancer, but Akalitus and Coop catch his mistake before the patient leaves. Mike Cruz calls Jackie in a moment of need.
Episode 4 - "Lost Girls"
A heavily medicated Jane Doe is brought into the ER and Jackie tasks Zoey with finding out who she is. Coop invites Carrie to dinner. Jackie faces conflict with both her daughters - Fiona has been acting out in class while Grace sneaks around the city with her older boyfriend.
Episode 3 - "Smile"
After their custody meeting, Jackie rear-ends Kevin and wakes up as a patient in her own ER. Kevin accuses her of using. Coop begins covering for Carrie and taking on a lot more work. When Carrie checks on Jackie, she writes her a prescription for Oxy, unaware she's an addict. The most unlikely person asks Jackie out on a date.
Episode 2 - "Luck of the Drawing"
Jackie and Kevin are at a stalemate in their divorce mediation because Kevin wants full custody. A patient from the bus crash is back after she contracted sepsis while at All Saints. Coop is angry that he isn't named Chief of the ER and wants to quit but Jackie tells him he'll get respect if he mans up. Jackie, overwhelmed by the day, vents to the only person who will understand - Charlie Cruz.
Episode 1 - "Happy Fucking Birthday"
An overturned bus makes for a crazy day at All Saints as two new doctors join the staff: Dr. Carrie Roman and Dr. Ike Prentiss. Meanwhile, O'Hara just wants to spend every minute with her new son and Akalitus gives Eddie back his old job - all this, the day before Jackie's birthday.