Episode Guide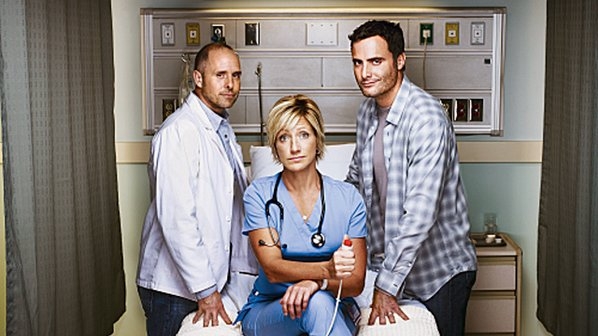 Episode 1
Picking up right where she left off, Jackie takes the contents of the medicine cabinet, throws it in a laundry bag and dumps it at Kevin's feet. She attacks him right back about spending, the girls' school and her bad back-she's no drug addict. Akalitus announces that nearby hospitals have closed down and that the staff should remain on their toes. A hungover Sam is now totally beholden to Jackie and Thor for their help. Post intervention, things are tense with O'Hara and Jackie, and O'Hara goes to Akalitus, hoping to avoid working with Jackie. Coop avoids Sam and treats a little boy who stuck a small mirror up his nose, trying to see his brain. Zoey confesses to everyone that she and Lenny had sex. Kevin enrolls Fiona in Immaculate Virgin and shows up unannounced at the ER, causing a stir and freaking out Eddie and Jackie. After her shift, Jackie shows up at the softball field to cheer Kevin and his bar team on. Things are strained, but she's not showing it.
Episode 2
Eddie tells Jackie he can't keep lying to Kevin, whom he now considers a real friend. Akalitus announces that All Saints is vying for a visit from Michelle Obama and confides to Jackie that O'Hara is looking for work at another hospital. Coop tries to bury the hatchet with Sam. The rift between Jackie and O'Hara softens
when Jackie tells her that she'll follow her to any hospital just to be near her. Kevin tells Jackie his buddy Eddie called and is out of a job and asks if she can put in a good word for him at All Saints.
Episode 3
Much to Jackie's surprise, Kevin's younger sister, Tunie, shows up in the girls' bedroom, freshly hungover and tragically heartbroken after being dumped by her pilot boyfriend. On their way to work, Jackie tells Eddie she thinks Kevin installed Tunie to monitor her in the wake of his intervention. Lenny prepares Zoey a romantic picnic lunch only to crack her tooth when she bites into a sandwich where he's hidden his house key. Zoey talks things over with God, who's set up a makeshift piano bar in the ambulance bay. At the hospital, a Jewish Orthodox husband fights with his in-laws to have his critically injured wife moved to Beth Israel for a necessary operation. Later, bedlam ensues in the ER when two
street meat vendors are brought in after a comically brutal turf war. Meanwhile, Akalitus goes nose-to-nose with a bureaucrat from the Catholic Church sent to de-consecrate All Saints' chapel and remove and relocate all its statues to a Staten Island storage facility. Jackie clocks out and heads to Kevin's bar, where he informs her Tunie will be staying with them for a few weeks. Jackie absorbs the news, and then pastes on her best smile and tells Kevin she saw his good buddy Eddie at work today.
Episode 4
Jackie's back in the swing of things, having re-hidden her stash of pills in the basement and mended fences with O'Hara. Zoey's working her first double and Jackie worries about her burning out. Lou, an out-of-work salesman, comes into the hospital and wins everyone over. O'Hara accepts the title of ER chief, which
sparks a competitive streak in Coop. Kevin invites Eddie to a backyard barbecue to celebrate his new job. When Jackie gets home, she sees empty closets and drawers and panics-did Kevin leave her? She finds out he went to an Al-Anon meeting and the drawers are emptied because of a clothing drive at the school.
Jackie asks Kevin to walk to the parish with her; she thinks they mistakenly gave away some sentimental items. She digs through the box of Grace's baby clothes to find what she was looking for-tiny mittens with bags of pills stashed inside.
Episode 5
Jackie is on edge after realizing the stash of pills she stole from Bill the epileptic drug dealer is quickly dwindling. With a head of steam, Jackie confronts Eddie about his recent text exchanges with Kevin's younger sister, Tunie. Eddie maintains that it's completely innocent, while making the point that Jackie has no
leg to stand on. Coop remains determined to battle O'Hara for the ER Chief title, but suffers a huge emotional blow when his mothers announce they're divorcing. Lou, the down-on-his-luck salesman, returns to the ER much worse for the wear.
Akalitus enlists Jackie and Thor to help her ferry the Virgin Mary statue to Eddie's storage room, where it will be safe from repossession during the Catholic Church's impending de-consecration. Later, Jackie and O'Hara spar over whether to confront a belligerent mother who's making false claims about her daughter's need for treatment in order to stay on public assistance. At the end of a long, grueling day Jackie hits a new low when she makes her first illicit drug transaction with Bill.