Episode Guide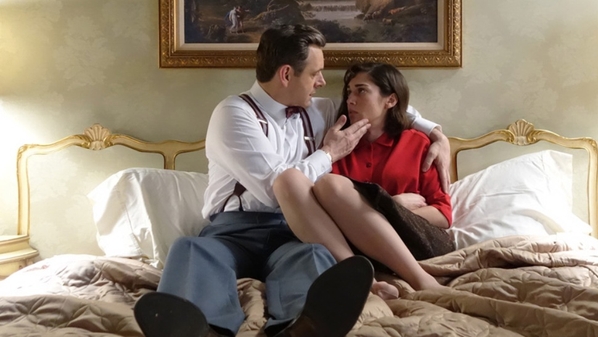 Episode 9 - Story of My Life
Virginia continues to impersonate a patient's case history in order to glean advice from a psychiatrist. Betty and Masters' attempt to remedy Lester's impotence by hiring a prostitute rattles him even further. Libby gets the third degree when she offers her eyewitness testimony regarding the beaten man. And Barbara Sanders wrestles with an unsettling diagnosis that exposes a chain of secrets and causes Masters and Johnson to clash over their treatment strategy.

Episode 8 - Mirror, Mirror
Masters privately treats a couple for infertility, without revealing his relationship to them. Johnson realizes her work with Masters can be used to help people suffering from sexual dysfunction - but quickly gets in over her head when she attempts to treat Barbara Sanderson on her own. Libby is unnerved after witnessing a hate crime that is then whitewashed by the police.
Episode 7 - Asterion
In the wake of Masters' discovery that Johnson has continued to have romantic relationships with other men, he becomes impotent without her knowledge and cuts off their sexual work together. He tries to keep his new clinic solvent over the course of three years by borrowing against his house, offering medical services to the hotel - and finally accepting money from his mother.
Episode 6 - Blackbird
After Hendricks bans Masters from using black participants in his study, Masters contacts a journalist to promote his efforts, using the debunking of sexual stereotypes as the lure. Johnson is forced to accept DePaul's choice to end her chemotherapy treatments. Gene uncovers the truth about Betty and Helen's relationship. Libby fires Coral after discovering she lied about Robert.

Episode 5 - Giants
As Johnson demands a contract at Buell Green, shifting the power in her relationship with Masters , Libby runs into trouble with her nanny's boyfriend. A seizure makes DePaul even more dependent on Johnson, while Betty faces marriage problems due to a secret relationship from her past.
Episode 4 - Dirty Jobs
Langham sees Masters and Johnson exiting a hotel room after an evening tryst. He brings his suspicions to DePaul, causing problems between the two women and putting Johnson's job in jeopardy. Masters is thwarted by the head of the hospital - a man with a prurient interest in the study - when he tries to bring Johnson on as his assistant. Betty attempts to conceal her infertility from Gene.
Episode 3 - Fight
Masters delivers a baby with ambiguous genitalia and urges the parents not to surgically assign the child a sex out of fear or convenience. Upon meeting Johnson at a hotel for a secret rendezvous, the two divide their attention between sexual role-play and a championship boxing match, prompting Johnson to unearth Masters' troubled childhood.
Episode 2 - Kyrie Eleison
Masters begins his new job at Memorial Hospital under threat of extortion by Betty, only to find his boss insisting he leave Johnson behind in favor of a handpicked secretary. Johnson, still alienated at Maternity, is torn between pressing Masters to rehire her and staying with DePaul as her condition worsens.
Episode 1 - Parallax
The ramifications caused by Masters and his disastrous presentation ripple beyond his firing from Maternity Hospital. Libby worried about supporting their new baby, pushes him to get another job. Johnson still working for Dr. DePaul must fight off the advances and innuendos stemming from the belief that she was the woman in the film.