Episode Guide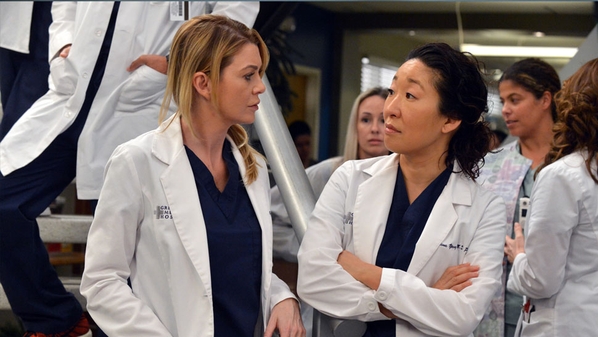 Series 10 | Episode 13 - Take It Back
The doctors face the consequences of the events that took place at April's wedding. Meredith feels betrayed when Derek goes back on a promise, Alex is furious after returning to the hospital and hearing the news about his father.

Series 10 | Episode 12 - Get Up, Stand Up
On the day of April's wedding, the Grey Sloan Memorial doctors are all preoccupied with their own drama.
Series 10 | Episode 11 - Man on the Moon
April's sisters arrive to help celebrate April's upcoming nuptials and quickly get on her nerves. Matthew and Jackson are forced to work together when they witness a terrible accident.
Series 10 | Episode 10 - Somebody That I Used To Know
Ben worries that a casual conversation with Derek could potentially cause issues for Bailey and Cristina turns to Shane as tension grows with Meredith.
Series 10 | Episode 9 - Sorry Seems To Be The Hardest Word
When an unexpected malpractice suit turns Callie's world upside down, her supportive father arrives and shares an interesting secret with her.

Series 10 | Episode 8 - Two Against One
The issues between Meredith and Cristina hit a boiling point when one of them ultimately betrays the other at the hospital. Derek tells Jackson that he needs to let go and allow the second year doctors a chance to learn. Bailey's obsessive behavior spills over to the workplace.
Series 10 | Episode 7 - Thriller
It's Halloween and the doctors of Grey Sloan Memorial are hit with a barrage of spooky patients, which affects their own plans and puts one doctor's well-being in jeopardy.
Series 10 | Episode 6 - Map Of You
Derek and Callie work on a brain mapping project, Richard encourages the interns to use his physical condition as a learning tool and after a discussion with Callie, Meredith considers continuing her mother's portal vein study.

Series 10 | Episode 5 - I Bet It Stung
Meredith jumps back into work but finds it hard to excel at both motherhood and being a surgeon. Stephanie tries to make a good impression on Jackson's mom and treats a man who has been stung by hornets on his penis. Jo finds herself overly involved in Jimmy's drug addiction issue. Arizona fears she may have done something she now regrets with Leah after getting hammered the night of the gala.

Series 10 | Episode 4 - Puttin' on the Ritz
The 200th episode of Grey's Anatomy calls for a celebration and the doctors of Grey-Sloan Memorial Hospital are turning in their surgical scrubs for tuxedos and evening gowns for a fundraising gala for the hospital. However the event turns wildly competitive after Jackson makes a rash promise.

Series 10 | Episode 3 - Everybody's Crying Mercy
Meredith and Derek adjust to life at home with a newborn but find it difficulty being away from the hospital. Arizona tries to takes steps to fix her broken marriage. Alex and Jo navigate through their new relationship.

Series 10 | Episode 2 - I Want You With Me
Callie makes a decision about her relationship; the doctors receive devastating news.

Series 10 | Episode 1 - Seal Our Fate
The Grey Sloan Memorial Hospital doctors are faced with the devastation left by the storm. A giant mudslide in Seattle injures a group of first responders and citizens, causing the already shorthanded ER to spring into action. Meanwhile, Meredith is faced with a tough decision that will affect the life of a loved one, Callie is rocked by the reality of Arizona's infidelity, and Richard's life is in extreme danger.