News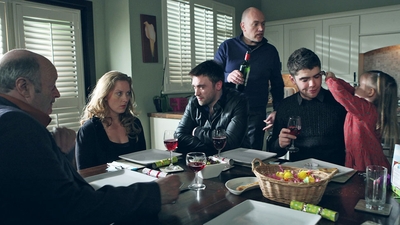 Script Peek - *Spoiler Alert*
Niamh thought that the worst was behind her after she finally managed to put the whole Jane debacle behind her. However, her and Paul were only getting back on track when Rachel's school troubles arose.
Niamh however took control of her family and things were beginning to look up as she got to work on opening the salon in Paul's new development. Some optimism was finally returning to the lives of the Brennans. That was until Paul's new mechanic turned up.
Niamh was stunned when they were introduced. She is petrified that her morale-boosting night with a stranger will come back to haunt her and ruin all the progress that has been made. Michael meanwhile just wants to work and Niamh soon learns that he won't walk away from a good job just to save her blushes.
Click here to read a page from the script for Sunday's episode (pdf).
Tune in to RTÉ One at 8.30pm on Sunday to find out what happens next.


Sunday Transmission Time Change
Fair City will be on at the later time of 8.30pm on Sundays. This is a change to our more recent 8pm slot on Sunday evenings.
Keep an eye on our website and @RTEFairCity on on Twitter for future news on listings changes or broadcast time changes.



Bullying Support Information
ISPCC dedicated Bullying Support Service
Text BULLY to 50101 (free – available 10am-10pm everyday)
http://www.childline.ie (one to one live web chat available 10am-10pm everyday)
Call Childline 1800 66 66 66 (open 24 hours, free to call)
For parents or other adults concerned about bullying the ISPCC Support Line is available Mon-Fri 9am-5pm on 01-6767960.


Sexual Assualt Support Information

Rape Crisis Centre – 1800 77 88 88
National 24-Hour helpline
www.drcc.ie
https://www.facebook.com/dublinrapecrisiscentre
Women's Aid National - 1800 341 900
Freephone Helpline (open 10am-10pm, 7 days a week, except Christmas Day)
www.womensaid.ie
Samaritans - ROI 1850 60 90 90 and NI 08457 90 90 90
24-Hour helpline
http://www.samaritans.org
Email: jo@samaritans.org