News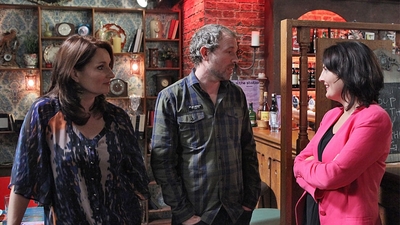 Competition
You can enter a competition to win some exclusive Fair City goodies here.
Script Peek
**SPOILER ALERT**
There's a new man in town and he has caught the eye of some of the locals. As Dan got to grips with the Station, Carol was quick to make his acquaintance after he cancelled her cab contract. Yvonne and Dan meanwhile discovered they had a past after realising they were in the same primary school class for a year.
Carol and Yvonne have had some mild flirtations with Dan but he doesn't seem to realise he's become their latest bone of contention. Yvonne has been trying to play it cool but Carol has been an eager beaver and has only been too glad to flaunt her burgeoning romance with Dan in front of Yvonne. Naturally this hasn't gone down well with Yvonne and Yvonne has taken the opportunity to plant some seeds of doubt in Dan's mind about Carol's complicated past.
Dan has become curious and naively asked Carol some questions. In no mood to drag up the past, Carol became defensive and threw Dan out on his ear. Yvonne meanwhile has decided to try to move on and has been meeting an admirer from an online dating site. Carol goes to have it out with Yvonne but Yvonne insists she's entirely innocent.
Click here to read the actual pages of the script (pdf).

Find out what happens next - Sunday, 8pm, RTÉ One.


Charlotte and Rachel Interview
You can see our exclusive interview with Martha Fitzpatrick (Charlotte) and Niamh Quirke (Rachel) where they discuss their friendship, filming their first kissing scenes and their highlights so far.