Episode Guide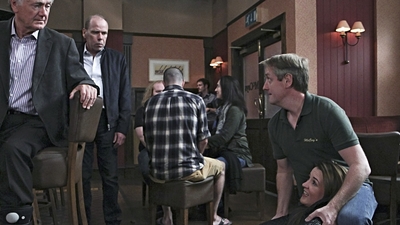 Wednesday 7th October - Episode 158
Wayne move to Ridgeview with Orla. When Orla aks Caoimhe to mind Junior Caoimhe suggests Tommy helps her move. Wayne comes back and is furious to see Tommy in his new home. Wayne demands that Tommy doesn't come near their house again. Tommy later returns to collect his phone that he left behind. Tommy finds out he got the job and Orla insists they celebrate. Orla persuades him to stay longer in a bid to make Wayne mad when he returns. Orla's plan works.
Debbie has told the staff the new rules, including no taxis home after work. Cathal tells her she can hire who she likes as maintence man but he will only offer minimum wage.
Laura and Caoimhe want to have a party for Nina's birthday but Nina says she may be in Birmingham for a few weeks and might not be here for her birthday. Nina manages to convince Sash to move to England with her on her release. Nina lies to Laura that she got the job in Birmingham and when Laura offers to visit, Nina puts her off. Charlotte convinces Laura to fly Nina home for the party so she can't say no.
Niamh is feeling pressure when Paul starts making family plans and suggests they all go away for Christmas. Niamh thinks things are moving too fast and tells Paul she doesn't want things to go back to the way they were and is moving back into her flat.
Writer Hilary Reynolds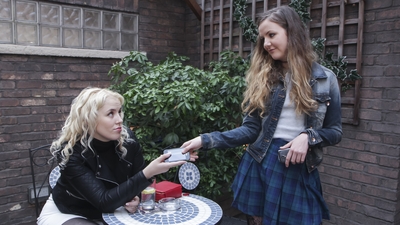 Tuesday 6th October - Episode 157
Wayne asks Caoimhe and Damien to babysit but ends up insulting them both by suggesting they don't know what it is like being parents. Later, Damien advises Orla to tell Wayne to keep his distance until he cops on. When Paul offers Orla Ridgeview for her and Wayne, Orla accepts. Orla tells Wayne she is moving to Ridgeview with or without him.
Debbie doesn't get off to a great start with the owner of the Ballintine, Cathal Spillane, when she meets him for the first time. Leo feels bad that Tommy can't get a break. Debbie tells Tommy she will put a word in at the hotel for him as a maintenance man/gardener.
When Charlotte learns that Sash is seeing a woman she acts surprised. Charlotte asks Caoimhe what she would do if she knew her friend's boyfriend was cheating on them. Caoimhe says she would say nothing as the truth always comes out but Charlotte reckons the truth could do with a little push.
Paul remembers fondly the time they shared together in Ridgeview but Niamh thinks he is looking at the past with rose tinted glasses. Niamh and Paul are getting on well talking and about to kiss when they are interuppted by Ruth and Bela returning.
Writer: Dara Higgins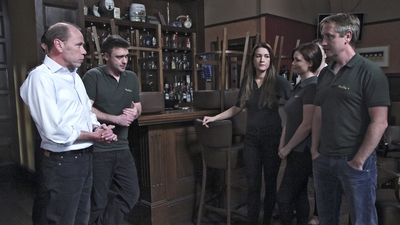 Sunday 4th October - Episode 156
Deirdre, Jo and Dermot are preparing to say farewell as today is the day they leave for America. Deirdre has bought Ben a phone to keep in touch and Jo and Dermot are grateful. Zoe is upset about Ben leaving and Dermot comforts her. Jo and Dermot are heartbroken saying goodbye to one another.
Orla and Wayne realise how much stuff they have and ask to leave stuff with Rachel in reception for a bit. However, Wayne is put out when Paul tells him he can't leave his stuff in the hall. Wayne tells Orla he has moved their things to Decco's lock up but Orla is annoyed he didn't tell her first as some of Junior's clothes were in the bags. They are really struggling to settle in the new place.
Ray is under pressure in the garage and Rachel thinks it would make sense for Michael to come back. Rachel manages to convince Paul to ask him back. Back at home Niamh tells Paul she is proud of him and they go to kiss one another only to be interrupted by Rachel. They worry Rachel may have seen them.
Charlotte visits Sash and tells her about the article and the nosy journalist on her case. Charlotte leaves but as she looks back she sees Sash has another visitor - Nina. She sees Sash and Nina kiss one another. Decco and Mondo are confused when Charlotte starts being nice to Nina.
Kerri-Ann learns that Ama and Shane have spent the weekend together and encourages Ama to tell Shane he was her first. Shane is surprised and Ama explains she was just waiting for the right person.

Writer Shona McCarthy
Thursday 1st October Episode - 155
Orla makes it clear to Dolores, Pete and Wayne she doens't have a drink problem despite what they think. She tells Wayne she can't live there anymore. Orla takes a room in the pod but Wayne refuse to go - thinking they need time apart. Pete has a word with Wayne and convinces him to go after Orla. Wayne tells ORla they will get through things together.
Decco finds out what Charlotte has been involved in and threatens to send her back to Spain. Charlotte covers for Mondo and doesn't mention his involvement. Mondo warns Charlotte that they need to keep Nina sweet as she knows too much.
Bob tells Shane he would like them to get to know other but Shane is not sure he does. Ama thinks he should give Bob a chance. Meanwhile, Shane invites Ama back to his house for dinner but they get distracted and kiss. Ama and Shane take things to the next level.
Jackie advises that to make more revenue Rachel and Pierce should be paying rent. Paul tells Pierce and Rachel they will need to pay 600 for their room.Rachel is annoyed Paul didn't run Orla and Junior moving into the Pod by her. Niamh feels a tinge of jealousy over Paul's admiration towards Jackie.