Episode Guide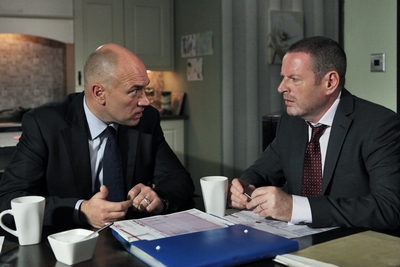 Tuesday October 21st - Episode 165
Jo tries to find out the details of Paul and Niamhs division of assets from Dermot but he is remaining tight lipped. He does however encourage her to drop a few hints to Niamh that Paul may be open to negotiation.
Damien and Caoimhe let their imaginations run away with them guessing at the identity a mystery woman who comes to Carrigstown looking for Pete.
Renee seems to be the only one with any faith in Hughie as his drinking becomes an ever worsening problem.
Paul agrees to a deal with Niamh but can he be trusted?
Written by Noel McGee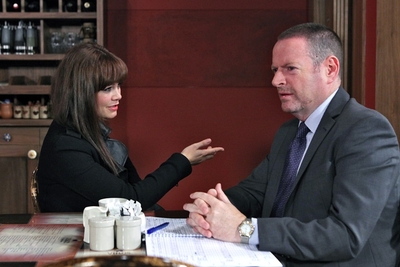 Wednesday October 22nd- Episode 166
Damien is confused as Caoimhe seems to go from hot to cold but will he heed Laura and Ama's advice to take things easy and relax a little?
Hughies's bags are packed and he's ready to go, he says his goodbyes to the residents of Carrigstown but somehow it's hard to believe that this will be the last they'll see of him.
Dolores tries to encourage Pete to talk to Jackie but he has no intention of giving his ex-wife so much as the time of day.
After overhearing Niamh talking in The Hungry Pig Paul is determined to go back on their agreement and sell the apartment. Jane, who is expecting to come into some money from Glen's Will, approaches Dermot about buying it.
Written by Derek O'Connor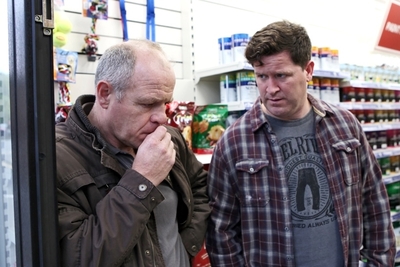 Thursday October 23rd - Episode 167
Dolores is still convinced that Jackie is genuine but Damien tells Pete that he's right to be wary.
Bob decides it's time to show Hughie some tough love and puts him in contact with the homeless shelter.
Niamh gets Paul to commit to their agreement but can he be trusted?
Damien isn't talking to the 'playing it cool' role too naturally as he tries to give Caoimhe a key to his house - how will she react to this offer?
Written by Anto Howard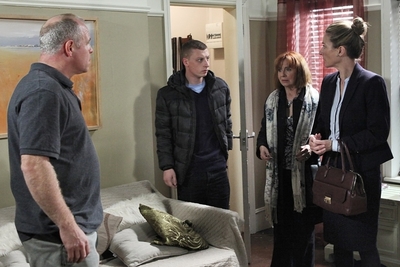 Sunday October 26th - Episode 168
Bob and Renee are sure that Hughie has let them down again until he turns up, promising he has turned over a new leaf.
Paul is getting far too much pleasure in toying with Dermot and Jane over the sale of the apartment and won't budge on his deamnd for a €10,000 deposit.
Dolores' attempts to encourage Pete to talk to Doug about Jackie result in a n unexpected reunion.
Written by Nick Wilkinson
Location Director - David Whelan
Director - Trevor Laffey