Episode Guide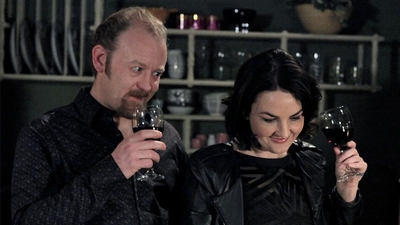 Tuesday 10th December - Episode 193
Dan is keen but Carol's playing hard to get after her recent romantic disasters. Bob however encourages her not to miss out on a good opportunity.
Yvonne meanwhile has moved on from that romantic triangle and has decided to have some fun with Martin.
Paul is getting cagey talking about Jane with Niamh and becomes determined to get Jane out of his house as soon as possible.
Callum and Laura bring Ruth to play in the park but when Ruth picks up a syringe, Laura inadvertently gets pricked and begins to panic about the consequences.
Written by Rachel Kilfeather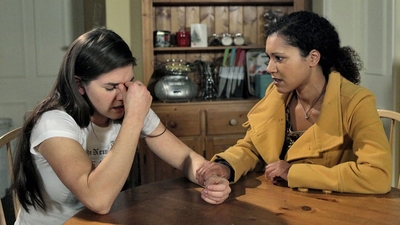 Wednesday 11th December - Episode 194
Damien knows something is up with Laura but she refuses to talk about it. The locals meanwhile are shocked that a syringe was found near the playground and decide to do something about it.
Paul is still adamant that he wants Jane out of the house but Jane won't give up without a fight and decides to try to get Niamh back on side.
Yvonne is struggling to deal with what happened the night before but as she attempts to carry on regardless, Yvonne ends up snapping at those closest to her.
Carol and Dan are delighted with themselves after a lovely night and Carol's 'hard to get' strategy soon falls by the wayside.
Written by Rachel Kilfeather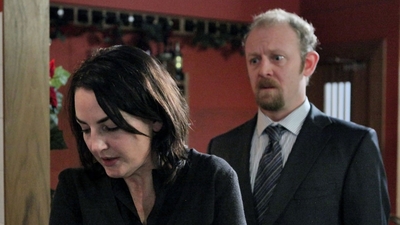 Thursday 12th December - Episode 195
Bob is worried about Yvonne but Carol has no time for her after Yvonne's behaviour with Bela. Yvonne meanwhile is barely holding things together and is shocked when Martin turns up in Vinos.
Paul isn't too keen when he learns Niamh is trying to get Jane a job in McCoys. Orla isn't too sure about taking her on either but Jane soon turns on the charm.
Ama and Laura are organising a community clean up of the park but they're having trouble convincing some of the locals. Ama meanwhile forces Laura to tell Damien what happened.
Written by Shona McCarthy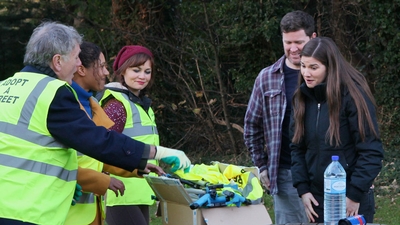 Sunday 15th December - Episode 196
Yvonne is doing a good job of making more enemies as she tries to deal with things on her own. Her short temper doesn't go unpunished though when Bela tells her to make her own plan for Christmas.
Carol refuses to let Yvonne push her way though and forces Yvonne to start talking.
When Jane finds somewhere to stay in Carrigstown, Niamh and Paul realise they won't be getting rid of Jane anytime soon.
The locals gather for the community clean up of the park but Jane uses it as another opportunity to get under Paul's skin.
Written by Senta Rich
Location Director - Marion Ní Loingsigh
Director - Gary Agnew