Episode Guide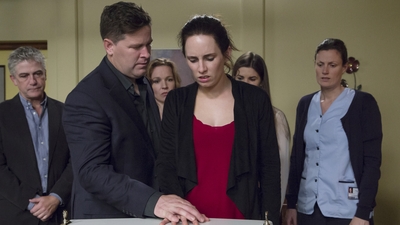 Sunday 30th August - Episode 136
Damien and Caoimhe have a blessing for their son.
Robbie is sick of seeing Flynn around Carol, will he take the risk and place the bet to free them from his grasp?
Deirdre and Dermot agree that they have to take things slow if they are to work out how she can be part of Ben's life.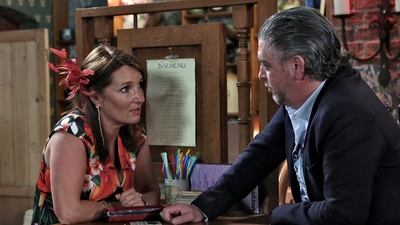 Written by Sian Quill
Thursday 27th August - Episode 135
Caoimhe and Damien try to come to terms with what has happened.
Hayley offers Robbie information on a race that could solve all his problems with Flynn. Carol doesn't want to take the chance but Robbie is very tempted.
Charlie gives Doug another chance in the Community Centre as the road safety warrior!
Neil has made it his mission to get under Paul Brennan's skin.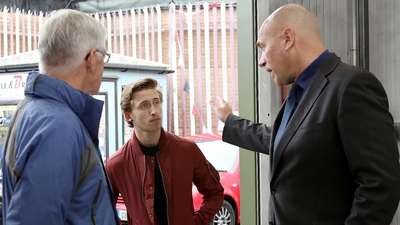 Written by Noel McGee
Wednesday 26th August - Episode 134
After Paul refuses to give Doug a good reference Charlie steps in and offers to let him prove himself by teaching a class in the community centre.
Carol isn't happy to discover that her new job isn't as good as previously thought.
Deirdre and Dermot's relationship gives off all the wrong signals with Hughie accusing them of having an affair.
Caoimhe and Damien are devastated when they lose their baby.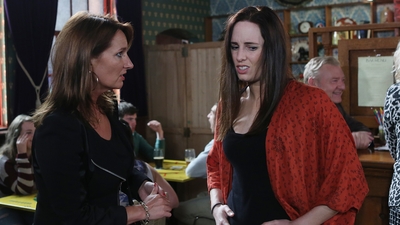 Written by Noel McGee
Tuesday 25th August - Episode 133
Carol is tempted by Flynn's offer to run one of his legitimate businesses. Robbie thinks it is too good to be true.
Damien and Caoimhe are excitedly planning their futures, Laura worries that she isn't being a supportive enough sister.
The rift between Dermot and Jo widens as they continue to argue over what is best for Ben.
Doug stands up to Paul and asks why he isn't being given a good reference. When Paul shuts him down Dolores has a plan to help him.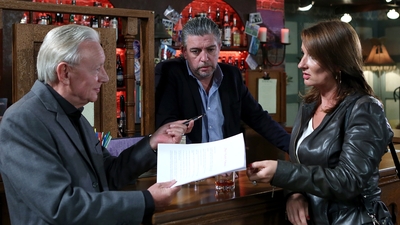 Written by Grant Black
Directed by Laurence Moody