Episode Guide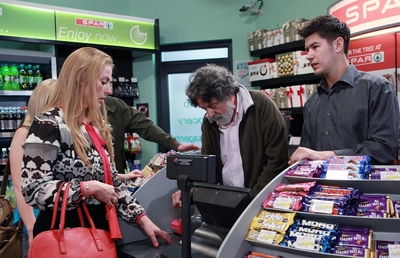 Tuesday September 2nd - Episode 137
Yvonne can't decide what to do about Dan, he says he's taking her advice and not giving up without a fight. Carol can see that Yvonne doesn't want it to end and Bela says he's never seen her happier than she was with Dan but fear is still holding her back.
Rachel talks to Katy about Michael, it's obvious she's got a crush on him and when she tries to deny the fact by saying he's too old, Katy, eyes firmly fixed on Laura, tells her that age is just a number.
Eoghan sees Tim with a girl in the community centre and loudly accuses him of leading Katy on. Tim tries his best to cover but doesn't do a very convincing job leading Eoghan to angrily ask Katy why she's lying to him.
Sean persuades Christy to get back behind the counter in Phelan's. It brings a big smile to his face and he seems happier than he's been in a long time but the mood doesn't last long and when he drops Niamh's change he realises that, for the moment at least, his shopkeeping days are over.
Written by Anto Howard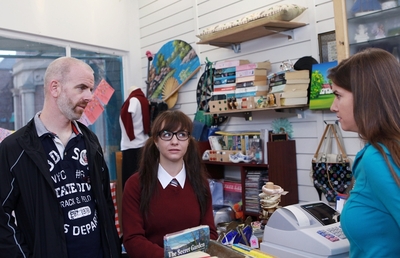 Wednesday September 3rd - Episode 138
Christy overhears Max and Farrah talking about him, he is now set on going into a care home and not even Bela with a bagful of custard creams can change his mind.
Laura helps Katy mitch off school and by the time Damien makes her see sense Eoghan has found out and is on the war path, coming into The Helping Hand all guns blazing.
Niamh thanks Michael for helping to encourage a friendship between Rachel and Katy even though he says he had very little to do with it.
Dan again raises Carol's suspicions over Robbie, she tells him that if he won't tell her what Robbie is in to then she'll find out for herself.
Written by Noel McGee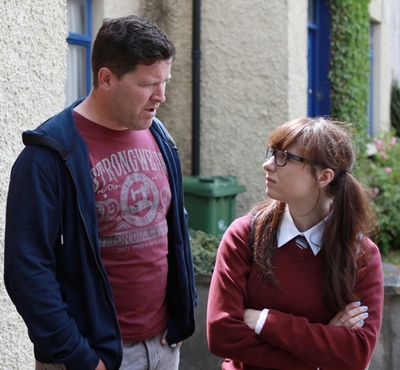 Thursday September 4th - Episode 139
After Katy's revelation Eoghan wants to keep her under lock and away from Laura who he decides to confront in his usual polite and tactful manner.....
Carol tells Robbie that they're finished, Robbie seems genuinely upset about the break-up but tells Dan that he feels he is still in with a chance.
Upon Christy's assurance that he is happy about his decision to sell the shop Sean gives him his blessing and sets about helping him arrange the sale.
Dan opens up to Yvonne and tells her his secret.
Written by Noel McGee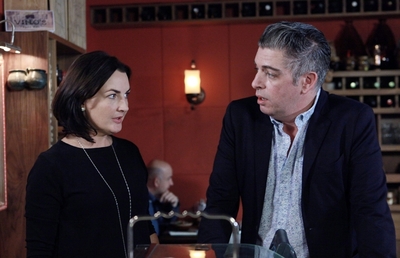 Sunday September 7th - Episode 140

Katy tries to make peace with Laura who tells her, for both their sakes, to stay away from her. Katy tries to confide in Debbie but when her mother breaks her trust by telling Eoghan what she said Katy packs her bags.
Michael tries to talk to Niamh in Phelan's but she knocks him back saying they never really had anything in common.
Robbie tries to win back Carol's heart, telling her he's never do anything to hurt her but she doesn't plan on giving him the opportunity. While he's on the subject of love, he tries to plant a few doubts in Yvonne's mind over Dan.
Christy heads to McCoys for a farewell drink with Sean after securing a place in the care home of his choice - but is it really his choice???
Written by Trevor J.Colgan
Location Director - Gary Agnew
Director - Trevor Laffey