Episode Guide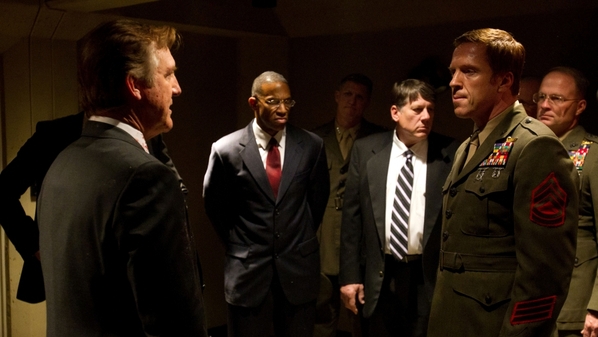 Marine One
Season 1 | Episode 12
Carrie is near catatonic and confined to bed as events swirl around her. Meanwhile, Walker secures a perch for his mission. Brody makes his final preparations for the Vice President's policy summit at the State Department, and Saul continues to investigate the unsettling implications of Carrie's rainbow-colored timeline.
The pieces to a deadly puzzle are falling into place, but even as she springs into action, Carrie may be too late to put it all together. When the crisis finally hits, no one - not even Carrie - foresees the outcome of Abu Nazir's long-awaited attack.


Representative Brody & The Vest
Season 1 | Episodes 10 & 11
Carrie and Saul have identified Tom Walker's contact in D.C., only to discover that he has diplomatic immunity. They must tread lightly, or risk triggering an international incident. When a sure-fire technique for turning the diplomat proves ineffective, Carrie must improvise a solution to get him to cooperate.
Meanwhile, Brody has been approached to run for disgraced congressman Richard Johnson's seat in the House of Representatives. Jessica rails against the idea - the family has been through so much already. Brody however means to send a signal to Abu Nazir.
In the second episode, Carrie has been hospitalized in the wake of the explosion in the heart of D.C. When Saul comes to retrieve her, he discovers her on a manic flight, postulating a mile a minute about Abu Nazir. Saul finds himself charged with looking after his damaged friend, and, by applying his sense of order to Carrie's chaotic theories, unearths what appears to be the heart of the terrorist mastermind's plot.

Crossfire
Season 1 | Episode 9
After his attempt to sever ties with Abu Nazir, Brody finds himself reliving his captivity, and recommits to his mission; and Carrie finds herself in the middle of a public-relations nightmare on the heels of the mosque shooting.


Achilles Heel
Season 1 | Episode 8
The news that Walker is alive and working with al-Qaeda leaves
Carrie and Saul scrambling to locate him. They must also deal with competing intelligence agencies' disagreements over the best way to chase him down. The FBI wants to enlist the public's help,
but Carrie prefers a more personal approach, using the rogue sniper's love for his wife and son to draw him out of hiding.
Meanwhile, at a party hosted by Elizabeth Gaines, Brody and Jessica discover they're the de facto guests of honor; especially after a breaking news report reveals that Representative Richard Johnson has been caught in a "sexting" scandal, and his political
future is in jeopardy. As Walker struggles to elude the CIA's grasp, Brody chases down a mystery man who reveals a shocking truth behind those eight long years in captivity.


The Weekend
Season 1 | Episode 7
Having escaped the shooting (by her cohorts) at the motel where Faisel was killed, Aileen continues her escape by buying a
bus ticket to Mexico. The CIA now knows she was the lead,
and Faisel was simply her accomplice. They've tracked her down, and Saul wants to be the one to bring her in. He knows everything about her, and has a feeling he can break her. Meanwhile, Brody has passed the polygraph, but Carrie knows he's lying because he said he's never been unfaithful to his wife.
She and Brody had sex in the parking lot of a bar the night before, and his lie didn't register on the polygraph. Carrie and Brody meet up again, and end up at her family's cabin. They spend the night, and have a surprising heart-to-heart talk about
their lives. Brody admits that he can't talk to Jessica; she doesn't know who he is anymore. He feels free with Carrie, and she surprisingly thinks she may feel the same way, but a slip-up on her part may bring it all crashing down.


The Good Soldier
Season 1 | Episode 6
Chip Haight, the Director of the CIA, is berating Saul and Estes for Hamid's suicide, wondering how he managed to smuggle a razor blade into the safe house. Carrie arrives, and offers that someone on their side may have given it to him. She suggests that everyone who came into contact with Hamid (including Brody) submit to a polygraph test. Haight likes the idea, and gives her the go-ahead. Carrie is certain that was Brody who gave Hamid the razor, and now she'll have proof.
Carrie and Saul continue to track Faisel, who they believed was warned by someone (possibly Brody) and skipped town. They are taken aback when they discover that Faisel appears to have an accomplice: a woman who is possibly American. Meanwhile, Brody prepares to deliver the eulogy at Tom Walker's funeral, all the while struggling with what he did to Tom while they were prisoners in Afghanistan. The situation between Brody, Jessica, and Mike finally comes to a head.



Blind Spot
Season 1 | Episode 5
Afzal Hamid, the lone surviving terrorist from the compound in Afghanistan where they rescued Brody, has been captured. Estes wants Saul and Carrie to find out everything he knows about Abu Nazir's plans to attack the US... but there's a catch: Estes wants Brody to help with the interrogation, noting that he's in a unique position due to his ability to establish a baseline on Hamid.
Carrie is fit to be tied upon hearing this news, telling Saul that they may as well hand their playbook straight to Nazir. At the interrogation Brody is completely taken aback when he sees Hamid on the closed-circuit TV. Carrie explains that they hope Brody can provide information to unsettle him during the interrogation. Brody does his part, and it works perfectly; Hamid is ready to crack.
In exchange Brody wants a face-to-face with Hamid to show him that the tables have turned; that he didn't break him. He takes his request to Estes, pleading that he needs closure. Meanwhile, an e-mail address provided by Hamid leads Carrie and Saul to a familiar doorstep.

SEMPER I
Season 1 | Episode 4
The political powers that be make big plans for national hero Brody, but his increasingly erratic behaviour threatens his media-darling status; and Carrie grows desperate for evidence linking Brody with Abu Nazir, as Saul directs her to focus on Nazir's money trail.


Clear Skin
Season 1 | Episode 3
Despite misgivings, the Brody family prepares to step into the spotlight with an exclusive television interview; at the CIA, Carrie and her team close in on an al-Qaeda plot to fund a terrorist attack on the US.

Grace
Season 1 | Episode 2
Carrie receives a new piece of electronic evidence from an undercover agent while staying glued to the surveillance footage of life in Brody's home, which reveals a man struggling with his traumatic memories, and resisting pressure to become a media hero.


Pilot
Season 1 | Episode 1
CIA Agent Carrie Mathison's unorthodox investigation of threats to US security in Iraq leads to a serious diplomatic incident, and Carrie is stripped of her field status and assigned to a desk job. While her investigation was cut short, she did manage to learn from her condemned Iraqi source that an American prisoner of war had been "turned."
Carrie becomes convinced that this information has alarming significance to the return of Sergeant Nicholas Brody, who was missing in action for eight years (and presumed dead). After receiving intelligence on an al-Qaeda safe house in Afghanistan, Navy Seals stormed the house, killed 13 terrorists, and found Brody in a locked cell.
The CIA is treating this as a hero's return from war, but the timing is too suspicious for Carrie to ignore. Already on thin ice after the incident in Iraq, she is forced to break protocol in order to prove her theory that Brody is working for al-Qaeda, and now poses a major threat to his own country.
Meanwhile, Brody receives a hero's welcome at home, but it's clear that the years of torture and abuse at the hands of al-Qaeda have taken their toll. He is physically scarred, and emotionally plagued by harrowing flashbacks of his captivity; all of which hampers his ability to reconnect with his wife and teenaged kids, who feel that a stranger has returned to them.