Is my mum on the right pension?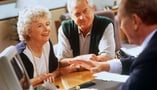 Q. My mother was self-employed all her life and I don't think she is getting the pension she is due. She is 79 and worked as a solicitor.
She is getting a pension of €115.20 a week, which is the minimum state contributory pension.
She paid stamps all her life and would have worked even throughout her pregnancies. Is she getting the right pension and is there any central place I can get a record of her contributions?
Adrienne C, Co Clare.
A. Your mother's records should be on file at the department of social protection which is based in Sligo – there are contact details below.
From the details you have submitted it looks as if your mother is getting the correct pension. The department of social protection tell us that there was no pension for the self-employed until the year 2000, so in some ways she is lucky to get anything at all. There was no "stamp" for self-employed before 1988 and therefore she wouldn't have made any qualifying contributions before that even if she tells you she did, unfortunately.
Your mother would have contributions between 1988 and 1997 when she became 66, so all she is eligible for is what they call a "half rate" contributory pension.
We don't have all your mother's details, but she may qualify for a non-contributory pension, but this is means tested. Have a look at this pensions fact guide that RTE has put together to see if she qualifies.
More information
You can contract the department responsible for pensions directly, in writing, by phone or by email. It is your right to have a state pension, so don't hesitate to get in touch.
Address: Department of Social Protection Pensions
Social Welfare Services
College Road,
Sligo
Phone: 071 915 7100
Lo-call: 1890 500 000
Email: info@welfare.ie
Web: www.welfare.ie