Garda Party on 'Trom agus Éadrom' 1983
Tá Seachtain na Gaeilge ar siúl faoi láthair. Beidh RTÉ Archives ag féachaint siar ar chláracha Gaeilge ó chartlann RTÉ i rith na coicíse roimh Lá Fhéile Pádraig.
Today we take a look at the popular bilingual chat show 'Trom agus Éadrom', which took its name from its mix of heavy and light content. 'Trom agus Éadrom' was presented by Liam Ó Murchú, who was on a mission to "demonstrate to the plain people of Ireland that the Irish language is not the exclusive property of perfect speakers" (RTÉ Guide, 3 December 1976). Bhí a fhios ag Liam go raibh a lán daoine in ann Gaeilge a thuiscint, cé nach raibh siad in ann í a labhairt agus cheap sé go mba chóir go mbeadh clár ann dóibh siúd. If people wanted to contribute to an Irish-language discussion in English, then that was fine with him. 'Trom agus Éadrom' was a hugely successful formula that ran from 1975 to 1985.
This extract is taken from a special edition celebrating the 21st anniversary of the Garda Representative Association, broadcast on 15 May 1983. A light-hearted debate on respect for the Gardaí is followed by a performance of the Garda band conducted by Tommy Boyle. The studio audience of Gardaí dance along.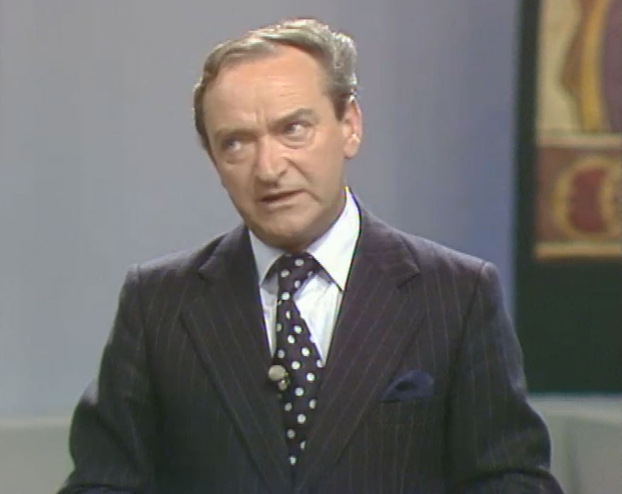 Liam Ó Murchú