Luke Kelly Died 30 Years Today
The Irish singer and musician Luke Kelly died on 30 January 1984. He was a founder member of the Dubliners and still played with the group at the time of his death.
In this radio interview from 1963, a 22-year-old Luke Kelly tells Ciarán Mac Mathúna how he was converted from jazz to folk music after hearing 'The Auld Triangle' sung in a pub in Newcastle in England. Luke had "about 50 jobs" in England, "cleaning lavatories, cleaning railways", but had recently returned to Ireland. He had been singing "since I started bawling in the cradle".
This interview was recorded in May 1963 in Johnnie Fox's pub in Dublin. After seeing the show 'A Ballad Tour of Ireland' at the Gate Theatre in Dublin around this time, Ciarán Mac Mathúna wrote in his RTÉ Guide column 'The Trad Scene':

RTÉ Guide, 17 May 1963, p. 24
The photo above shows Luke Kelly in Church Street Piper's Club, Dublin in May 1963.The photographer was Roy Bedell. © RTÉ Archives 1013/004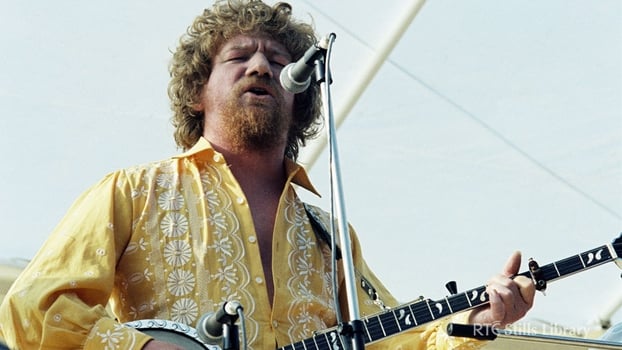 This photo shows Luke Kelly performing at the Siamsa Cois Laoi music festival in Cork on 15 July 1979. © RTÉ Archives 2185/006