50 years following the arrival of 'The Beatles' in Dublin, RTÉ Archives looks back to the moments when they set foot on Irish soil and the reaction they received from their fans.
On 7 November, 1963 'The Beatles' arrive to play Dublin's Adelphi cinema. Reporter Frank Hall talks to John Lennon, Paul McCartney, George Harrison and Ringo Starr about fame, the Mersey sound, hair-styles, their Irish connections and George's mother, who has come to Ireland to see the show. The Beatles antics and the noise of aircraft in the background put Frank Hall's professional skills to the test.
The band is welcomed as they get off the plane at Dublin airport by RTÉ Radio's Paul Russell who introduces them to reporter Frank Hall.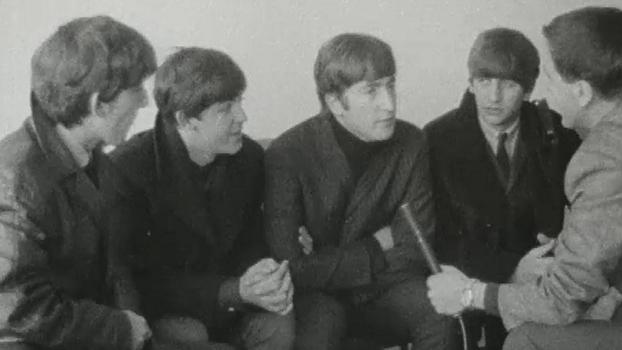 The Beatles talk to Frank Hall at Dublin Airport (1963)
Outside the Adelphi cinema in Abbey Street, Dublin, there are scenes of mass hysteria as fans wait for the arrival of the Liverpudlian popstars. Frank Hall talks to some fans while the police try to keep order. Fans describe the Beatles singing, their hair and their jackets as "fabulous" and "gorgeous". One girl says she does not like the Beatles and is only there to get a ticket for Helen Shapiro.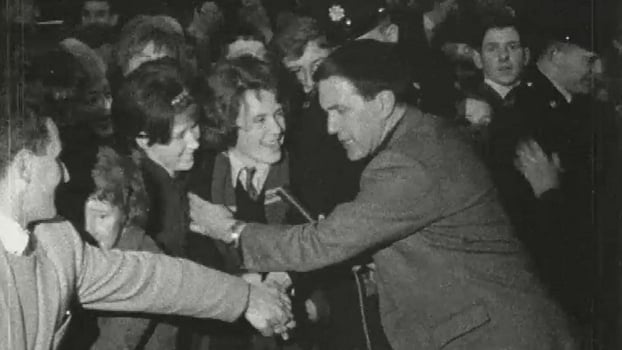 Frank Hall talks to Beatles fans outside the Adelphi on Middle Abbey Street, Dublin (1963)
To mark 50 years since the Beatles visited Ireland, the Dublin Beatles Festival runs from the 7th to the 10th of November, with events taking place throughout the city.

A RTÉ News report by Frank Hall from 7 November, 1963.
Listen back to 'Bowman on Sunday', broadcast on 3 November, 2013, which looked back 50 years to the Beatles visit to Dublin.