Part of Budget Day tradition is the Minister for Finance's photo call. Every year before he enters the Dáil to deliver the budget, the minister poses for the cameras with his document, which used to be carried in a briefcase but in recent years has been displayed in a ring-binder. What does current minister Michael Noonan have in store for us tomorrow on this year's Budget Day?

Watch the evolution of the photo call in our video, from Jack Lynch sitting at his desk in 1965 to Michael Noonan standing on the Dáil plinth before Budget 2013. The other ministers in the video are: Charles Haughey, Richie Ryan, Gene Fitzgerald, John Bruton, Ray MacSharry, Alan Dukes, Albert Reynolds, Bertie Ahern, Ruairi Quinn, Charlie McCreevy, Brian Cowen and Brian Lenihan, Jnr. We've included all but two of the finance ministers from this period: George Colley and Michael O'Kennedy.
For more on past budgets visit the 'Memorable Budgets' exhibition.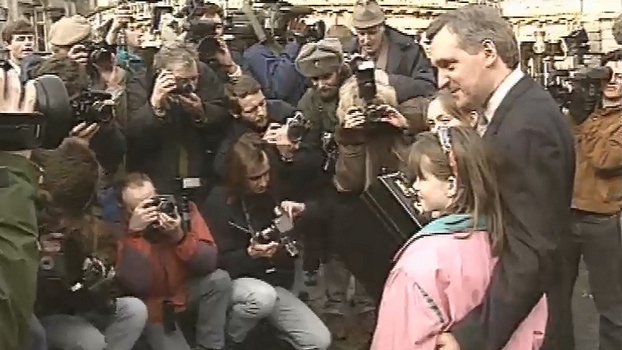 Bertie Ahern and daughters Cecelia and Georgina