Much-loved Irish author Maeve Binchy died one year ago today. Her many successful novels include 'Light a Penny Candle', 'Circle of Friends' and 'Tara Road'.

In this 'Arts Show' interview from 1991, Maeve Binchy says that the nicest thing any book review ever said about her was that she was a "quiet feminist", because that's what she would like to be.
She is happier now at 50 than she was at any other stage in her life.

This 'Arts Show' special about Maeve Binchy was broadcast on 2 April 1991 and presented by Mike Murphy.
The accompanying photograph above shows Maeve Binchy at home in her house in Dalkey, Co. Dublin. The photograph was taken by John Cooney for the RTÉ Guide in 1998. © RTÉ Archives 4250/008
Maeve Binchy passed away on the 30th of July 2012.
Maeve's cousin, actress Kate Binchy is reading from Maeve's last novel, 'A Week in Winter' on this week's 'Book on One' on RTÉ Radio 1.
You can also view Maeve Binchy in conversation with Gay Byrne on 'The Meaning of Life' on RTÉ Player.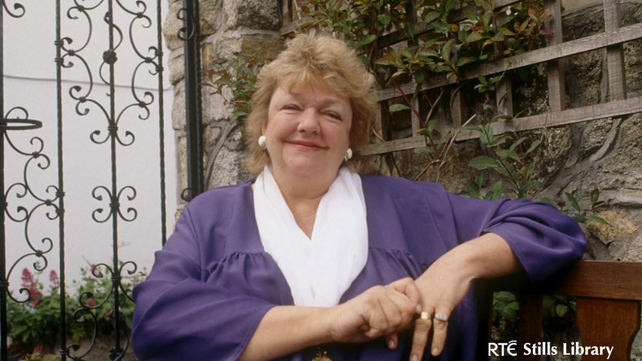 Maeve Binchy at her home in Dalkey, Co. Dublin in 1995. Photographer: John Cooney. © RTÉ Archives 4250/004