Serving Our Audience
Project 2025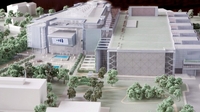 RTÉ announced long-term plans for the redevelopment of its Donnybrook site in October 2009.
The project envisages the gradual replacement over a 10-15 year period of most of the current 1960 and 1970s buildings on the Donnybrook site with a purpose-built modern building complex designed for the digital and High-Definition age.
The timing of RTÉ's announcement has been determined by Dublin City Council's planned preparation and consideration of a new Dublin City Development Plan. This requires that RTÉ, in common with other major landowners in the city, present its long-term observations at this time.
Project 2025, a redevelopment proposal, that is the result of detailed analysis and planning carried out since 2002, has been discussed with local members of the city council in advance of the review of all council area land zonings.
Subject to planning approval, the phased development is intended to begin with new high definition (HD), digital TV and new digital Radio studios and to culminate in a wing incorporating further production areas, rehearsal and performance spaces and staff offices. The plan has evolved through a full review of all options for the renewal of RTÉ's production base and capital facilities.
Given the planning process and the current prevailing economic conditions RTÉ does not anticipate that any construction work on the site could start before 2012. Discussion will take place with local residents' groups as an integral part of the planning process.
RTÉ made an application for a 10-year planning consent for the new building development on Friday 9 October 2009.