Serving Our Audience
Saorview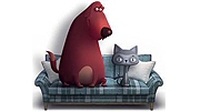 SAORVIEW is Ireland's first free digital television service. It brings you all your favourite Irish channels, crystal clear pictures, better quality sound, on-screen programme menus and digital teletext - all for free.
SAORVIEW is a digital terrestrial television (DTT) service which means the signal is broadcast from transmission masts across the country and is received through a standard TV aerial paired with either a set-top-box or a new integrated digital television (iDTV).
SAORVIEW is owned and managed by RTÉ. It will carry both RTÉ and non-RTÉ channels and services. The infrastructure required to transmit the SAORVIEW service was constructed and is operated by RTÉNL (a wholly owned subsidiary of RTÉ).
Related Links