Statements & Speeches
Chairman's Statement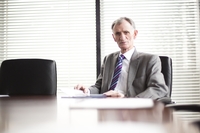 Change, continuity and rebuilding: That was 2013 for RTÉ. After the difficult financial decisions and restructuring programme which took place in the previous year, 2013 was a year of financial stabilisation for RTÉ.
The commercial environment remained challenging, particularly in the early part of the year; however the organisation's overall finances improved. At the end of 2013, RTÉ reported an operating profit (EBITDA) of €20.7m, a substantial improvement on €2.2m in 2012. In 2013, despite further falls in commercial income (a challenge faced by the entire media industry in Ireland) RTÉ returned to break-even, reporting a pre-tax surplus of over €1m. This stabilisation is a credit to the rigorous financial management of the organisation.
Despite this encouraging return to a small surplus, RTÉ's economic outlook remains uncertain. Funding was further reduced by the Government's unexpected budget decision to withdraw an additional €5m from licence fee income, creating fresh financial challenges for the year ahead. An increasing number of media organisations are taking advertising from the Irish market and any significant recovery of that market is unlikely to generate income for RTÉ at the level seen in previous years. UTV Ireland's announcement that it will begin broadcasting in January next year will add an important new competitor to the Irish media landscape.
Public funding is a critical part of public service broadcasting. In July the Broadcasting Authority of Ireland (BAI) published its five year review of the funding of public broadcasting under Section 124(8) of the Broadcasting Act. This report recommended an increased level of funding for RTÉ over the five year period. It also recommended that part of such an increase should be spent in the independent production sector and should be linked to a commitment to additional programming.
The Government's positive response to the review represents a significant milestone for RTÉ. The importance of RTÉ's role in providing public service media was reaffirmed. A clear timetable for the introduction of a new Public Service Broadcasting Charge in 2015 was established, a charge to be applied to all 'eligible households and applicable businesses, regardless of device used'.
RTÉ then published the details of its five year strategy. RTÉ Today, Tomorrow 2013-2017 shows clearly how the public funding attributed to RTÉ will be spent and how any additional funding made available would be used to enhance public service output.
The pressure on resources has made the rapid implementation of organisational change a priority, with restructuring occurring across the organisation, including News and Current Affairs, Television, Radio and RTÉ Orchestras, Quartet and Choirs. In addition, RTÉ's subsidiary RTÉNL, which runs Ireland's digital terrestrial television and radio broadcast networks, now trades as 2rn, and new chairman, Eoin McGettigan, was appointed from outside the organisation.
2013 also saw the launch of RTÉjr, a new multi-platform, dedicated service for children that contains no advertising and is produced within existing resources. Through the development of this new service RTÉ is making the creation of content for children and young people a core public service priority.
A working group was established to prepare policy recommendations for Irish-language broadcasting across all of RTÉ's platforms and services.
A year ago RTÉ announced a new regional strategy that would engage RTÉ operations around the country in partnerships with local Institutes of Technology (IT), part of RTÉ's commitment to those communities which will also open the way to building strong content and training relationships with the ITs themselves.
The Board of RTÉ met throughout the year, augmented by the work of a number of Subcommittees: the Audit and Risk Committee, the Technology and Innovation Committee, the Remuneration and Management Development Committee and the Editorial and Creative Output Committee. The Board also established a new Finance Committee. There were 23 committee meetings in total during the year. All members of the Board and of its Committees gave generously of their time to sustain these activities and I would like to thank them for their dedication and support.
RTÉ's Audience Council appointed a new chairman during the course of the year. After some years of service Professor Gearóid Ó Tuathaigh was succeeded by Pauric Dempsey of the Royal Irish Academy. The Council held a number of meetings and started work on a series of papers on audience issues for the Board. The Council held a well-received public meeting in July, with keynote speaker Paula Kerger, Chief Executive of the Public Broadcasting Service (PBS) in the United States.
This will be the last report of my term as Chairman of the RTÉ Board. For RTÉ, as for many other bodies in Ireland, difficult and unpalatable decisions associated with the very survival of the organisation have competed with positive stories of new technologies and platforms allowing new ideas to reach an ever wider audience. The living, breathing cultural organisation that is RTÉ is built on the resource that is its staff. Those creative, dedicated people who work within the organisation have at all times tried to maintain the highest standards, producing high-quality programming and keeping the focus on public service and innovation. They have responded to difficult times with a flexibility and imagination that deserves our gratitude and provides confidence for the future. I thank them for that and I am proud to have been able to play a part. With its great people, with a solid funding base and with a clear sense of direction, RTÉ will maintain its place in the community, supporting Irish creative talent and reflecting the rich diversity of Irish life.
Tom Savage
RTÉ Board
1st July 2014