Press Releases
New Alison Spittle comedy for RTÉ2 goes into production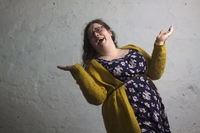 Shooting has begun on a new RTÉ2 female-led comedy about life in the midlands created by and starring up-and-coming comedian Alison Spittle. Nowhere Fast chronicles the hilarious trials of a boomerang generation as seen by returning millennial Angela. Fresh from a disaster in her media career in the big smoke, Angela goes home to lick her wounds and plan her next move. With a razor sharp script and a stellar cast, RTÉ2 viewers can expect lots of drinking in fields and mates having meltdowns, with mammy at home to pick up the pieces.
Starring alongside Spittle are Clare Monnelly (Moone Boy) and Genevieve Hulme Beaman (Pondling) as Angela's best friends, Mary and Brid, with Angela's family being played by a cast including Cathy Belton (Red Rock/Roy) and Mark Doherty (Moone Boy/ A Film with Me in It). Nowhere Fast is written by Spittle and Simon Mulholland, with additional writing by Cian McGarrigle. It is directed by international Emmy and BAFTA nominated director Simon Gibney (Bull for UKTV).
Nowhere Fast is produced by Deadpan Pictures (Can't Cope, Won't Cope) for RTÉ2 with the support of the BAI and Section 481, with BBC Worldwide representing international rights. Filming began last week in north county Dublin. The six-part series will air on RTÉ2 in the autumn.
Alison Spittle said: "I'm proud and excited to be making a show about the midlands in all its glory. It's a lot like Laser hair removal – something I never saw myself doing, a thing for people more glamorous and organised than myself, and to be honest I've no idea how it's done. Now it's happening, I wake up some mornings and maybe ten minutes go by before I remember "hey you're making a TV show!".
Eddie Doyle, Head of Comedy at RTÉ, said: 'Alison is a great talent and she and Simon have delivered a cracking script and some very memorable characters. We're very proud to announce this new series as part of our comedy line-up for the year.'
Producer Ailish McElmeel added: 'I'm delighted to bring another strong female comedy to Irish audiences. Alison's voice is truly fresh and fantastically funny, we can't wait to bring the midlands to the masses."
Gemma Brandler, BBC Worldwide's Manager for Comedy, said, 'Set in rural Ireland, Nowhere Fast is all about the misadventures you get up to in your twenties, with a unique take on life in a small town. Alison has a fantastic ear for millennial dialogue and we believe that her voice will resonate with audiences the world over.'
Other upcoming shows for the autumn on RTÉ2 include a new animation-based satirical comedy Ends Meet, along with returning favourites Bridget and Eamon and The Hardy Bucks. RTÉ2 is also developing a new series of hit comedy Can't Cope Won't Cope and has a new show in development with Amy Huberman.