Press Releases
RTÉ Announces Support of The Mary Raftery Journalism Fund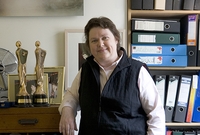 02 April 2014: RTÉ today confirmed the beginning of its formal agreement to support the work of The Mary Raftery Journalism Fund (MRJF) for 2014.
The Mary Raftery Journalism Fund was established by the family and friends of investigative journalist Mary Raftery following her death in January 2012. The aim of the fund is to promote good practice in ethical, in-depth investigative journalism.
Speaking on the decision to support the MRJF, Director General Noel Curran said.
"Mary Raftery was one of Ireland's most fearless and outstanding journalists and the legacy of her research and broadcast output made a significant contribution to social justice. Her work was an inspiring example of how investigative journalism and the power of the media can be a positive force for change. It is appropriate that RTÉ as the national public service media organisation offers its support, both in recognition of Mary Raftery's contribution to broadcasting and as part of its responsibility for the continuance and development of this type of journalism."
The Fund has just announced details of its fourth round of applications for funding awards to support investigate journalism projects. The Fund is supported financially in 2014 by RTÉ as well as individual donors and philanthropic organisations. Journalists are invited to submit proposals for investigations that seek to service the public interest. Applications are welcome from both staff and freelance journalists from all strands of the media as well as 'starter' journalists with less than two years' experience. Up to €40,000 will be available for allocation in each round. The maximum payable to any applicant will be €18,000.
The deadline for receipt of applications for this round of funding is Friday, 20th June at 5pm. Full details of how to apply are available from The Mary Raftery Journalism Fund: www.maryrafteryfund.ie
In addition to its financial support of The Mary Raftery Journalism Fund awards, RTÉ has offered one place on the RTÉ two-week Investigative Journalism Course to a nominee of The Mary Raftery Journalism Fund.
The course will be devised and delivered by the RTÉ Investigative Unit and is targeted in particular, though not exclusively, at multi-media Journalists; Producer/Directors; Radio Producers; Assistant Producers; Presenter/Reporters and Researchers. This course starts on Monday 26th May 2014 and runs for two weeks. The course will be run on site at RTÉ, Donnybrook, Dublin 4.
Full details on the course and details of how to apply are available at www.maryrafteryfund.ie.
Closing date for applications for The Mary Raftery Journalism Fund nominated place on the course is Tuesday 15 April 2014.