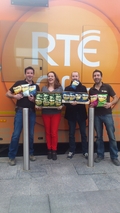 This weekend we have breaks to The Wineport Lodge and The Galway Bay Hotel to win on Lucky Numbers.
There are tickets to the X Factor Live Tour and Little Green Cars to win on The Wrong Answer Quiz and Text in the Score.
On Sunday, we're live in the roadcaster from Liffey Valley Shopping Centre with Boots.
We'll keep you updated with showbiz and sports news. And, we'll play lots of music for your Saturday and Sunday afternoon.
And, we'll be doing our International Shout out in association with Keogh's hand-cooked potato crisps. Here's Ruth and Paddy with Tom and Ross Keogh!