Fri 8/Sat 9
00.00 Corsten's Countdown #349
www.ferrycorsten.com
01. London Grammar - Hey Now (Arty Remix) [Ministry Of Sound]
02. Martin Graff - Ghana [Colorize]
03. Dave Emanuel & Arem Ozguc - Surprise [Flashover Progressive House]
04. Billy Gillies - Fireworks [Fraction]
05. Jonas Hornblad & JP Bates - Good Times [Arisa Audio]
06. Avii vs Tangle - Elixir [Lange Recordings]
07. Vincent De Moor - Fly Away (Cosmic Gate Remix) [Combined Forces] [Listener's Choice]
CORSTEN'S COUNTDOWN TOP 3
08. Max Graham - The Evil ID (Mark Sherry Remix) [Re*Brand] [#3]
09. OceanLab feat. Justine Suissa -- Clear Blue Water (Ferry Corsten Remix) [Anjunabeats] [#2]
10. 2 Faced Funks - Underdog [Flashover Progressive House] [#1]
01.00 Mainstage #196
www.wandwmusic.com
01. John Martin - Anywhere For You
02. KSHMR - Megalodon
03. Most Wanted: Jochen Miller - Cubic
04. Gareth Emery ft. Krewella - Lights & Thunder (Deorro Remix)
05. Energy 52 - Cafe Del Mar (Ravenkis Remix)
06. Christina Perri - Human (Roul & Doors Remix)
07. Rafael Frost ft. Yassine - Nightshift
08. Ivan Gough & Jebu - Noxu
09. Dash Berlin & Carlita La Nina - Dragonfly
10. Martin Garrix - Proxy
11. Stefan Dabruck - Knowing
12. jjoo Kevin Charm & Hanski feat. Zizi - Empire
13. Cult Lewis - Bombay Rock
14. Smash of the Week: Armin van Buuren - Ping Pong
15. Rank 1 & Dennis Shephard - Freudenrausch
16. Don Diablo - Black Mask
17. Amir Afargan - Dawn of Paradise
18. Zedd - Find You ft Matthew Koma (Tritonal Remix)
Get the podcast now: http://podcast.wandwmusic.nl/get.php?web=wandw_mainstage_podcast-2014-03-03-39766.mp3
02.00 L.A.W.
www.soundcloud.com/weareLAWdjs
1. Black Asteroid & David Meiser – Who Controls (Nachtstrom Schallplatten)
2. Petter B – Jacker (Bond)
3. GO!DIVA – Nobils (Brood Audio)
4. Nikola Gala – Siren (Phobiq)
5. Ricardo Garduno – Brain Washer (Brood Audio)
6. Shards – Cap FT (Mord)
7. Mael – Clyd (Variance)
8. Lorenzo D'lanni – Heartache / Alex Bau Repaint (Cypher)
9. L.A.W. – Repulse (Illegal Alien Records)
10. Perc – Take Your Body Off (Perc Trax)
11. H8R – CRS 5.3 (Curse)
12. Justin Schumacher – Activated Complex / Patrik Skoog Remix ( Dystopian Rhythm)
13. D. Carbone – Abumen (Planet Rhythm)
14. AnD – Free At Last (Ann Aimee)
15. Answer Code Request - Breathe (Ostgut Ton)

Stalk the laydees on twitter: www.twitter.com/weareLAWdjs
Face the laydees' book: www.facebook.com/weareLAWdjs
03.00 CLR
www.clr.net
Feat: Flug
Argentina born and Barcelona based Sebastian Lopez aka Flug appears for the first time on the CLR Show. Over the last ten years, Flug has positioned himself in the global Techno scene as one of the most promising producers and performers. He has been an integral part of the Argentine and Barcelona scene and his productions have made it into the playlists of some of the most acclaimed international artists. You can find his work on labels such as Stockholm Ltd, Sleaze, SINO, Enemy and very soon he will release four original tracks on the 'Sincrodestino EP' on CLR. His main label is Glasgow's Sleaze Records where he has released countless songs and the very first album of the imprint. The present set has been recorded live, at CLR´s weekly Disturbance party in Berlin.
See https://soundcloud.com/flug for more sounds..
01 The Transhumans - Stimulus1 (Übermensch_Rmx) [Transhuman Records]
02 Ricardo Garduno - Guilties (Original Mix) [Brood Audio]
03 Forgotten Guilt (Original Mix) - Drumcell [CLR]
04 Chevel - Entanglement [Non Series]
05 Kwartz - 22.0 (Original Mix) [Serial Number]
06 Steve Parker - Load (Truss Remix) [Synewave]
07 Darko Esser - Clean Slate (Lucy Remix) [Curle Recordings]
08 Positive Merge - Test (Perthil & Alerts Remix) [9Volt]
09 Stanislav Tolkachev - Yes Today (Original Mix) [Pohjola]
10 Dj Sodeyama - Underwater (Jonas Kopp Remix) [ECI Korea]
11 Pfirter - New State Of Consciousness (Oscar Mulero Remix) [Mindtrip]
12 Spherical Coordinates - SCDLS-17 (Original Mix) [Token]
13 Felix Lorusso - Unnamed (Original Mix) [Promo]
14 Ricardo Garduno - Patience (Original Mix) [Brood Audio]
15 Emerson - Audiopot (Flug Remix) [Analytic Trail]
16 Stefano Infusino - Atypical Dark Matter (Original Mix) [Amazone Records]
17 Flug - Sincrodestino (Original Mix) [CLR]
18 Petter B - Guns For Hire [H-Productions]
19 Drumcell Speak Silence (Brian Sanhaji Remix) [CLR]
04.00 Solid Steel
www.solidsteel.net
Feat: Leatherette
Sat 9/Sun 10
22.00 Springsession
www.mrspring.net
100% Brand new sh!t.. You love it etc.

00.00 White Noise #427
www.daveclarke.com
Mike Dehnert - Construction
Louisahhh!!! & Maelstrom - Rough & Tender
Alix Marie - Why R U Here (Sylenth Mix)
Millimetric - Slogan (David Carretta Remix)
Electro Generator Group - To Believe Delectro
Rod Kirkpatrick - Automatic
Umwelt - Objet Celeste
Demia E.Clash - Mind Control
Pip Williams - Touchy Subject
Mikron - XIR
Clatterbox - Power Surge
Dynarec - Water Meadow
Dez Williams - electronix
The Exaltics - Places
Whilst - Umgebung
Get the podcast now from RTÉ - http://www.rte.ie/radio1/podcast/podcast_whitenoise.xml
Sub for FREE on iTunes - https://itunes.apple.com/ie/podcast/rte-dave-clarkes-white-noise/id505578675
01.00 Sunil Sharpe
www.sunilsharpe.com
This month Sunil welcomes on TR\\ER (aka Truss & Tessela) to discuss their production partnership and plans for 2014. He also plays new music from DVS1, Pangaea, Dasha Rush, Mike Storm, J. Tijn and more. In hour 2 he welcomes popular Dublin dj Niall Dunne for a guest mix.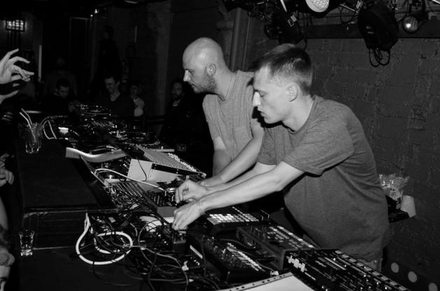 03.00 CLR
www.clr.net
This time CLR have Roberto from London for the first time. The internationally renowned producer and remixer is considered to be one of the most exciting new British Techno artists in recent years. Combining influences from Detroit and underground Dutch Techno, he has created his own sound unique to the UK. Roberto has released his music on labels such as Fachwerk, Artform, Be As One and Affin Records and his tracks have been remixed by the likes of Mike Dehnert, Steve Rachmad and Samuel L Session. He has played at some of the most prestigious venues worldwide and numerous of the most important Techno artists of our time are playing his tracks.
1.Kuba Sojka - Random Dissonance (D-Knox Remix) - Rec Out
2.Arnaud Le Texier - Rotation - Affin
3.Bee Mask - Unripe Pears (Abdulla Rashim Remix) - Pear Growers
4.Roberto - Wide Horizon - Affin
5.Roberto - Hoodlum - Be As One
6.Gary Martin - Black Forest - Teknotika
7.Jerome - Rebound - Music Man
8.Eduardo De La Calle - Skeletalism - Semantica
9.Roberto - Rings of Smoke Feat. Envoy - Fachwerk
10.MD2 - MD2 4.1 - MD2
11.Chris Mitchell - Eyedeal (XDB Reshape) - Unlearn
12.Roberto & Jamie Anderson - Trusted Source - Artform
13.Voices from the Lake - 531Khz - Concrete
14.Roberto & Jamie Anderson - Kaleidoskop - Artform
15.Voiski - Untitled1xx - Construct Reform
16.Roberto - Vault - Unreleased
17.Philippe Petit - Meteorite (Roman Lindau Slung Low Remix) - Ear To Ground
18.Roberto - Londonium - Be As One
19.Alter Ego - Nude Restaurant (Exploding Plastics Strings Mix) - Harthouse
Face Rob's Book - www.facebook.com/RobertoUK
Cloud his sounds - https://soundcloud.com/robertodj
04.00 Solid Steel
www.ninjatune.net
Feat: Coldcut