The 2fm Toy Appeal is back and this year it's bigger than ever before.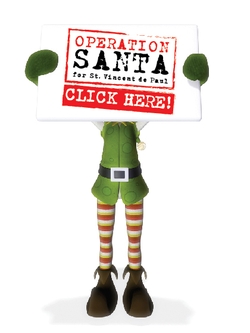 It's all about OPERATION SANTA in 2013 and we want you to get mobilized and donate a toy or donate online to help ensure every family in Ireland has what they need this Christmas.
Thanks to everyone who donated to svp.ie over the last week. You may not be that winner of the toy show tickets but your donation is going to be used this Christmas for a very real and meaningful purpose. And that's a promise from 2fm and Vincent De Paul to each and every one of you who've helped.
This is about the toys and the 2fm Toy appeal goes on with the help of you and the good people at Supervalu who this week set up their toy appeal drop-off centres at all their local Supervalu and Superquinn stores all over the country. They're there right now!
And they're taking your real and unwrapped toy donations between now and December 13th. So if you're out shopping this weekend don't forget to think about that extra gift – a toy for a family who could really do with it this Christmas.
Or if you prefer you can pick up a Supervalu gift voucher from any of their tils.
And stay tuned to 2fm for more details.
Last year we raised 65,000 toys. Lets see if we can beat that figure because we know a lot of people who could really do with your help.
Visit svp.ie for more details of their appeal.