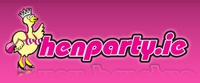 Hen's On Tour, with thanks to "henparty.ie"
Are you going on an upcoming Hen Party? Would you like to nominate a Hen for 'Hens on Tour'?
Every Friday at 3.15pm, we'll call one Hen back onair, have a chat and play a great song for her.
We promise to be really nice.