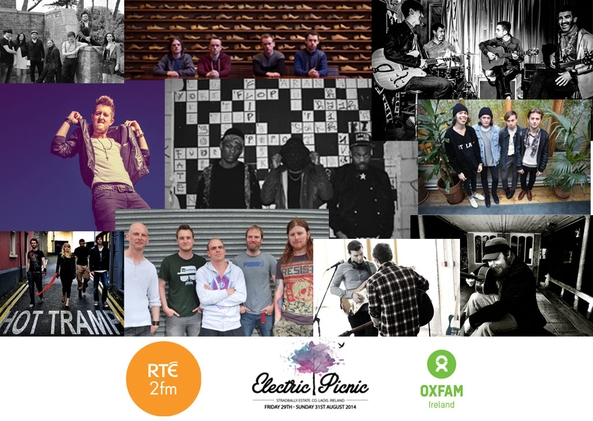 One month ago, RTÉ 2fm, in conjunction with Oxfam and Electric Picnic, put a call out to bands, singers and musicians across the country to enter 2fm's Play The Picnic with Oxfam and compete for the chance to be one of 10 acts chosen to win a coveted live set at the country's biggest music festival, Electric Picnic.
After whittling down almost 500 original entries to a longlist of 30, the public voted in their thousands for the acts they wanted to see go forward to Play The Picnic. Now, after counting the votes and deliberating with the judges, we can announce the 10 acts who will be playing Oxfam Ireland's Oxjam Stage at this year's Electric Picnic in Stradbally Estate, Co. Laois, from 29-31st August.
The 10 finalists for 2fm's Play The Picnic with Oxfam 2014 – in no particular order – are:
Hot Tramp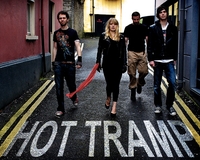 Hot Tramp began as a pop-rock band in 2010 but diverged towards a unique electro-rock sound. Reaching moderate chart success with their debut single Fire, they continued to play in key venues around Ireland such as Whelans, the Pavilion, the Savoy, The Roisin Dubh and played alongside major bands such as Marina and the Diamonds, Hothouse Flowers and the Republic of Loose. Following 2010, the band took a step back from full time and began experimenting with sounds and working in their own studio. They have just finished working on a new single called Bless Me and they truly believe it is an original sound that can put Ireland once again on the world map for incredible music talent.
Hare Squared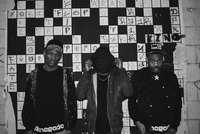 Hare Squead are just a bunch of kids having fun but also 18-year-old rappers, musicians, poets, and artists. Their daily routine revolves around worrying about exams, skateboarding, vintage shirts, and the continual evolution of an idiosyncratic and secret sign language. Tony and Henoc are from Tallaght, whereas Jessy is from Blanchardstown, which is almost an excuse for why he is always late, but not really. They don't use profanity in their songs, but this is an artistic choice as opposed to anything resembling prudishness. They would rather be known as wordsmiths than goldsmiths and FOR zingers rather than AS blingers.
White Chalk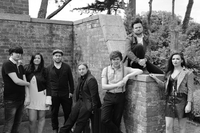 White Chalk is a seven-piece band who produce an amazing sound by writing and performing their own music. Lead singer Conor Quinn has a unique voice complimented by a big sound.
Little Hours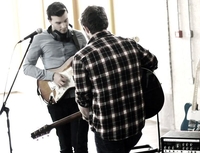 Little Hours is an alternative-folk band from Donegal. Formed in February 2014, their first single 'It's Still Love' was self-released in June.
Otherkin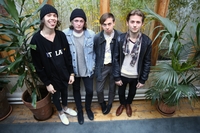 Otherkin began writing music in 2012 and has since had two releases and plan their first major release for radio in October. They have supported Parquet Courts and Palma Violets and also earned slots for Trinity Ball and Whelans' Ones To Watch.
Houdini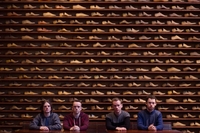 Houdini is a four-piece band from Dublin consisting of Aaron Cranley on lead vocals/guitar, Shane Cranley on bass/vocals, Ian Cullen on keyboards/vocals and Ciaran "Higgs" Higgins on drums. Delivering a mixture of lush melodies wrapped in shimmering guitar, vibrant synth and commanded by a rhythmic energy, Houdini forges a medley of pure anthem.
Kodakid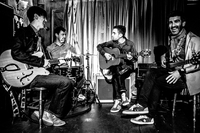 Kodakid is an Irish indie-rock/blues/soul band who formed in late 2010. They were awarded the MRU Single of the Year 2012 for their fourth single, Portis. State Magazine described them as the "stand out show at Indiependence - no doubt the finest indie performance of the festival. The band has played main support to The Minutes, Delorentos and The Noisettes.
Matt McGinn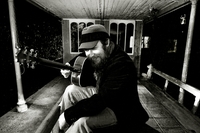 Matt McGinn has been a lynchpin on the Irish music scene for a long time. Despite having appeared at the likes of Electric Picnic and many other major festivals backing other artists like Juliet Turner, Joe Echo and Gareth Dunlop, and having other people playing his songs on TV shows around the world, the release of Matt's new album in the autumn will most definitely make him stand on his own as a leading Irish singer songwriter. After releasing his début album 'Livin'' in 2011 to much acclaim, Matt has enjoyed much success touring worldwide, but with the birth of his son last year, he came off the road and knuckled down to making album number two. It features contributions from many friends met along the way, from Canadian born songstress Madeleine Slate to Willie Nelson's long-standing harmonica player, Mickey Raphael. As much as he loves being in the studio recording and producing it's live where the magic really happens. Because of Matt's immediate bond with an audience and surrounded by some of Ireland's best musicians, no two shows will ever be the same.
Gary Keane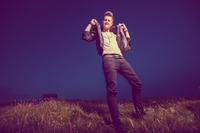 The time is now, the place is here and you and I are right where we need to be. The faint hint of guitar rhythms clink in the background, the low pulsing groove of drums and bass hum softly and alluringly into the room, the air tastes of summer…it's beginning. The desire to get back to that moment in time, that feeling of freedom, that unhindered flow of energy that makes us all want to dance, all against the backdrop of the Californian sunset, was one of the main things that brought Irishman Gary Keane to Los Angeles earlier this year. A seasoned performer in his own rite, Gary has been creating and playing music for most of his life. An award-winning performer, he has already performed on The Late Late Show and at Electric Picnic as well as performing solo shows at Indie Week in Toronto and 'The Mint' in Los Angeles. So it's with this LA experience, the sights and sounds of Malibu Beach, freestyling with rappers on Venice Beach, late night recording sessions in Hollywood, stretching palm trees and pink sunsets, that Gary has returned home to unveil his new musical offerings. Echoing shades of early Michael Jackson, Bruno Mars, Pharell and Justin Timberlake, hints of West Coast hip-hop, funk soaked, disco educed, infectiously danceable pop tunes, unleashing all the fruit and juice that California has to offer.
I'd Fight Gandhi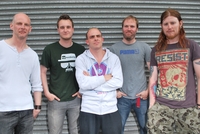 I'd Fight Gandhi are a County Louth based alternative group that combine elements of rap, rock, hip hop, metal, melodic vocals and electronica to create a dynamic, hook-filled songs. The band takes its name from a line of dialogue in the cult movie Fight Club and are a force to be reckoned with.
Play The Cosby Stage
In addition to be added to the Oxjam Stage line-up, each act will get to stay on after their performance and soak up the Electric Picnic atmosphere with weekend camping tickets for all band members.
But that's not all…
Each of the 10 finalists will come in to the 2fm studios to record their winning track live. The tracks will be played out on air across the weekend of 9th and 10th of August and will be open to a public text vote to find one overall winning act.
The act lucky enough to be voted number one will go on to play at one of Electric Picnic's larger stages, The Cosby Stage, granting them even more exposure. They will also win a studio session with some of Ireland's top sound engineers at 2fm's state-of-the-art studios and have their song broadcast to the nation on the 2fm.
Keep an eye on our Twitter accounts for details of how to vote:
#PlayThePicnic
@RTE2fm
@OxfamIreland
@EPFestival
All proceeds from the text vote will be donated to Oxfam Ireland. By supporting homegrown talent, the public will also be raising vital funds for Oxfam's work such as their emergency response in South Sudan – each text vote will help to change someone's life for the better overseas.
Key Dates
11th June 2014: 2fm's Play The Picnic with Oxfam is open for business. Submissions accepted online from 11am.
2nd July 2014: Longlist of 30 acts published online and opened to public vote.
11th July 2014: Shortlist of 10 finalists announced. These 10 acts will record their track live in 2fm studios and will be added to the line-up for the 2fm Oxjam Stage at Electric Picnic 2014.
11th August: Overall winner announced, added to the line-up for the Cosby Stage at Electric Picnic 2014 and penciled in for a studio session at 2fm Studios.
29th–31st August: Electric Picnic
About Oxfam Ireland
For over 50 years Oxfam Ireland has been fighting extreme poverty around the world. With the generous support of people across Ireland, Oxfam saves lives when crisis strikes and helps people lift themselves out of poverty and thrive. Oxfam also campaigns so that the voices of the poor influence global decisions that affect them. Oxfam Ireland has 51 shops and more than 2000 volunteers. For more or to make a donation, see www.oxfamireland.org.
About Oxjam
Oxjam connects music lovers across Ireland with Oxfam's work, raising awareness and vital support for Oxfam projects overseas. Over the past few years the Oxjam stage at Electric Picnic has played host to dozens of up and coming Irish acts alongside an array of established artists such as Glen Hansard, Bell X1, Hozier, Lisa Hannigan, Paulo Nutini, and Mumford & Sons.
About Electric Picnic
Electric Picnic has established itself as a truly unique Irish festival, set amid the rolling lawns of Stradbally Hall, Co Laois, a beautiful 600 acre estate just 50 mins from Dublin. This year's Electric Picnic takes place from Friday 29th August - Sunday 31st August. Great music, art, theatre, comedy, food and holistic health...and a little bit of magic. For more visit: electricpicnic.ie