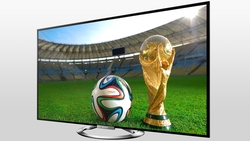 Win this fantastic SONY 46" SMART TV and get closer to the action in World Cup 2014. Harvey Norman wants to make sure the winner sees all the games on this BIG screen and they promise to deliver the TV to the winner before the first match, Brazil vs Croatia, kicks-off. So we want to know where you'll be between 6 and 7pm on Thursday June 12th.
To be in with a chance to win this Sony 46" Smart TV all you have to do is vote for your favourite World Cup Anthem before Midnight Wednesday 11th. We're going to announce the winner on DriveBy with Colm Hayes on Thursday 12th of June.
It's all thanks to Harvey Norman "Kings of Big Screen TVs for the World Cup"
Watch all of the World Cup Anthems here!