Listen
Breakfast with Hector
On the show this morning, Hector was full of stories from his adventures up North. Alan had car pooled with Hector up but returned ahead of him by bus. The bus driver stopped off in Monaghan for a toilet stop. Who knew that still happened in 2013! Meanwhile, Hector remained in Newtownstewart and marched with the Red Hand Defenders Band on Friday night.
On How's The Country this morning we welcomed the newest member of the BWH team this morning, Doireann Wylde from Ennis, Co. Clare. Her English teacher traced back the origin of the student's families and found the Wylde's came from the Normans or Vikings. As part of the BWH team, Hector advised her if she sees the end of the 9 o'clock weather bulletin or any programme thereafter she will be up too late. Bed early to be part of the team that wakes Ireland up.
Keeping the culchie flag flying, Liz Bracken defended and kept her title this morning on Dub's versus the Rest of the Country. Scott McNulty from Rathcoole represented the Dub's well but the questions swung in Liz's favour meaning she is now into Friday's draw to win VIP private box tickets to see Mark Owen play in the Olympia Theatre on Wednesday 19th June and an overnight stay with dinner for two in Dublin's Jurys Inn, Parnell Street. Each Dub's versus the Rest of the Country winner this week will be entered into the draw. The more you win, the more entries you have in the draw.
This week our competition is in conjunction with Love Irish Food and its key member brands Big Als, Bundys Baked by Johnston Mooney & O'Brien, Club Orange and MiWadi – essential ingredients at an Irish barbecue. Everyday this week we have a gas barbecue to give away. Noel Carroll from Walkinstown was today's winner. Noel, along with all our winners will be put into the Big Draw on Friday for the Ultimate Garden Party made up of a complete Garden Patio Set, Gas Heater, Gazebo, BBQ, Gas and Utensils.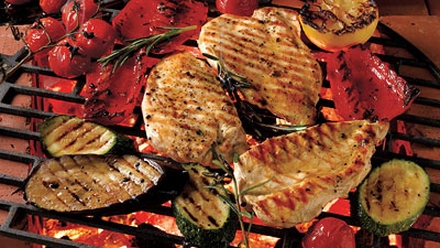 Johnny from Limerick was in great form this morning but was forced to ring Hector on the rest of his family for Cranky Car. The very first time BWH has had a Dad on Cranky Car. Hector even sang barber Johnny his own theme tune!
Until 7am tomorrow, Keep Her Lit.